Desideratum means something that is needed or wanted. It is also the title of Anaal Nathrakh's most recent album, their eight release and one I'm sure the band will want their audience to be craving.
An Anaal Nathrakh album is a strange experience, mainly in that it quickly becomes reassuring in its sameness, by combining a completely bonkers amalgamation of three different genres of music. They brilliantly throw grindcore, black and industrial metal into a sonic blend, which most parents would be terrified to hear pumping from their child's bedroom.  However, by consistently sticking to a similar formula, mainly chugging riffs, blast beats, drumming that it seems unlikely any human could perform and the mental vocals of V.I.T.R.I.O.L. (Dave Hunt to his parents), which range from screaming to camp operatic melody, they ensure that even in among the insanity, you quickly find your feet.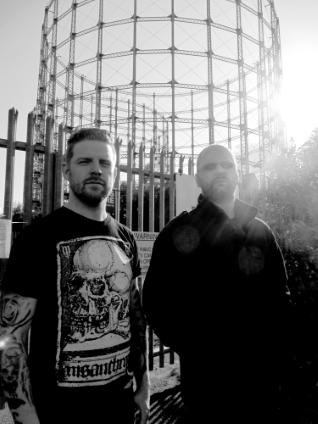 In the constant debate about production in modern metal, with many old school metalheads disparaging the crystal clear sound of more modern bands, it's in Anaal Nathrakh that you see why many bands choose to ditch the muddy sound of old.  So much that is going on in these tracks that would get lost in a murkier mix, but thankfully, there is little chance of that happening here.  This album sounds crystal clear and you can hear every swirling beat of it.
Yet, within that wall of noise, there is actually a lot more to Anaal Nathrakh.  For one thing, they have some of the biggest choruses you will hear in this genre of music.  These songs are played at a pace that seems impossible for a human to produce, something that is made possible due to the use of a drum machine, yet these heavy grindcore elements never take away from the songs.  Tracks like 'The One Thing Needful', with its big over the top chorus, takes as much influence from Iron Maiden as it does Carcass. While 'Monstrum in Animo', has a disjointed industrial feel to it, which brings to mind Ministry, before it breaks down into an almost classic black metal sound.   There is so much to find in this album and while Anaal Nathrakh never really ditch the formula, the formula gives you enough that you are never going to feel short changed.
If you asked most people what they would expect of a band called Anaal Nathrakh, the last thing they would reply, would be fun, catchy tracks that have you banging your head and punching the air.  Yet that is exactly what you get with 'Desideratum'. Despite track titles like 'A Firm Foundation of Unyielding Despair', this is an album that you can really enjoy and while it may not exactly rewrite the template or make a change from what Anaal Nathrakh have been doing over the years, that doesn't really matter. For old and new fans alike, this is an album to be enjoyed and it should insure that plenty of people want it.
Anaal Nathrak 'Desideratum' is out October 28th 2014 via Metal Blade Records.