Grammy-nominated Joe Bonamassa gets my vote for the most over-hyped guitarist out there today. Not because the guy can't play because he sure as hell can, but the fact that if you so much as blink at some online feature by him your email box gets spam from his website literally every other day. Thus, my apologies in advance for anyone reading this should they suffer you a similar predicament. On the plus side, his latest album, 'Different Shades of Blue', has some pretty nifty tracks ranging through it.

Available in countless formats from Provogue Records, as is customary with Bonamassa's records Kevin Shirley is at the control desk producing, and along with regular sidemen like Carmine Rojas on bass and Anton Fig on drums there's a horn section, and Melanie Williams providing some background vocals.
"It's been a while since I've been involved in the writing on an entire album. So I decided I wanted to make a completely original blues album," said Bonamassa. "I've really had to push myself to make everything I do better than the last project. I know the fans expect it. And I feel like I owe it to the fans to give them an original record after all these years." Well, that's not exactly true because the album starts with 'Hey Baby (New Rising Sun)' a latter day Jimi Hendrix instrumental and while there are a good number of blues based tracks there are others that veer down country music's side lanes and stop for a drink at the rock-with-prog café. Bonamassa's guitar rips through it all in a variety of styles to suit, and while he's no Paul Rogers, his own singing suits his original material best.
Writing for this album he headed down to Nashville and hooked up to collaborate with Jonathan Cain (Journey), James House (Dwight Yoakam), and Jerry Flowers (Keith Urban) and they've come with some strong songs lyrically, though they all tend to tell tales of being broken hearted, even the upbeat sounding ones. Whether Bonamassa has been having emotional problems or it was just the Nashville setting no-one's saying.
Now, the aforementioned 'Hey Baby' is little more than a burst of riffs and sound effects, and frankly dreary, but it segues into the welcome sound of 'Oh Beautiful!' where Bonamassa's lets out a bluesy croon as a heavy Free styled riff given Zeppelin accentuation comes into play. Reese Wynans's organ in there giving it as much as the guitarist before it all goes into a live 70s jazz rock vibe with Bonamassa soloing ecstatically and Bonzo-bashing drums now riding on the cymbals Billy Cobham style, later returning to the main song and a final vocal refrain. It's a little oddly constructed but has some stunning idea running through it.
Next up, 'Love Ain't A Love Song' has funky horns parping with machismo all over its hard driving blues rock. It's by far my favourite track on the album, with a cool chording turnabout rundown into the hookline song title chorus. The saxes are also present on the walking blues with jazz flair that is 'Living On The Moon' where Bonamassa pulls in a brief solo that discords like Townsend, searches out for notes like Beck, but remain his bluesy own beast.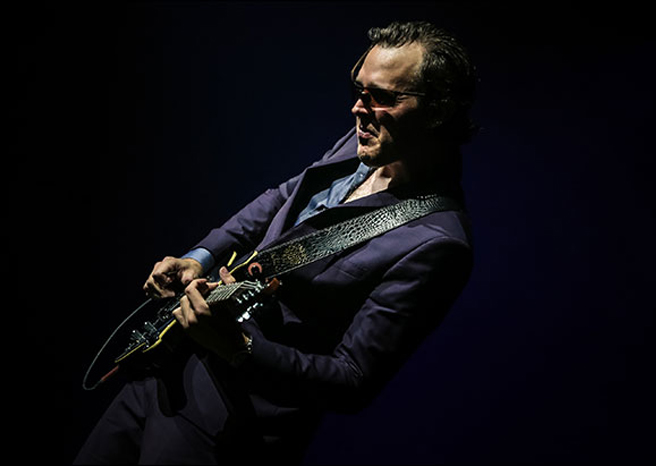 The creeping down dark alleyways horn-rimmed jazz blues of 'Heartache Follows Wherever I Go' follows quite naturally thereafter, featuring an effective wa-wah solo that doesn't stays between the lines. However, while they now filter more randomly throughout the album such songs do tend to glide towards the gentler show band blues of, say, B.B. King, and there's this niggle within me that it could all end up being a bit too cabaret for my tastes. These include three tracks where the piano's also more present: the boogie-woogie rolling 'I Gave Up Everything For You', 'Cept The Blues', the torch song that is 'So, What Would I Do' and 'Trouble Town' that again has a creative jazz rock edge to it too.
Rock fans will prefer 'Never Give All Your Heart' where chords resonate as a high pitched guitar note pierces through, sustaining beautifully as a piano figure comes in with all the hallmarks of 'Heartbreaker'-period Free. Likewise, 'Get Back My Tomorrow' is classic Bad Company wherein the little flick within the guitar riff really gives this cowboy rocking country blues rock its flavour. The title track itself, 'Different Shades of Blue' is Americana all through with wistful blues country hooks; though, the oddest thing is the vocal melody's darned similar to Black Sabbath's 'The Wizard'.
2012's 'Driving Towards The Daylight' reached #2 on the Official UK Album Chart but I didn't really care for it, and I've gone off Kevin Shirley's work in recent years, but 'Different Shades of Blue' is different. It is a tempered wholesome big production; loud, proud but sensitive too. My concerns regarding a cabaret feel encroaching on some songs notwithstanding there are some great tunes on here. It proves to me that taking Bonamassa out of his comfort zone and collaborating with other musicians (be they the Nashville guys here or about half the stuff he did with Black Country Communion) works wonders for his creativity, and if 'Oh Beautiful' had been developed in an equal partners band situation the arrangement might have been even better. Regardless, the album is best appreciated played in its entirety, but if you can hear only one track make sure it's 'Love Ain't A Love Song'.
Joe Bonamassa 'Different Shades of Blue' is out now!
Joe Bonamassa returns to the UK in May 2015, to play four concerts in London.