Fat Wreck Chords have had some of the best punk bands on the planet on their books at various points in their history.  Rancid, Against Me and of course label owner Fat Mike's own NOFX have spent time with them and joining them as part of the next wave is Bad Cop/Bad Cop.
And when you put this four piece punk band next to those acts you can see the resemblance.  Their debut album, Not Sorry, is an electrifying blend of aggressive punk rock music and three part harmonies.  Right from the opening of 'Nightmare', which will get even the most hardened hearted punk fan tapping their foot and bobbing up and down, these ladies set out to impress and more often than not they knock it out of the park.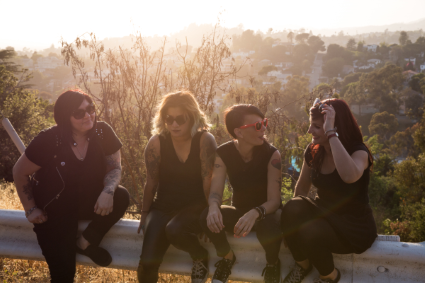 If you strip everything back, what makes Not Sorry stand out is rather simple, these are good songs.  Whether it's 'Here's to You', an acoustic led drinking song or its partner in crime 'Cheers', another drinking song but this time a bit faster paced, everything they write is absolutely stuffed with sing along moments and catchy hooks.  It's also brimming with a positive feeling about the world.  It has a sense of togetherness which is often lacking from music as fun to sing along with as this.
However, this isn't a bubblegum album, it is also doused in attitude and Bad Cop/Bad Cop aren't afraid to show it.  'Anti Love Song' starts slow and rhythmic, but builds up the punk as it goes along, until it's spitting in your face.  While 'Sugarcane', the story of a women with an abusive partner, sees them proclaiming 'I'd use a fucking hammer on his face, yes I would do that for her.'  Bad Cop/Bad Cop may have more hooks than the biggest pop songs around, but you still wouldn't mess with them.
Elsewhere, 'I'm Alright' opens with a reggae beat, before becoming a punk rock track which slips between defiance and fragility.  While 'Rip You To Shreds' is the sweetest offer to cause grievous bodily harm that you are ever likely to hear.  If there's a criticism, at thirteen tracks it's maybe a little too long and a couple of songs less might give it a bit more impact.  That's finding faults for the sake of it though and if you were to actually sit down and try and choose the tracks to go, you would struggle.
If you are looking for snarling, angry punk rock then Bad Cop/Bad Cop might not be for you.  If however, you like a good hook, more harmonies than you can shake a stick at and an attitude that still screams punk, then they are going to be right up your street.  Not Sorry is the perfect summer record and if it hasn't already wheedled its way into your head after one listen, then you might want to check whether you are dead inside.