Bad Solution were formed in 2011 by guitarists, Trix and Mariusz. Originally made up of all Polish members, in November 2011 British vocalist Alex Willox took over as the frontman adding a new energy and sound to the band's music!
I think we are all fighting a "War Within", a war within ourselves, a war that only we know about and that we can only understand. Bad Solution have turned their war into a musical battle so it has a voice so speaks volumes, and the first track 'Drowning' gives us an idea of their battle, it's fierce and informidable.
'Nothing' (You don't know me) is a rampaging rap kind of track that is lush especially with the surrounding edgy riffs and beats. The Five Finger Death Punch influences are prevalent on this track but no complaints here. 'Demon In My Bed' is a hard hitting but also ambient track that lashes out with a bare knuckle punch and can be likened to a plague of sorts as the music just embellishes the ears.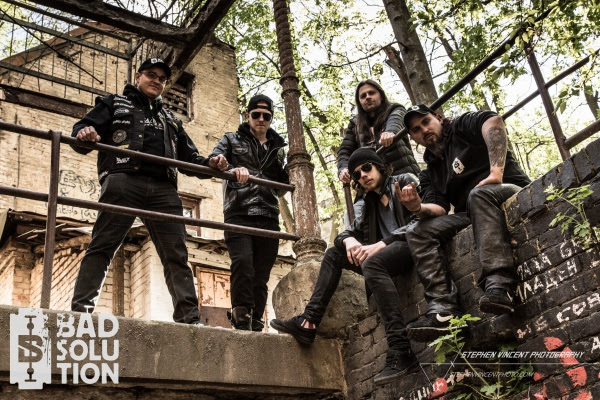 'Self-Destruct' begins with a very beautiful guitar riff and some amazing beats. It holds a caressing and yet vibrant stance that just keeps on giving. 'Echoes of the Cry' has superb tonal ranges that give off a very interesting sound. It is more of a ballad rather than the heavy mash up we have experienced in previous tracks, however, it brings a lot of imagination to the forefront.
'The Last Lie' is a cheeky number with sneaky riffs and pummelling beats that melt into a large surge of rhythms. Vocally interesting and thrilling, with heaps of control. 'Desert Rock' has an eastern flavour accompanying it which is new and snares you into this feverish gallop. The diversity of this track alone is amazing. It is catchy too and so appealing with such a great lure – one of my favourites on the album for sure.
On 'Dear Sarah' it's back to the hard rock and metal, tenacious beats and anthemic rhythms. The riffs are reflective and arousing making it another great track to behold. 'FOD' is all out molten metal capturing a certain interest with powerful flanks of riffage and imposing rhythms it gets down to business and adds that special presence, where your head refuses to stay still.
'White Washed' holds a slower tempo, although it still captures with its inexplicable riffs and bludgeoning beats – vocally it ravages as well as savages the ears as the track unfolds it pulverises with instinctive temptation and has a vice like grip that drains you of energy quickly, however, holding an ambient sound that intrigues too.
Bad Solution The War Within is out August 4th 2017.