Two years since Blackmore's Night released their Dancer And The Moon album their latest release may be getting lost in the furore concerning Ritchie Blackmore getting ready to plug in and play a short set of rock gigs next summer; the interest level heightened with promotion for them now going under the totemic Rainbow banner. Impressive as those shows hopefully will prove to be, looking at the videos promoting Blackmore's Night's new All Our Yesterdays shows a contented looking band that has found a comfortable niche and expect to continue unhindered performing in that manner, with their guitarist still firmly at the helm.
That they have moved on somewhat from their early 'Rhiannon style' Fleetwood Mac-isms allows them more of their own identity. One that hydra-like has several heads going off creatively in different directions: first there are the folk-derived tunes, then the covers, the classical music adaptations and those moments where Blackmore straps on his Stratocaster and lets rip. There are however less soaring electric moments here than on Dancer And The Moon and more of the folk-derived ones, with an underlying euro-pop, sometimes early 70s disco beat to them (affected by the rhythm section). Such sounds begin with title track 'All Our Yesterdays' that is basically a feel-good rewrite of Brotherhood of Man's hit single 'Angelo' (itself derived from the work of Abba) with a traditional Greek style melody overlaid. You may grind your teeth wanting to dislike it, but be careful your foot may also be tapping independently.

On safer ground, 'Allan Yn N Fan' is an electric jig in the manner of The Horslips with a keyboard break that echoes Italian proggers' PFM's 'Celebration'. During it Blackmore breaks into a brief solo, and the overall instrumental is pleasant enough. Then things start demanding more serious attention with the atmospheric 'Darker Shade Of Black'.  It begins like an alternative hymnal version of King Crimson's 'Starless' opus courtesy of some medieval instrument or other evoking the sound of a fiddle/violin, plus added female choir. Then half way through the slow pageantry of a harpsichord takes over only for Blackmore's electric guitar to creep in for some sustained flourishing, precise emotive embellishments and the volume increasing as it become more profound. Whether it be a flute, recorder or the credited shawm, a woodwind instrument evokes Bach (and perhaps a little Focus) on the opening to 'Long Long Time' before settling in as a ballad for the main song. Near its conclusion Candice Night unexpectedly offers the briefest of blues wailing, and one's overall impression is the lady ought to get a little raunchy more often.
There's an affecting flanging guitar sound in the background of their cover of 'Moonlight Shadow' the Mike Oldfield hit single, originally sung by his sister Sally. Blackmore pulls out some interesting licks and this would no doubt go down well live, but overall it's a diversionary version of a well known song. The same can be said for a sincere rendition of 'I Got You Babe' despite a short expressive melodic solo from Blackmore. If you really want a good Sonny  & Cher cover look to 'Bang Bang' as covered by Terry Reid – who turned down joining Deep Purple (having previously declined Led Zeppelin, and suggested Bobby Plant instead); now that's wrought with emotion.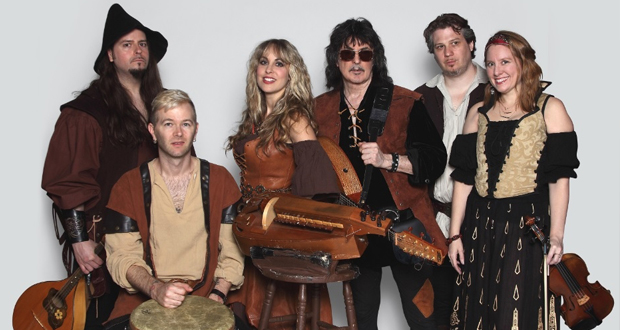 Echoed vocal harmonies flourish on the folk dance serenade that is 'The Other Side' while the inquisitive nylon guitar instrumental of 'Queen's Lament' impresses. Album highlight however, is  'Where Are We Going From Here'- Opening with some enchanting classical interplay, a fiddle joins in as subtle power chords play underneath, and even as a euro-pop disco beat bangs away Blackmore pulls out some tasteful licks. With a reprise of the classical introduction Blackmore flexes his fingers with fluid jousting statements across his six string worthy not only of D'Artagnan but The Three Musketeers too, all as a piano plays underneath. A close kissing cousin to the two part 'The Moon Is Shining' from the last album in its minor epic approach and utilisation of the band's full musical strengths.
Another jig, with appealing vocal harmonies is 'Will O' The Wisp' though it has to be said the fiddle melody recalls 'Dance with the Devil' from the original Phenomena concept album, while that instrument works at a more tempered pace alongside acoustic guitars on 'Earth, Wind And Sky', a song of internal reflection. In contrast 'Coming Home' is a playfully upbeat acoustic jig, as the other instruments follow Blackmore in, with  Night singing about the joy about those returning home after a war, making a fitting conclusion to the album as a whole.
The blurring of traditional folk and electrified rock instruments continues to progress for Blackmore's Night. While the individual songs gathered may not all work, the sounds created are those of a happy bunch and that appropriately results in the casual listener being appreciative too.