Def Leppard have been there. Seen everything. Rocked millions of people and I'm sure they have even got the tshirt. They are one of very few bands that have endured the test of time and rock just as hard as they did since they formed in 1977. The only thing I need to explain about their 11th studio release is this: expect Def Leppard and you will receive Def Leppard.
The album is split into 3 musical styles: The stadium fillers, the ballads and the experiments. Let me explain…
"Do you want to do this now?" Joe Elliott asks in the opening of the lead single 'Let's Go' and of course the answer is yes. The song is everything we expect. Smooth guitars, loud drums and a chorus that makes you want to get the fist pumping in the air.
It doesn't take long to realise that this album was recorded by 5 guys, playing live in the studio were just having fun.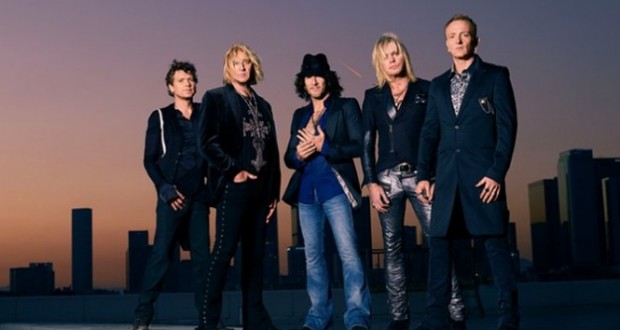 As I mentioned, they have experimented and played with their sound on some of the tracks on this outing. 'Man Enough', 'Invincible' and 'All Time High', borderline on funk rock and features heavy, shake your hips sounding basslines. 'Man Enough' and 'All Time High' start funky but become more rocky before the chorus hits. While they won't be remembered for being the best tracks the band have done, a slight change of sound it always welcome. The slower mainly acoustic 'Battle of My Own' features a country twang to it and almost feels like a cross between a Zeppelin and a Bon Jovi song. It's bound to be a crowd pleaser when played live.
One thing that the band have always done well are their ballads. 'We Belong' is the first of the ballads we hear, but it's 'Last Dance' where the bands writing really shines, where they reminisce about old times, with the message coming across being: what will be will be.
Fans that expect more stadium filling songs have been treated on this Self Titled, it's packed with them! The highlights being 'Broke 'N Brokenhearted', 'Dangerous', 'Blind Faith', a Beatles influenced pop rock tune (the ending is truly epic!) and 'Wings of An Angel'. 'Wings of An Angel is the stand out song for me on the album as its showcases everything we love about these guys and is probably their best song in years.

Verdict: Overall this is a great album. They have managed to continually nod to their past, while keeping the sound fresh and not old fashioned. Pretend it's 1980 again. Get out the torn denim jacket, the hairspray and rock! It's Def Leppard.