Delivering an album almost annually, this is Danny Bryant's third offering produced by Richard Hammerton, and will come out on Friday 29th January 2016 via the Jazzhaus Records label. This persistence, in both recording and touring, is paying off for the big guy, as his fan base and reputation are growing.
As we established in our review of his previous release, Temperature Rising, the guy can take a solo and make that guitar sing, but it's putting those soaring notes into a worthwhile song that sorts the men out from the boys. We also made the odd comparison to Eric Clapton last time round, noting his opening track sounded like 80s-era Slowhand; well, on Bloody Money it opens with the title track and the comparison is more towards Clapton's mid-70s white-reggae phase as the drums cue an off-the-beat vibe before settling into a shuffle groove.
'Blood Money' is in fact a duet with Bryant's mentor, Walter Trout (a former John Mayall sideman like Clapton), the pair taking turns at the microphone before, three minutes in, a biting solo ensues followed by another solo a minute later, presumably swapping roles there too. Bryant has apparently had the song sitting round for quite a while, and was just waiting for the right collaborator. "I am really thrilled that he agreed to play guitar on the track," Bryant said of Trout, "I think his contribution is truly stunning." With some cool keyboards weaving in and out, it eases you into the album gently.
If last time round was a period of experimentation, Bryant's decided to get introspective for Blood Money and, as he himself has declared, pay homage to "all the different influences and flavours of this wonderful music that I have loved for many years." To that end we get 'On The Rocks', a vintage sounding instrumental that tips its hat to the late Albert Collins, with some nice chords chopping away. Fine tinkling of the piano on 'Holding All The Cards' gives a straight ahead parping blues feel that seems intended as a tribute to Jimmy Reed. However, I'm going to hold my hand up and be honest with you and declare that those, along with the rocker that is 'Sugar Sweet', I only find mildly entertaining.
Second number in he comes over all 'Albert King' with an incessant riff that hooks the blues rock of 'Master Plan' and dips in for a couple of solos, the first with wails, bends and sustain aplenty, the second with foot pressed on the wah-wah pedal bleeding out right to the climax. Lyrics are not Bryant's strong point, with a tendency towards the literal but earnest, yet 'Fool's Game' is aptly titled, for it's a cheeky little melody that is part-funk blues, with just Bryant's voice and guitar in most parts. Plus, there are two songs in particular where his vocal approach goes up several notches in quality.
'Unchained' is a slinky bar room blues number with a touch of clavinet that adds a night time soul feel, plus brass and some deep ended low in the mix with guitar tagging alongside. It's said to hark back to the records Albert King recorded on the Stax label, but his voice here evokes Jess Roden and perhaps a little Kokomo at times. It's very tasty and the slow walking solo slots in well.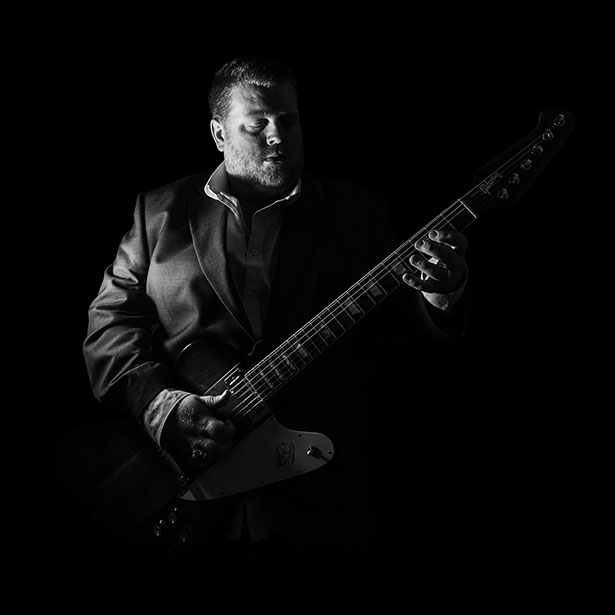 On 'Slow Suicide' he offers a more mellow electric guitar tone than elsewhere on the album, with acoustic inflections heard underneath together with organ. His voice is more pronounced throughout the mix on Blood Money and here he's not unlike the late Mike Patto (Timebox, Boxer). The way the guitars cascade together at the turn of the chorus is pretty cool and, about two and a bit minutes in, there's a thoughtful first guitar solo with a deeper cutting edge to it as he starts exploring over the chords, then, on the second solo, it's the minimalist piano notes that come in near the end that are most effective aurally. This track is certainly one of the album's highlights.
Even though Bryant's voice is worth paying attention to on this album, you can't help but wonder what Phil Lynnot or David Coverdale in their prime might have done with 'Just Won't Burn' – that it features former Whitesnake guitarist Bernie Marsden kind of makes that statement superfluous. "Working with Bernie Marsden and Walter Trout on this album has been a career highlight for me," Bryant said. It starts slowly with guitars that shoot from the hip with a classic rock feel, then arpeggio played guitar and keyboards veer it towards an AOR sensibility at times with some sweet turns of phrase and emotional guitar duetting. It's followed by the album's concluding number 'Sara Jane' a subtle piano lead ballad reminiscing on past love with a solo that reaches its crescendo as the record stops.
Danny Bryant February 2016 UK Tour (With special guests Red Butler)