The New York pop-punk duo DIET CIG have announced their debut album Swear I'm Good At This will be released via Frenchkiss Records on April 7th.
Alex Luciano and Noah Bowman have been playing together for three years and are already widely known for their snappy live shows.
If 1975 Blondie had just comprised of just Debbie & Clem they might have sounded something like this… polished vocal performances and strong compositions twinned with a surprisingly furious punk aesthetic.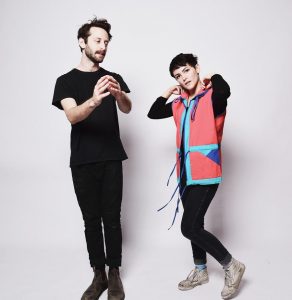 Alex is the cutey with the booty and guitar and voice while Noah is on the drums. The duo met when Luciano interrupted the set of Bowman's other band to grab a lighter.
"I am bigger than the outside shell of my body…" yells Alex on 'Maid Of The Mist' "and if you touch it without asking […] you'll be sorry…"
So on 'Sixteen' we find the demure tough-girl easing her own adolescent heart whilst wilfully flicking her playful fingers and contemplating the who's and maybes. The song has a chili sauce bass and spiced female vocals and beats a mad-heart long before the crackle starts… And when it does start it's a peppery fried clash of punkish strings and habanero pepper percussion.
'Bite Back' has more of the head-shaking denial and a mad scamper of sounds that tend to fuss around a central voice that's more pop-queen Björk than ever it would be protopunk Patti.
"Dont tell me to calm down..." she says slowly on 'Link in Bio' [a study of the hum-drums of the music biz] and so she sings her angel-cake harmonies up against the rough tangle of harsh and abrasive riffs.
'Tummy Ache' is the great success of the album. It's a swirly thing and somehow reminds us of Morrissey when he was at his darkest and most self-deprecating. The melody is adorable and could even be breezy if it were not for the fact that the song takes an early opportunity to show us its teeth through a sudden and potent discharge of electric power.
Cute and mawkish it might be — the try-hard huggles are always argued from a female point of view — so these songs of sorrow & shame are actually morally uplifting…
This is brilliantly fired off…