Double Exerience are most likely the only band in the world that are described as 'Nerdy Neo-Rock' but thats one of the many things that makes this band original! The Canadian band are soon to release their 3rd album Unsaved Progress, another album of 9 unique tracks for their fans.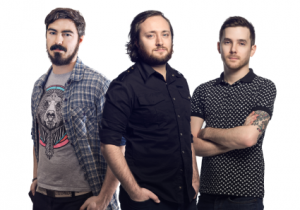 Their new album is upbeat and full of awesome tracks, leading straight into the first song, 'So fine', which instantly gets you into the mood of this album. With heavy guitar but not feeling overpowering and clear vocals without screaming, the track displays the bands 'nerdyness' in a fine light with this songs lyrics. Then moving onto their next track 'AAA', another epic song.
'The Glimmer Shot', while being slightly less heavy with the guitar, is in my opinion a highlight of the the album, with its strong lyrics and general melodic sound of a mix of higher and lower vocals all together to create the song.
The album then quickly enters into the fast beginning of 'See You Soon', a song that seems different to the others in that its guitar parts feel much faster and higher, but still working well with the melody and lyrics.
There is little intro for the next song 'Impasse', with a slower and softer feel to it, whilst still being fast and heavy at the same time, with good balance, making it great to listen too and still engaging. With meaningful lyrics and a cool tune, its another track that I feel makes the album.
'Exposure Exposure' starts with a strong guitar riff, then going on to fast and excellent vocals, with an energetic and exciting atmosphere, the track then changes half way through, going into a much faster part, then leading back into the more familiar feel once again, to finish off the track.

The next track 'Death Of Lucidity' instantly starts with a stranger sounding intro, then going into a heavier guitar riff, leading into overlapping melodies creating a chaotic yet melodic track full of excitement and energy, but in a completely different way from the previous track.
An almost industrial feeling introduction leads us into 'Godzilla' which initially sounds heavier because of its strong bass line. The way that the band have composed this suggests that they wanted the lyrics to be strong against the instrumental, speeding up after the second chorus, with a higher and faster guitar part.
They decide to end the album with a bang titled 'Weakened Warriors'. With its fast guitar and melodic vocals that fit together perfectly, it creates a heavy and upbeat song, that is still easy to listen to. Halfway through quietening down, then building it back up again slowly to another chorus, with strong and influential lyrics, is a great song to end the album.
The album in itself is a great listen and I would recommend it, with each track being a unique listen and feel, yet still seeming natural and fitting the band and that flow easily. The album is being released on the 8th of April, and if you like the sound of 'Nerdy Neo-Rock', Unsaved Progress is definitely for you.