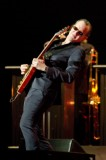 'This Train' comes bristling down the tracks with a ballsy hard-on. Mr Bonamassa in mighty fine form with roaring vocals that are so good they have you second guessing  it's not Roger Daltrey delivering a new Wilko Johnson collaboration in what's essentially a hard bopping rockabilly number with an old school rock 'n' roll guitar solo pitched from the high end of the neck to take us home. He follows it with a riff taken out of the box left over when Zeppelin packed up shop just so you know Kevin Shirley's still helming the producer's chair for that to get picked up, but it's a good one and he applies it well over another strong number in 'Mountain Climbing'. A pretty damned good start by anyone's reckoning.
Another day, another dollar, and another Joe Bonamassa album then. The second in a row where it features all-new material. Only it's not. Despite the hyperbole and the lazy journalese repeating of such.  2014's Different Shades of Blue featured a messy blast of sonics that was credited to the late Jim Hendrix. I don't need to hear that again, and I've not gone out searching the maestro's original cut since. Not everything our guitar gods touch turns to gold. But, no fooling Different Shades of Blue was a great blues rocking album, packed with a horn section that gave it some sass and shied to the right side of the cabaret circuit. What's most noticeable about Blues of Desperation is that while Bonamassa's retained the saxes they're hardly noticed, rather the musical ambiance that's felt powerfully throughout  this album are a group of female backing vocalists in the shape of Mahalia Barnes, Jade McRae and Juanita Tippins – Mahalia being the great Jimmy Barnes' daughter so you know we ain't messing here, but she don't overplay it; the three of them just add to the overall flow and arrangement of the songs and take them to a whole other place. You notice it within those very first two upbeat numbers.
Elsewhere Bonamassa is edging towards a more country influenced groove. Perhaps not the music itself but certainly in the songs' narratives that were co-written down in Nashville with a group of the town's top tunesmiths.  With some of that feel but edging into different waters too we get the Mex-Tex acoustic blues of 'Drive' that also has something of a subtle calypso beat to it. The emotions felt by that song get evaporated as the stripper blues with a spring-in-its step riff that is 'No Good Place For The Lonely' ensues. Layered with stirring organ to further arouse you, lyrically it's in that "My woman done me wrong" B.B. King manner with an elongated solo that pitches in just right.

'Blues of Desperation' itself is a bloody odd one. There's Michael Rhodes playing what sounds like a wah-wah on bass for another number informed by Zeppelin at their Eastern zenith before going into a more mainstream song. It just doesn't grab me. In fact all it does is make me consider that if Jimmy Page is really going to return to bestowing us great unwashed masses with new music he better be setting new horizons for himself like he did back in the day. But I digress; Bonamassa redeems himself on the mid-West country acoustic of 'The Valley Runs Low' pitched somewhere between Clapton's early solo career and The Eagles before they coked out first time round. Again it's the guitarist's voice that impresses most highly here and when it's joined in gospel by the ladies it's quite magical. Next up, Bonamassa's picking with Freddy King's fingers for an uptempo wah-wah riff on the belligerent man-swaggering blues of 'You Left Me Nothing But The Bill And The Blues' that's probably the nearest we get to the kind of material found on Different Shades of Blue. 'Distant Lonesome Train' wouldn't have been out of place as second or third track on this album were Bonamassa opting for an album intended to rock out more – it's a song wherein Bonamassa applies a subtle distortion to his guitar with a feel akin to that applied by Mick Ralphs on Bad Company's Burning Sky album over pitter-patter syncopated drumming and inventive flourishes of organ. Quite laid back it takes you by surprise when he scorches through the solo.
'How Deep This River Runs' is the album's epic. The band lock in, tempered but tight over a powerful chord progression that builds richly, with big female harmonies that wrap Bonamassa's rawer voice  emotively in their own and soar like Valkyries taking the wounded dead to Valhalla. We forgive the 'When The Levee Breaks' variation on drums as it leads Bonamassa into a heart wrenching solo inspired by Kossoff but with a distinctly modern edge.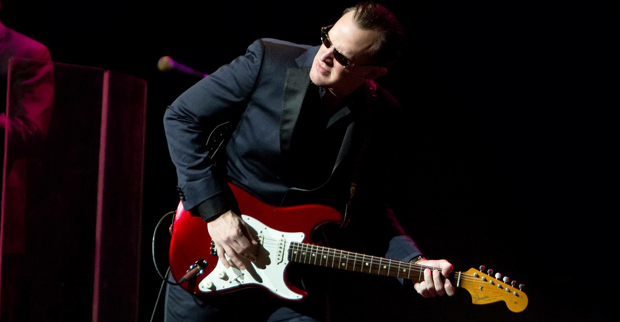 Most folk would have left it at that. The slow slinkly piano blues of 'Livin' Easy' follows and is one of only two tracks to really feature the horn section, and in particularly inventive form here although Bonamassa's own acoustic solo has to be described as workman like. The album's final statement comes with the slow blues of 'What I've Known For A Very Long Time' that again finds us running into the two themes that flow through Blues of Desperation and where we get to play amateur psychologist: He's broke up with his woman and there are lots of songs about modes of transport. Is he tiring of touring, looking to settle down? One wouldn't be surprised.
The work ethic of pumping out so many albums in recent years alongside tours where there's some kind of promotional highlight means when the spotlight's on Joe Bonamassa it shines down hard. The guy could probably do with a rest. If that's what he needs by all means let the man do it, but until then, box ticked – A generally fine album delivered, and a much different kettle of fish than one would have expected after last time. Blues of Desperation finds the gunslinger guitarist angle isn't as ever-present allowing the singer-songwriter in Joe Bonamassa his chance to shine, with welcome vocal embellishments from some very talented ladies.

Joe Bonamassa in Concert: A Salute to the British Blues Explosion (JULY 2016 UK Tour)
Joe Bonamassa pays homage to the music of Eric Clapton, Jeff Beck and Jimmy Page!
24 Hour Ticket Hotline: 0844 844 0444
www.jbonamassa.com and www.ticketmaster.co.uk
HOGHTON TOWER
SATURDAY 2nd JULY 2016
With special guest Joanne Shaw Taylor
Tickets: www.ticketmaster.co.uk
24 Hour Box Office: 0844 844 0444
Venue Number: 01254 852986
North Preston, Lancashire, PR5 0SH
GLASGOW CLYDE AUDITORIUM
SUNDAY 3rd JULY 2016
Tickets: www.ticketmaster.co.uk
24 Hour Box Office: 0844 844 0444
Venue Box Office: 0844 395 4000
Glasgow, G3 8YW
BRISTOL COLSTON HALL
TUESDAY 5th JULY 2016
Tickets: www.ticketmaster.co.uk
24 Hour Box Office: 0844 844 0444
24 Hour Venue Box Office: 0844 887 1500
Colston Street, Bristol, BS1 5AR
LONDON GREENWICH MUSIC TIME FESTIVAL
THURSDAY 7th JULY 2016
With special guest Joanne Shaw Taylor
Tickets: www.ticketmaster.co.uk
www.greenwichmusictime.co.uk/book-tickets
24 Hour Box Office: 0844 844 0444
Old Royal Naval College, King William Walk, London, SE10 9NN
NEWARK CASTLE
FRIDAY 8th JULY 2016
With special guest Joanne Shaw Taylor
Tickets: www.ticketmaster.co.uk
24 Hour Box Office: 0844 844 0444
Venue Number: 01636 655765
Newark Castle, Riverside Park, Tolney Lane, Newark, Nottinghamshire NG24 1BZ