After a series of EPs and singles, Brighton's Furyon are now on their third album, produced by Rick Beato (Shinedown, Fozzy) and it's a corker of modern metal, shimmering guitar fills and vocals that one moment cry out in anguish, the next in euphoria.
'All That I Have' is epic, grand and monstrous from the outset. Its throbbing, pulsating rhythm is incessant; bass player Alex Bowen and Lee Farmery's Drums are at the core of every song on this album, driving and writhing round the beats while guitars flitter in and out with jagged precision. Here we are introduced to Matt Mitchell's voice, one that's often double tracked with harmonies in a Def Leppard style that contrast with the harder rock, metal and alternative asides presented musically. On 'We Come From The Houses Of Pain', Mitchell sings reflectively before noting his intentions to "try to find a better life" before an arching guitar solo lifts off.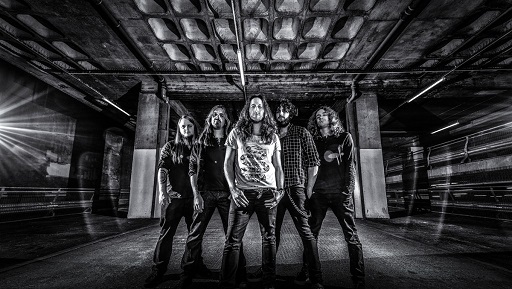 Next up, 'Lost Salvation' is Sabbath's 'Children of the Grave' rearranged by Alter Bridge, with radio friendly hook lines thrown in, while the single that was 'These Four Walls' weaves its way through alternative rock, whispered madness and an aural blast of  fear and inner turmoil akin to Dennis Wheatley revising some long lost HP Lovecraft tale.
Offbeat, edgy rhythms, where drums tumble harshly and bluesy guitar notes squeeze out, find us listening to 'Scapegoat', with near Beatles' style harmonies coming in at one point to accompany Mitchell's lead vocals soar far and wide. From the information gleaned, there appears to have been guitar changes in recent times, with Chris Green credited as among those playing on 'Lost Salvation' but Luca Faraone and Tiago Rosado as current guitarists in the band; either way, they scorch on 'Resurrect Me', the first of two songs that have the regal groove of Zeppelin, amidst whispered asides and melodic solos. 'Left It With The Gods' follows suit but adds a little Velvet Revolver.
The pace quickens for 'Good Sky' as if caught by some devilish musical monster, then slows to arpeggiated chording and a squealing riff amidst a coarse weary voice, continuing as guitar lines maintain their twist, shred, search and interplay. 'Dematerialize' is one of a couple of tunes where keyboards appear to embellish the background sound, its more flowing arrangement treading into hard edged fusion-metal territory, while 'What You Need' is a stoned bad acid trip that pulls in a pop melody wherein the unlikely amalgamation of Gillan and The Rolling Stones ensues. The album concludes none too different to the way it began – intercut between broken chord dread and wailing cries for help and rock chipping away at the stone like some prayer to the majestically damned and self-abused with 'Wiseman'.
Lost Salvation feels passionate and sincere. And it rocks.