After slipping from lock and key out of the asylum, Gehtika swiftly began their transition from straitjackets to waistcoats, face restraints to face paint… from the psych-ward to the stage…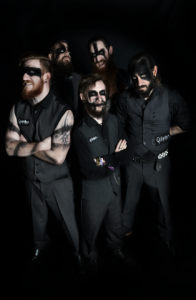 An insanely infectious gentlemanly façade feeds the tongue-in-cheek, theatrical madness that is Gehtika's live performance. Combine this with their relentless onslaught of extreme metal and you get an all-out, no holds barred assault on the faculties. Gehtika bring you entertainment via insanity whilst promising a bloody good spiffing time!
The sheer mention of straitjackets and asylums piques my attention every time and, on listening to the first track, I feel I am actually in an asylum complete with straitjacket! The turbulent rhythms are menacing and terrifying in their own right.
The second track just blisters into a virulent pool of festering murkiness and swamps the aural in no uncertain terms. The integral part of their sound for me, is the way the band just go for the jugular and rip it to shreds. It impacts with no shadow of a doubt, especially in the vocal department, which is backed up with an almost orchestral feel of madness. There is no respite as the hard-hitting drum beat takes hold and simply magnifies its wickedness through an all-out frenzy of vocal slurs.

As if the previous track wasn't heavy enough, 'Stack of Pyres' just leaps forth and devours, adding some serious spiced up malevolence as it goes.
Moving on to the next track 'Empire in Decay', the guitar just doesn't play riffs but serenades you with a festering and lingering blackness that is horrifically alluring.
The band's title track 'Monster in Mourning' is another fearless track that is confidently executed with prowess and tempting emotion.
The slow and haunting 'Reckoning' could easily be a soundtrack to a horror movie as it glides gracefully from the speakers with its demonic dark tones but quickly gets cut short in its prime.
'The Massaquerade' (no I didn't spell it wrong!) is a brawling massacre, make no mistake! Its dark components bounce with an hysterical frenzy of beats and engage with a keen sense of foreboding.
'The Shepherd of Erebus' holds an extremely gnarly vocal and a guitar sound so jagged that one would find themselves impaled were they to manifest physically!
The last track expels a rampaging beat that is fast, furious and breaks free from its chains, in a powerful and energetic run of riffs and extreme melody pushing its confines to an all-out maximum.
This band, and indeed this album, are no nonsense, all-out in your fuckin' face! It possesses some grand tones which are used to their full capacity and well beyond!
A Monster In Mourning is to be released 17th August 2015.