Every musical movement can be stripped down to three phases. The excitement, when a band with a new idea appears and takes the world by storm. The bloating, when seemingly every band takes that sound and runs into the ground.  And finally, the survivors.  Those that evolve until they are only loosely linked to the initial movement and are just a kick ass band in their own right.  Coming out of djent, Heart of a Coward are most definitely survivors.
They're also at this point of their career on a perfect run, every album has been better than the one before and with their third release, Deliverance, they've continued that trend.  In fact, they may well have set themselves up as one of the best straight up metal bands the UK has at the moment because these guys are good.
'Hollow' kicks things off with Jamie Graham declaring "welcome home" before everything comes crashing it.  The staccato riffing and relentless drums that have become Heart of a Coward's stock in trade are littered throughout the track, but where things get really interesting is on the huge sounding melodic chorus.  This is bigger than anything that Heart of a Coward have written before and it sounds great.

On their third album Heart of a Coward seem to have nailed who they are as a band.  They still write heavy metal songs that make you want to charge headfirst into a brick wall all while screaming your head off, such as 'Turmoil I – Wolves'.  But they also write choruses.  Choruses so big that while you're lying on the ground dazed and unsure of exactly where, you still can't help screaming along will 'Anti-Life'.
Which will probably worry some people.  Not everyone likes their metal to be full of big melodic moments and they will be looking for bands like Heart of a Coward to provide them with riffs they can feel loosening their bowels. Well, you needn't worry too much, because that's still here. Heart of a Coward know how to write a riff or two and on tracks like 'Grain of Sand' they provide just as many jabbing, complex riffs as they do soaring sing-a-longs.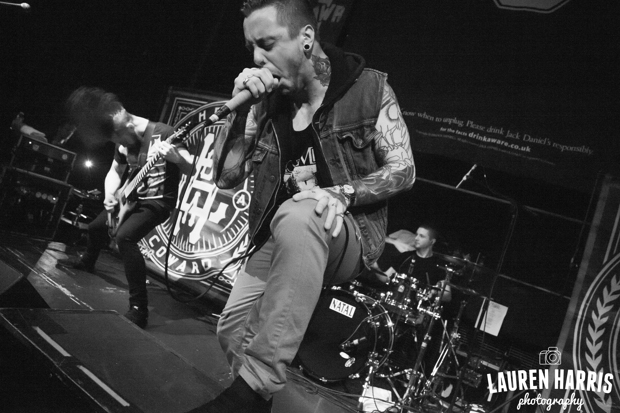 The closing two shot of 'Skeletal I – Mourning Repairs' and 'Skeletal II – Arise' brings it all together.  'Mourning Repairs' is closer to a big sweeping rock song with metal elements than the other way around.  While 'Arise' starts gentle, Graham's vocals taking a fragility that we haven't seen before. Heart of a Coward have taken that down-tuned djent style and turned it into music that will appeal to lovers of all things heavy.
Heart of a Coward is the heavy metal band that you want to get behind. Three albums into their career they haven't put a foot wrong and it's hard to see them doing so anytime soon. Deliverance is just the latest chapter in this band's rise to the top and if you can't find something to love in it, then you are probably listening to the wrong genre.