As you listen to Haven, there is more than one occasion where you could be forgiven for imagining lead singer Tommy Karevik stood in a foggy field, fist in the air and the moon glinting through the clouds. Kamelot don't do things by halves and Haven isn't where that is going to change.
The eleventh album from these American power metal lovers, Haven does everything you would expect it to do and then turns it all up to eleven.  It's big, over the top music and yet it never once forgets to also be glouriouslyl good fun.
Opener 'Fallen Star' starts things off in a suitably epic fashion, it's all big guitars and even bigger choruses and you almost begin to worry that they have put everything into the first track.  That's not a worry that was ever likely to come true however and 'Insomnia' twists and turns into life, full of widdly guitars and huge vocals.  Following that is 'Citizen Zero', a haunted house of a song, never quite settling down but never going far enough into the strange to actually freak you out.  Kamelot never leave behind their power metal roots, but they know how to shape it in order to get different results.  This album may be more of the same, but it's definitely not boring.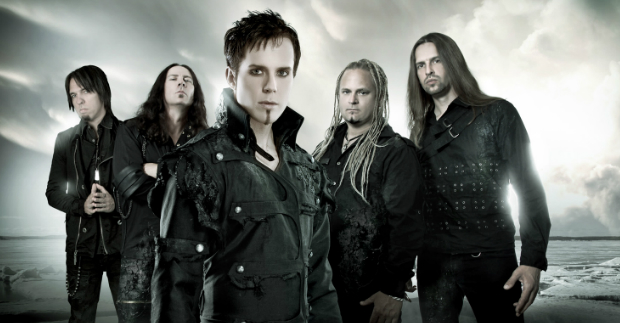 'Under Grey Skies' even sees the band going as close as they ever will do to stripping things back.  Its acoustic sound is complimented by Charlotte Wessels guests vocals.  It's another track that sounds like it could have come straight off a film score and as you listen to it you can't help but feel you would be better suited to walking across some Lord of the Rings esque scenery. Which is in many ways Kamelot's biggest strength.  This album is as visual a piece of music that you will hear.  It tells stories and it is so easy to get caught up in them and dragged along.
It's not all foggy landscapes though and Kamelot are still a metal band at their heart. Thomas Youngblood's guitars are fantastic throughout and he plays like a man possessed.  While Casey Grillo's machine gun drums on 'My Therapy' play a big part in ramping up the metal.  Finally, 'Revolution' has an evilness at its core, which is nicely judged next to the airy nature of some of the other tracks.  It gives everything a bit more steel and is a welcome change from the floating feeling a lot of the rest of the album inspires.
Kamelot do what they do damn well. That does mean that if you are not a power metal fan, you should probably stay away. There is nothing here that is going to change your mind and it is the same bombastic stuff we have all heard before. If however you do occasionally like to throw your fist in the air and shout along, then Haven will give you everything you want and more.
Out Now via Napalm Records!