Michael Schenker's Temple of Rock are shaping up into the kind of tight, hot combo MSG never quite were.  We can argue how much 'Lost Horizons' would influence the epic nature of Iron Maiden's music, and in hindsight see that  'Captain Nemo'  helped birth all those guitar shredders that littered the 90s music scene, but cohesively, as a band, the line-up kept changing and you were never quite sure what you were getting. That's putting aside, dear Michael's own personal demons with booze, drugs and what have you. Here he is now in middle-age, a more balanced individual, who's spent the last few years regaining his reputation, by grafting hard. And the fact that he's kept a consistent line-up for much of that time has helped immensely.
Former Scorpions' rhythm section Francis Buncholz and Herman Rarebell not only the keep the machine rolling, they prove themselves adaptable to change too, though it's Rarebell's double-bass drums that are most hardily felt pummelling songs like 'Live And Let Live' and 'Restless Heart' into life. The former leads off Spirit On A Mission, the opening bars sounding oddly like a pre-school TV show theme given a heavy metal makeover, before taking off with a  riff that ducks and weaves aplenty, singer Doogie White delivering a rallying call for a lengthy tour of rocking to begin.  A harmony solo echoes Schenker's early UFO work before going the neo-classical route, one he'll take with a number of songs throughout where he unleashes his inner Blackmoore.
The grooving strut of 'Communion' is most unexpected. 'Kind of Desolation Angels-era Bad Company played on overdriven metal guitar with a danceable vibe to boot. "Give me the wine," sings White as religious metaphor to the whole rock scene, women, and booze in general between the main man's fluid guitar lines. The pace quickens with the chugging 'Vigilante Man' where Schenker reaches for notes of Viennese waltz complexity and White pours on more biblical asides, informing us "Seven is the number of the deadly sins" before offering a truckload of clichés over another duck 'n' dive riff in 'Rock City' that works despite itself.
Keyboard player/seven string guitarist Wayne Findlay also makes his presence felt, not least by his co-write for 'Saviour Machine'  wherein a heavy slow grinding guitar ensues, while another wails in the distance and  White's screams out like a muezzine calling muslims to prayer. This down-tuned epic approach begins to question the folly of war, while the saviour being God, love, or good old rock and roll remains enigmatically obscure.  As with some of the other songs there is also something of a futuristic dystopian feel to the lyrics, akin to but not as fantasy lead as Rush's 2112. Half way through the mood changes with keyboard textures appearing like an oasis in a desert only for a Strauss like melody to ensue from Schenker until he starts to attack his Flying V in a neo-prog manner, the band sound building monumentally with a little industrial nuance thrown in for good measure. These quasi-Arabian flavours continue with the speedy dervish guitar sounds of 'Something Of The Night', suitably followed by the speedy dervish guitar intro to 'Something Of The Night' as White ponders the mystery of womankind and Schenker's solo has him working within a familiar melody framework while reaching out for some interesting exploratory notes. That triad is completed by 'All Our Yesterdays' that while reminiscent of that whole 'Stargazer'/'Kashmir' grandeur  has an interesting off-beat bass drum pattern, modern symphonic metal synthesiser sounds and the odd guitar going off like a siren before two classy solos from Schenker that features his classic signature sound in almost blues and boogie manner at times.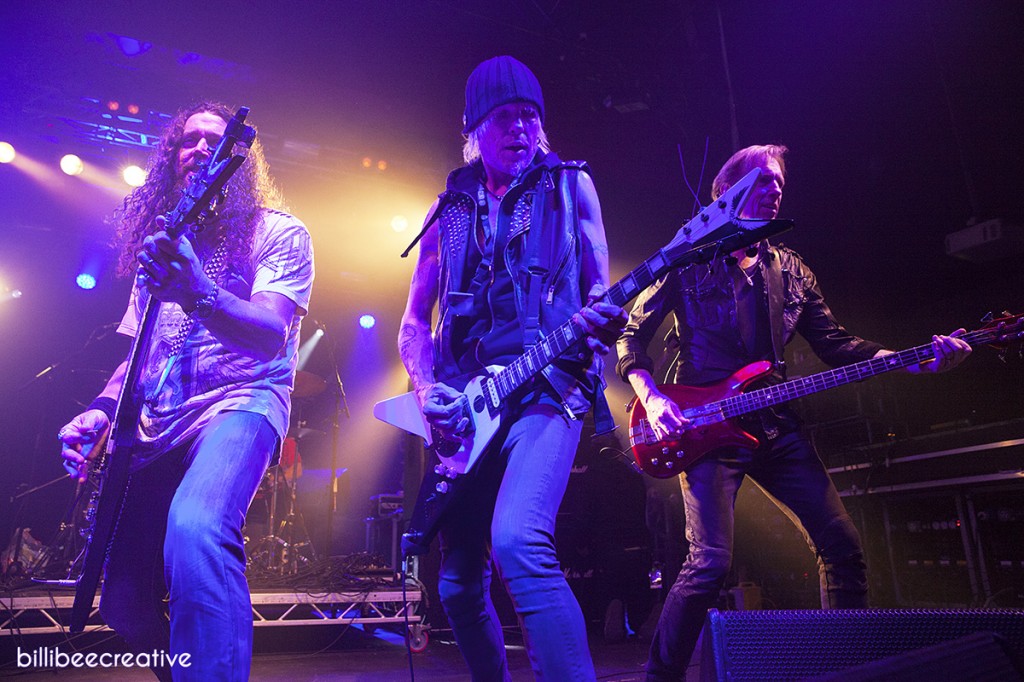 The mid-paced mend-a-broken heart theme of 'Bulletproof' doesn't really grab me until  two minutes in when there's an eloquent classical guitar statement then an electric wings its way in to solo, and on returning to the song it seems to gain energy. Interestingly, 'Let The Devil Scream' is a danceable Sabbath style dirge in between lighter keyboard-filled moments sprinkled with prickly notes from Schenker. 'Restless Heart' again rocks and weave while there's heavy artillery chugging with wailing guitars, counterpointed by Bucholz's bass picking up momentum underneath to move the sound into a more celebratory euphoric sound for the final track that is 'Wicked'. My own favourite comes a little before, 'Good Times' is a trip down memory lane lyrically with some subtle stop-start guitar chugging, rock-aching harmony melody lines, effective arpeggios on keyboards, and is rammed tight with hooks in all the right places. It's a classic of the type Schenker wrote for UFO during the Force-It era.
While there are the moments where you feel we're in Rainbow territory, I think it's less to do with Doogie White having served in that band, and more to do with Schenker always having taken Blackmoore as the template for how a lead guitarist from a name band should take his solo career forward. Regardless, White impresses, proving to be most compatible to Schenker, able to hit the high notes for the MSG patterned numbers and dig deep and bring out something extra for those that echo UFO.
While not a great album, it is a good one, and best appreciated played loud, with tunes that could become live favourites. More importantly, it shows Michael Schenker not to be wavering to temptation or excess, and his reputation as a unique and formidable guitar player now simply precedes the man we get to see and hear right now.