There are few bands in the world that can get away with a 21-minute long EP comprising of just one track… 'I' was released in was 2004 and was originally meant to be released by Jason Popson's Fractured Transmitter record label, but in the end came out via Nuclear Blast as a 'one-off'.
Now, in keeping with their 25th anniversary celebrations, the band have remastered it and released it once again through Nuclear Blast.  Alongside the original 21-minute long song, they have added in two live tracks, 'Bleed' and 'Dancers to a Discordant System', both recorded on The Ophidian Trek world tour, as well as studio track, 'Pitch Black'.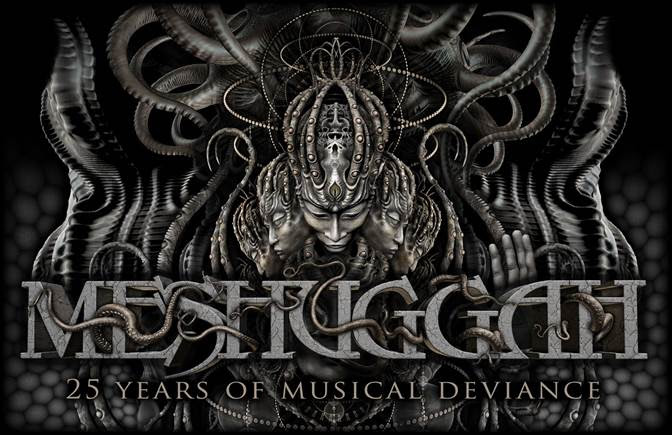 The odds are you will already have a pretty good idea of whether you like 'I' or not. Either because you have heard it first time round or because most people are aware whether they are likely to enjoy a 21-minute long progressive metal track by Meshuggah. It is twisting, enthralling and slightly infuriating, as it feels like you can never truly get a grasp on it. Something that probably comes through the haphazard way it was recorded, with it being written in a very open style and taking around 3 months.
What collectors will be most interested in, will be the tracks added to 'I'. The two live tracks are at the high level you would expect from Meshuggah, but with both also available on the live album, 'The Ophidian Trek' due out soon, they might not be enough to tempt anyone towards making a purchase. 'Pitch Black' meanwhile, is a slow twisting track, very much from Meshuggah's big box of tricks, it was of course released on last year's 'Pitch Black' EP, but if you missed out on that, it might be one worth hearing, but it is unlikely to blow you away.
This remaster is very much one for the die hard and the completionist. If you are not a Meshuggah fan, it won't change your mind and there are much better places to start if you want to start being one. If however, you are a huge fan and need to own everything they've released, there is enough here to not make you feel like you are completely wasting your money.
6/10
Meshuggah 'I' (Special Edition) is out now via Nuclear Blast.
Meshuggah will play a very special 25th Anniversary set by performing selections from their 1989 – 2012 discography including some rare songs that haven't been played live in many years.
Meshuggah – 25 Years of Deviance tour dates:
Tuesday 9th December – Umeå SE – Guitars Friday 12th December – Gothenburg SE – Pustervik Saturday 13th December – Copenhagen DK – Amager Bio Monday 15th December – Lausanne CH – Les Docks Tuesday 16th December – Milan IT – Live Club Thursday 18th December – Paris FR – Le Cabaret Sauvage Friday 19th December – Amsterdam NL – Melkweg Max Saturday 20th December – London UK – Roundhouse Sunday 21st December – Dortmund DE – FZW