A wave of feedback gives way to a strident mid-paced Bad Company-styled statement of intent, then, as you listen a little deeper, you'll find there's less machismo present in this deep, resonating voice as it proclaims a love that's determined to be true on opening track 'Chains Of Hope'. The steady chugging rock 'n' blues ride of 'Roll The Dice Again', is even more heartfelt with its lyrics, with a nice sustained solo winging the song homewards. With Sky Won't Fall, Stevie Nimmo has composed an album that casts its gaze over a respectful past and begins to deliberate on where the future may lead.
Co-fronting the Glaswegian blues-rock outfit, The Nimmo Brothers, with younger brother Alan (who's now stepping out with King King), it has been five years since the award-winning blues-rock guitarist and singer-songwriter recorded his debut album, The Wynds Of Life. If I'm correct, there have been some serious health issues in those years between, so now recovered Stevie is blessing all the good things life has to offer, and proving you can express your love for the women in that life and still be all-man.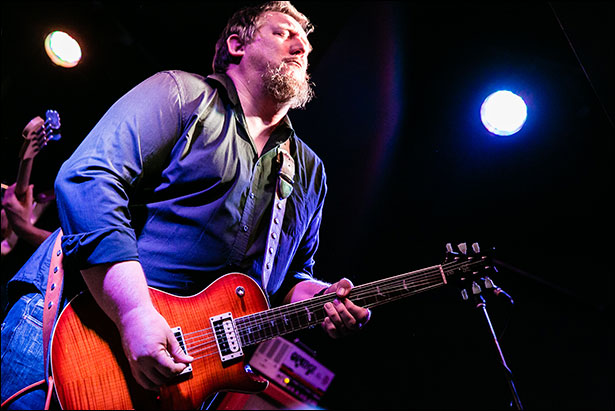 Those years away from the recording studio haven't harmed Nimmo's voice one bit, coming on like fellow-Glaswegian, the late Jimmy Dewar (Stone The Crows/Robin Trower Band), with his hushed, confidential intonation during 'Change', as its soul-funk clinks glasses to the nightclub crowd without compromising musical integrity, and as a frothy guitar solo plays over a rolling bass line, while elsewhere he reaches the falsetto notes of Smokie Robinson on 'Loving Might Do Us Good'.
"I wanted Sky Won't Fall to have as broad a musical spectrum as possible," Nimmo commented prior to the album's release, "to showcase a bit of every side of my song-writing. So there's rock, blues, country, pop-rock, and even acoustic. It really is a good representation of what I do."
The results of this showcase are pretty good, too, from the slow, organ-lead blues of 'Running Back To You', which wouldn't be out of place on Free's Tons of Sobs, to the Zeppelin riffery of 'Still Hungry', and the acoustic lament of 'Love You More Tonight'. Elsewhere, the bass is driving the rock 'n' soul of 'I'll Pray For You' and Nimmo's back singing the blues for the atmospheric 'Gambler's Roll'.
'Walk The Thin Line' is one step removed from the Dobie Gray hit 'Drift Away' with some highly creative pedal steel guitar playing throughout. Sky Won't Fall has nothing to do with reinventing the wheel – a guitar solo will begin when you expect it and sound pretty much like you'd expect – but the fact that they extend the expression of the song itself rather than rear off on a self-satisfying ego-boost helps to ensure that this is a class act from start to finish with the best damned rhyming couplet hook-lines I've heard in ages.