Being a huge fan of good scotch and bourbon, I soon found my perfect drinking music in Viking Skull and never looked back. I've also been lucky enough to have played a gig with Deadeye many moons ago, so when I heard the news of members of those bands, along with some from Nekkrosis, had formed a band named Stormbringer, it was only a matter of time before I sunk my teeth into them.
Having somehow let them go under the radar, I came across them at Bloodstock 2013, early on the Saturday whilst in a severely hungover state. From the off, the music had me interested; the great guitar tones and the constant supply of first-banging, beer-drinking riffage that I'd come to expect from their previous bands was all still there. What I did not expect was the clean vocal style that came out on top of all that; sadly, my interest was lost and, after half a set, I went in search of something else.
Not too long after the vocalist departed with other commitments and the search for a new vocalist to step in began, Jimi Brown stepped up to the plate during auditions and the near future of the band was set.

With their second release, 'Blood and Rust,' Jimi brings his own clean vocals with a real classic sound. It took me a few listens to adjust to it, but I do not regret it.
Starting out with an instrumental intro that has all the expected swagger and drinking riffage I expected, it soon adopts a classic feel, ending with a very 'Thin Lizzy' style twin guitar sound which carries straight into the next track, 'No Redemption'. Straight away, the feel from when I first saw the band was present, only now the vocals really pulled me in. They certainly are not short of catchy riffs that you could listen to time and again. It'll be a real crowd mover at any gig.
Displaying an impressive range of vocals, 'Rise' is less of a fist in the air track than it is a head banger. Never letting up, the solo suits it perfectly and suitably complements the guitar abilities in the band. Straight after, we get back into the rocker feel of the album, which feels like it really suits. Short, classic solo leads with great harmonies, Stormbringer really have found themselves and have created an exciting crowd-pleaser of an album. I can't imagine any bar at a venue they play will have much in stock by the end of it either!
Slowing the pace a little, 'Unto me' is the one track that really stands out, a real feeler compared to the 'rock and roll' of the rest of the album. The solo is simple enough to not steal away from the song, but holds the classic sounds of old; this is a track that will have audiences singing along.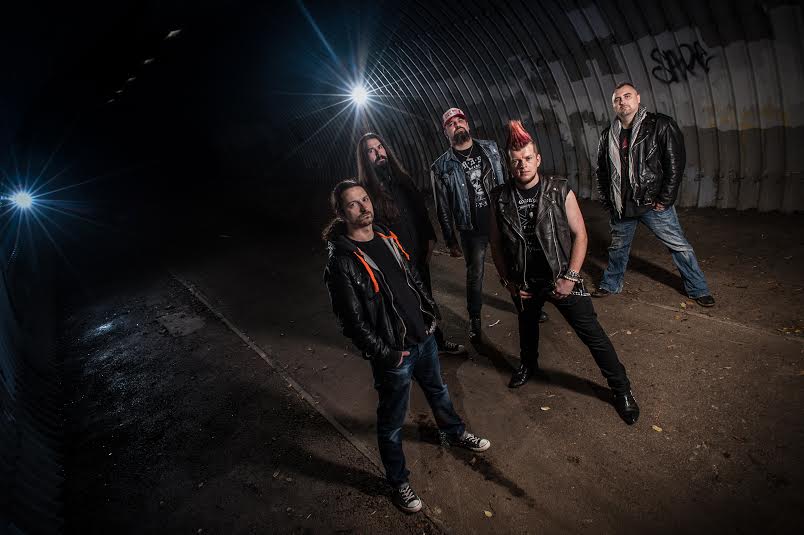 The rest of the album follows suit; songs like 'No Return' have more of a radio friendly sound, but enough hooks & lines to hold the interest. By the time you get to 'Cross to Bear' the pace picks up and it's much needed by now, after the slower few of the album. As the past three out of four songs have topped over five minutes, 'Cross To Bear' does seem a little too short, clocking under four minutes. Falling back into the style of 'Unto Me', 'Voice of Demons' is the longest song of the album at 7:27; introducing the acoustic and a real warm lead tone, you can tell this is their epic track of the album. If any of the previous tracks were a display of the band's talents, this is the showcase of all of it combined. This really opens up all that you should expect from the album, and definitely feels like what you can expect to be the last track of any show. It brings a more mature sound to the album – the drinking attitude and fist banging all goes out the window. It is the standout track and deserves the most praise on the album; even if you aren't a fan, this song will have your approval.
Album closer 'Psychokiller' is the cover that says all they are about: having a good time, and it'll be hard to not have a fun time yourself with them either. This is a band that deserves to be seen live, and they will no doubt have even the haters having a good time too. I for one will not be leaving them not matter what state I may be in from the night before next time.
Stormbringer live by their mission statement; "To rock out as hard as we can, wherever we can and have a good time doing it". Who wouldn't want to be a part of that?!