As we all know Metal is very much a male dominated genre. In a world of deep growls, high screams and all conquering stage presence; it is often a man standing tall whipping up the crowds. However you would be utterly foolish to think that the ladies cannot give the guys a run for their money. I mean just take a second out of your day and listen to equally powerful statements made by the likes of; Kat Kaz (Agoraphobic Nosebleed), Dominique Lenore (Stolen Babies) and Tarrie B (My Ruin & Tura Satana). There may not be the quantity however there is no disputing the quality for a second.
So obviously when The Agonist lost Alissa White-Gluz to Arch Enemy, fans of The Agonist would obviously be concerned. Here was a band that has been learning, developing and building on their craft since their formation in 2004. With the 2012 release Prisoners quite rightly breaking them to a bigger audience. Losing your singer at this point would kill most bands straight, replacing Alissa would of course be no easy task. However with new vocalist Vicky Psarakis on board there should be no fear or doubt at all. For here is a vocalist that will surpass any expectation you may have had. The heavy vocals drip with bile, malice and real intensity, while being equally talented on delivering the high noted melodic segments (and everything in between). Vicky's performance on Eye of Providence is simply fantastic, what a way to announce yourself to the bands followers.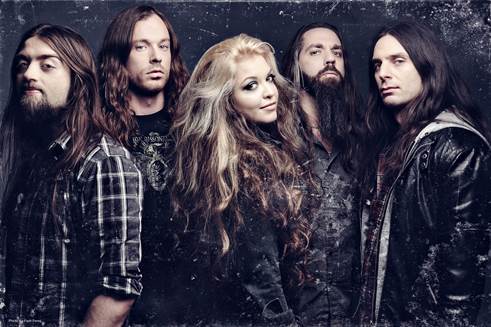 Musically The Agonist are not what they seem upon first listen. Here is a band that can seamlessly blend different styles of metal together, without it sounding lost, muddled or confused. There is the tremolo joy of black metal, harmonics of traditional metal, the grounding shaking heaviness of death metal and the stomp of groove metal. All of the differing styles take equal standing, to deliver an exciting, enjoyable and surprisingly focussed album.
The album explodes into life with the opener Gates Of Horn & Ivory, which is 3.30 minutes of sheer heavy metal joy. You have the speed demon shredding verse, soaring fist pumping chorus and of course finger melting solo. It's a great opener and the music rarely lets up throughout the album. However unlike many bands of the melodic/extreme metal genre (hell I gotta label them something for you guys), The Agonist know that to go straight for the throat 24/7 can become dull (unless your Meshuaggh or Cannibal Corpse for example). So it was great upon the first listen hearing the album twist and turn on a journey. Beating you senseless one moment and then massaging you the next (often within the same song). Even the normally forgettable acoustic number becomes one of the album highlights, morphing from the delicate sensitive (yet slightly sinister) first half into an ambient dreamy bass led second half.
This album should be a bona fide classic your thinking and in some moments it really is. However what prevents this is a simple case of consistency. Yes the vocals are awesome and the music is equally tight and technically sound. The problem is that some of the songs are that so damn good that upon repeat listens you just skip to them and kind of forget other songs. Tracks like the opener Gates of Horn & Ivory, Follow The Crossed Line, A Necessary Evil and A Gentle Disease (the acoustic number) tower over some tracks like a Giant Redwood would over a shrub.
Released through Century Media records on 23/02/2015.