When The Bronx released their first album in 2003, it was an unhinged slab of genius. Five albums later and few punk bands can lay claim to being half as consistent as this one. Even when they piss off for a few years to make Mariachi music they are brilliant, and a new album from them is like comfort food on a bad day. You know what you are going to get, but it's the best example of it.
'Night Drop At The Glue Factory' kicks things off in proper Bronx raging style. It's that mixture of anger and groove that few people can nail. Matt Caughtran has one of the most distinctive voices in the game as he roars into the mic and yet every word comes across picture clear. It's rowdy enough that it convinces you that you could run headfirst into a wall and come out on top but has enough of a hook that you're just as likely to burst into spontaneous dance moves.
V isn't an album entirely made up of stripped back and pissed off punk rock, however. This feels like a more mature Bronx and maybe one that has learnt a trick or two while they were out there playing Mariachi music. There are several tracks here where the foot is eased off the peddle, and a little bit of polish is applied. It's something they've shown elements of on songs like 'Dirty Leaves', but it's a much more prominent side of their sound here. 'Side Effects' is pure rock and roll and will have you singing along after just one listen. While 'Channel Islands' has an edge of melancholia. It's reflecting on things changing and the feeling of running out of time. It shows a side of The Bronx that we're maybe not used to.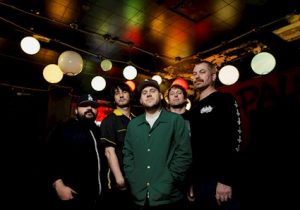 If all of that's got you a bit worried, then you can calm down, because this is still very much The Bronx. These tracks might have been buffed up with a bit of shine but that rage is still at their heart and they can still pound you into oblivion when they fancy. 'Stranger Danger' – with its lyrics of 'I'm a killer, let me be who I am' – more than makes up for its slower bass led sound by having a dangerous edge that you fully believe.
And then there's 'Sore Throat' which they use to remind you that they are still a wild bunch of punks that will destroy any room on the planet. It's the unhinged scream of a defiant beast and it is glorious. Five albums into their career and a lot might have changed since 2003 but it's still unhinged and it's still glorious.