When I think of Austria, I think of the history, the landscape, Sigmund Freud, the beauty of the place, oh, and some small known guy called Schwarzenegger. Most importantly though, I know it for beer.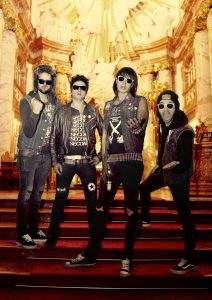 Now I have something new to think of, Turbobier. I may not know any Austrian, but when a band has a name like that and 'vows on the holy beerble', I am easily sold! People can turn around and say, well how can you enjoy it if you barely understand what they're singing about? Well, that didn't stop people loving Rammstein did it.
These guys can knock out track after track, all of which are definite chugging songs. Sitting more on the punk-rock side of the scale than heavy-rock, each song smashes through a happy feeling, it's hard to narrow down a favourite with so many catchy riffs and tunes crammed into one album, and soon enough I am sure I will be singing along fluently enough through after enough listens and drinks!
It's hard to find a fault in any song too, the fluidity of the album cannot be beaten as it plays through with such ease and efficiency. Each track feels like they have just written themselves one after the other, and while people do say you don't need alcohol to have a good time, as Turbobier prove, it really doesn't stop you having a good time either! Who says you need to go out? Do yourself a favour, go buy Das Neue Festament, buy a few crates of beer, get some mates around, crank it up and have yourself a party!

Austria's rock band Turbobier will release their second studio album 'Das Neue Festament' on 27th January 2017 via Pogo's Empire / Hoanzl / Broken Silence.