Last year, I went to a fairly low-key festival in Petersfield, called Butserfest. Researching the acts beforehand, I came across the name ZOAX. Their repertoire on Spotify was limited – just two EPs – so I started with XIII (2014). 'Bitter Angry Fake' jumped forth from the speakers and within those first few seconds, I was gripped. There was something reminiscent of System Of A Down, yet it very much had its own sound; the diversity and creativity within this track alone, both musically and vocally, coupled with their very polished sound, shot them to the top of my 'must see' list. By the time I got to 'Lonely Souls' from their 2015 EP, Is Everybody Listening, I had been rendered a staunch fan. My only fear was that they would not deliver that same crisp sound live. Well, they blew me away; not only was the sound spot on, but they deliver one heck of a live show. In addition, they are consistent; I had the pleasure of seeing them just two weeks later at Breakout Festival in Brighton, and they delivered the same fantastic energy to a much bigger crowd. ZOAX won me over very early on, as I imagine they do with anyone that sees them live, since then I have been following with great interest.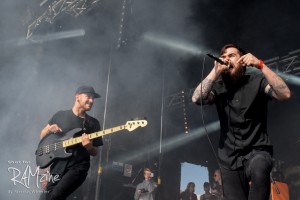 They have just released their much anticipated first album: the self-titled ZOAX (2016). 
Opening with 'The Bad Blood', a track previously released, gives me a taste of what I know and love about ZOAX; that blend of gritty heaviness, and mellow melody. 'Devil Dance' swaggers in with its dreamy elements providing the back drop for Carroll's trademark vocals; when the chorus hits, it breaks into a ragged, stabbing riff that lacks a steady groove but does, however, convey a sense of contrasting chaos – presumably the point behind the track.
'Roses All The Way' is a great, driving track given a warm and steady rhythm by the rolling tom drum beat and its anthemic chorus would make it a heck of a track to catch live. A deceptive intro leads 'Fly High' into another rhythmic belter, and is one of the highlights of the record for me; Adam's ever-impressive blend of mellow-melodic and savagely-raw is particularly effective in this track, and sits well with the dreamy and enveloping musical elements.
'Zuperheroez' takes the contrast to another level with the jaunty guitar hooks sitting under Carroll's relentlessly gritty vocal delivery, before 'The Wave' demonstrates the much softer and more soothing side to the band and their ability to create atmosphere.
'Good Times' brings more feel-good sounds, with a particularly note-worthy funk-jazz outro, yet another snippet of what makes this band so thoroughly enjoyable and unpredictable. 'Mirrors' crackles and thumps into life steadily introducing each element for a darker and mysterious intro to another anthemic number. 'Ksychia' borrows from earlier material with its more metal-oriented intro riff but reins it in for the chorus, again, lending superb dynamics.
With its smooth intro sporting a guitar lick that would make Jeff Buckley proud, 'King And Queen' brings a more funky offering to the table, which is followed by the even funkier and ultimate feel-good track, 'Alive In Sound' – never before has a song so accurately captured the virtues and feeling of music for me.
'Slàn' brings the album to a concise close; it's a fittingly anthemic track styled in such a way as to be seemingly composed for the purpose. It's a perfect way to end the album, that allows the listener to slowly come back down and mellow on what they have just heard.
My initial thoughts were that, although they have been diverse with their writing in the past, they seemed to have lost something on this latest release; there was a raw and meaty heaviness in their previous material that contrasted with a mellow, smooth and sweet melodiousness that, when blended, resulted in a sound that set them far apart from most other metal bands; that meaty heaviness has been tamed slightly. Having listened to this album more times in the last week than I can recall, it became clear to me that I had to put aside their old material; the word eclectic is often thrown about far too loosely, and I am usually loath to use it, but ZOAX are exactly that. They are still a relatively young band, and when a band pushes into less ventured musical climes, drawing on so many influences, it will always take a while to settle into their own style. With this self-titled debut release, they have very much achieved that.
ZOAX came into this world as a metal band with an edge but, whatever the cause may be, the metal elements have been tempered and the band has carved out something slightly lighter, but more balanced, far more diverse and much harder to pigeon-hole, and this is only a good thing. This an album that showcases their uncanny ability to harness contrasting musical elements, and to translate feelings into sound with great finesse and uncompromising sympathy for their style: ZOAX is ZOAX, and it is a masterpiece.
ZOAX have lost nothing in this release, in fact, they have gained: ZOAX really have found their footing, and I don't see them falling down for a long time to come.
____________________________
June 2016 will see their third appearance at Download Festival – they play the 3rd stage on Friday 10th. Do not miss them!
ZOAX was released 13 May via Century Media Records.
Find and follow them on Twitter @zoaxofficial
____________________________