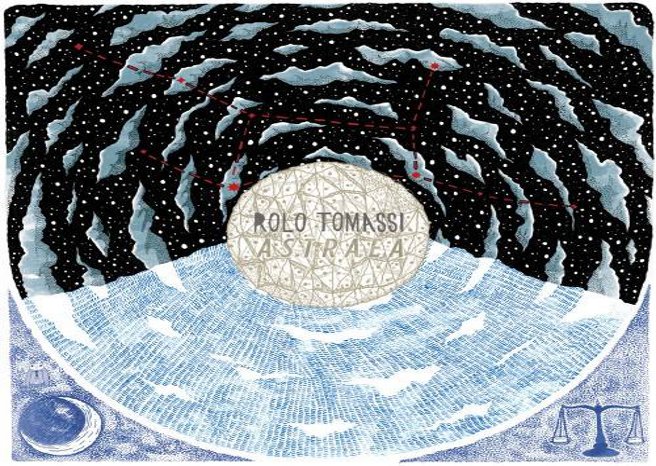 Sheffield's own Rolo Tomassi have been very busy little bees indeed. Whilst touring the UK as main support for Architects back in April, parting ways with old label Hassle and forming their own (Destination Moon), they have also written and self-produced their latest full length offering Astraea. Sticking to the bands experimental roots yet expanding and refining other areas of their undoubtedly unique sound, it contains ten of the most interesting and enjoyable songs you are likely to hear anywhere this year.
First song Howl is a very fitting opener. The atmospheric synths and cymbals that occupy the first two minutes give way, after a spectacular crescendo, to the type of orchestrated madness that the band are known for so well. Vocalist Eva Spence's weaves her way through discordant guitars and poly-rhythms brilliantly whilst once again leaving behind the question of how someone of her stature can create such a guttural and unforgiving scream? Second song, Ex Luna Scientia, picks up exactly where Howl left off whilst also bringing the first of many thoroughly enjoyable cleaner, more dynamic sections. It is as this song plays through that it becomes abundantly clear that Rolo Tomassi are pulling out every single big gun they have for their first self-released title. The vocals and guitars in the cleaner sections fit perfectly with their accompanying synth and drum parts to create a sound that is as beautiful as it is unexpected before firing you head first back into the rhythmic fury that is the second half of the song.
As Astraea progresses, several different sides of the band are revealed that, when combined, make this a truly spectacular album. These are all sides of the band that have been seen before many times but simply feel more refined and perfected on this release than they have in the past. Whether it be the two minutes of mayhem that is Remancer, the piano led uneasiness of Prelude II (Echolalia) or the atmosphere and undeniable groove of Empiresk, Illunis and Gloam. As awe inspiring and brilliant as these songs may be, album closer Illuminaire is arguably Rolo Tomassi at their absolute best. Combining all the aforementioned elements of groove, atmosphere and superbly arranged chaos, this is the song that really takes Atraea, as an album, to the next level. The murky, thick, synth-led opening gives way to a wave of atmosphere that is unparallelled by almost every other band/album on offer currently. Breaking in the middle for stabbing, pseudo-tribal drums and  immensely uplifting guitar melodies only serves as a brief respite before lunging spectacularly into an end section that sees Eva Spence giving her finest performance certainly on this album and possibly on any of the bands previous material. Illuminaire is the perfect closer to a very near perfect album.
Whilst appealing to the solid core of fans the band has built up over the years, Astraea is written in a way that has the potential to draw in a second wave of fans that may not have discovered or been into them before and with a UK tour kicking off in October and more touring of Europe scheduled throughout November, the future looks busy for Rolo Tomassi and with an album this good behind them it can only get busier. Astraea is an essential album for any fan of truly experimental, honest, well written alternative music.
 Rolo Tomassi can be found on Facebook here or on their official website