Enriched by a multitude of metal bands, the UK has a source of listening material across a wide range, for all tastes.  However what it lacks to a degree is characters, this is where The Defiled fill the void.  The Golden God's, Best New Band winners have made a massive impact on the metal scene, especially around their 2011 album 'Grave Times'.  Triumphing festivals including Sonisphere, Bloodstock Open Air and Download, The Defiled have gone onto a sell out tour across the UK and Europe.
After a recent signing to new label Nuclear Blast, The Defiled gave birth to their second studio album 'Daggers'.  Now on the slopping road to perhaps international acclaim this new album is a stepping stone to achieve the notoriety that they deserve and so rightly already receive from many industry plaudits and fans.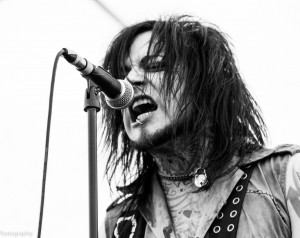 Marching into a storm of drums from fairly new drummer Needles, first track Sleeper opens the album into a cacophony of guitar rawness and heavy beats similarly matched with an intensified electronic cover.  Including a wide range of pitch and shifts, what becomes apparent is the heavy editing, while mainly good sometimes it can be a tad over exaggerated with too much distortion.  Saints and Sinners is a notable track with a subtle essence of haunting chimes ringing through tickling the backbone as the song progresses.  This leads very nicely into As I Drown, for me probably the best track on the album,  certainly the most up beat in terms of consistent rhythm, it oozes Scuzz playlist all over it neatly kept in line  through Needles' polished drumming.  Porcelain and New Approach, to me, are the weakest tracks on the album.  Developing your own sound and style is the heart of any band but many will consider Porcelain especially as a Marilyn Manson-esque portrail which I would quite hope the band didn't do intentionally.  Fragments of Hope literally rips the album a proverbial new one, Stitch D and Aaron Curse hit this with with everything they've got, integrally backed by bassist Vincent Hyde.  Infected features the talents of keys player The AvD with some powerful and apparent synths especially on Five Minutes which is a beautiful mix of guitar and electro with an emotional twist.  AvD's accompaniment on keys fills the track with an iron clad melancholy cloud.
Altogether a well crafted album mixing the emotional with industrial, topped off with an icing of electronic sprinkles and some of those silver cola balls things.  With tours up and coming and the sought of festivals for 2014, The Defiled are in that net of caught fish just waiting to the plucked up and thrown into the breeding tank.
7/10