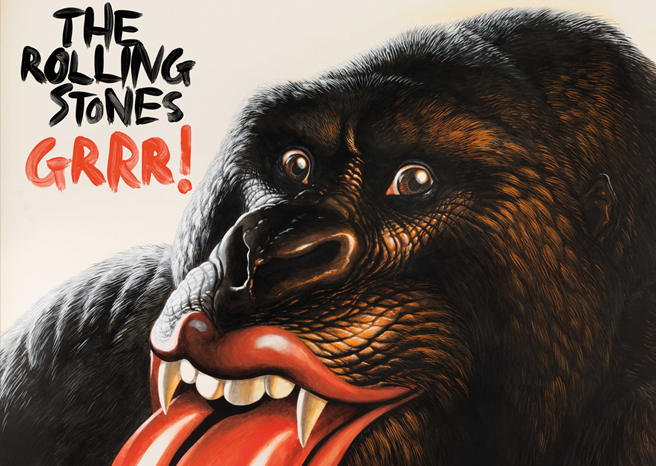 The Rolling Stones… How many front-men have taken tips from Mick Jagger? There's even a very catchy tune by that terrible lot Maroon 5 claiming they have the 'moves' like him. How many guitarists modelled their playing, their intensity, their groove on Keith Richards? How many budding songwriters have used those two as muses when writing, hoping that they may get anything like the inspiration of those two? Away from the music how many upcoming rock stars have wanted to get a comparison to the Lothario Jagger or the indestructible Richards? The Rolling Stones are Gods of rock and roll but another question has to be posed, how many greatest hits albums, does one band need?
Apparently one more as 'Grr' was released boasting a fifty track list and most converted of all-two new ones! Since fifty tracks would require pages of me rambling on I will use more of a highlight reel rather than laboriously going from track to track, even though the inner rock geek in me would love to subject you to that..
The first thing that strikes you looking through the track listing is that its very nearly in chronological order, rather than what some bands do, pick which track and where for artistic reasons. So we start off where it actually all started with 'Come On' a Chuck Berry cover way back in 1963. For me what part of the record you hone in on depends on your age to a degree, if you were a fan in the sixties then you focus on the first twenty or so songs, the seventies it would be the next sixteen, eighties its more of tracks thirty seven to forty-five and then the rest comprise of the two albums in the nineties and the new releases.
So the first twenty three songs are devoted to the first part of The Stones career featuring the late and multi talented Brian Jones. This is when The Stones enjoyed that period of notoriety with drug arrests, accusations of Satanic worship and deaths at gigs vying for the minds of teenagers against the somewhat more wholesome Beatles. You have classics that you instantly (and unfortunately in my view) recognise from TV adverts or film trailers like 'Not Fade Away,' 'Gimme Shelter,' 'Paint It Black,' '(I Can't Get No) Satisfaction' or ' 'You Can't Always Get What You Want.' These are epically arranged, beautifully played slabs of blues rock but there are other classics alongside them, the threat and wonderful theatre of 'Sympathy For The Devil,' the sombre and thrust of 'Under My Thumb' the energy and amazing riffing on 'Street Fighting Man' and the heavily Jones influenced psychedelia of 'Ruby Tuesday.'
We then move forward a decade and of course it would be remiss not to mention the sad fact that Brian Jones joined the tragic 27 club dying from a drug overdose in 1969, there are some fans that feel that this also drew the curtains of The Stones greatest period. In my opinion it is arguable that with his death they lost a major creative force and certainly lost some of that incredible consistency that dominated the first seven years with an incredible ten albums. You have in this period the rise of disco, heavy metal and punk all effecting The Stones, disco had positive effects on Richards and Bill Wyman making their playing free and richer. Classics like 'Brown Sugar' and 'Miss You' have that disco feel and are great foot tappers, the punk influence in its energy and straight forward aggression can be heard on 'Its Only Rock N Roll' and 'Rocks Off' but its the tracks from outside the box that I truly can't stop listening to 'Tumbling Dice' is just sheer joy and has a wonderful chorus, and the three laments to love in the much covered, heart breaking 'Wild Horses' soulful 'Angie' and gorgeous 'Fool To Cry.'
The eighties saw an inconsistent period which reflected in their output, they became uncool towards the end of the decade as Glam Rock took its strangle hold on the Rock scene but still Jagger/Richards released some great tracks. 'Start Me Up' may have been used in adverts again however its so catchy! So forceful! 'Emotional Rescue' and 'Harlem Shuffle' maybe slight throw backs to the dying disco period with their vibe, however there's a wonderful seductiveness in Jagger's brilliant phrasing. 'Mixed Emotions' is a hidden gem from this period and almost hints to the next decades stripped back approach, a good honest stomper.
By the nineties The Stones had all hit their fifties yet they chose this decade to release some of their most solid music for years, 'Love Is Strong' is everything the more modern Stones are, smooth riffing, solid rhythm section with charisma and snake charm. 'Anybody Seen My Baby' finished that 20th century in style with its soaring chorus and elegance.
We then have the two new tracks which thankfully are more of the stripped back feeling, Richards is still the master of melodic blues playing and its a pleasure to hear him alongside Woods. Charlie Watts holds the line and Jagger pouts, growls and is the blueprint of 'frontman.'
So is this worth it? Its definitive and I love the track ordering reflecting the years going by; the two new songs are fine, their good new Stones songs but hardly classics. If you have 'Forty Licks' there's not a lot of reasons to buy this, the new songs and little surprises at the beginnings of their careers are great but indispensable? Probably not for a tenner. If you don't own any Stones or think that they're a bunch of Grandads you'd be right… but without them, the rock music that we adored would either be very different or in my opinion be very dead; so buy it!!
10/10