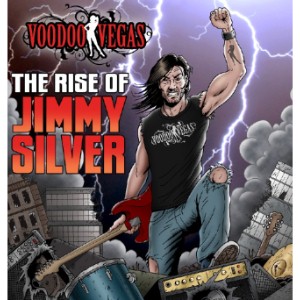 News reaches us that Bournemouth has handed in its notice as a town for retired old folk, due to the noisy barrage of hard rock issuing forth from local young dogs Voodoo Vegas. We are currently looking into the evidence presented to us on their debut album, The Rise of Johnny Silver.
There's a bit of a synthesiser type sound at the start. Hardly alarming, that, and there are senior citizens who can remember Telstar, surely? Oh, dear then it all gets a bit loud. King without a Crown is it? Anti-royalists too, eh? The singer sounds a bit like that American chap who has trouble getting on stage at a reasonable hour, you know, the one in that Guns n' Roses band, only you can tell he's been brought up properly his diction is much clearer and he's actually singing about somebody strutting round like a peacock. Seems like a nice boy after all. Not sure about how it speeds up at the end, mind.
Voodoo Vegas King Without A Crown Music Video:

Bullet is the title of the next song – it's full of colour with a stop-start riff and a chorus that will get you hook, line and sinker. No More rumbles in afterwards, a bluesy rocker though it doesn't quite take off in any particular direction. I think we need more evidence to bring a case against them, Constable.
What I Pay is a revealing little number; it seems to be about a previous dodgy management deal.  Let's have some names here: This Lawrence Case, the singer, his voice is deeper on this one, and he's almost crooning. There's an acoustic guitar playing away, and they have two members of their band who play electric ones normally, Meryl Hamilton and Nick Brown. A female in a boy band? Very novel. Mind you, it's the way Matt Jolly keeps things simple with just a bass drum and tambourine rather than his full kit that's most effective on this track. The bass player Ash Moulton's not done a runner has he? He's been quiet and he's not been afraid to throw his weight around on the other songs. Ah, he came back after the Interlude for Mary Jane. Right, men, call in the narcotics squad it's obvious what they're singing about; I don't buy that he actually seems to be screaming quite passionately about a woman most of the time, and you can all stop tapping your feet to it. What do you mean, it's quite Led Zeppelinish? It's about getting high not falling out of the sky!
Ferry Song is next… Now they're sailing? Oh, I like this, some nice blues harmonica and that barrel piano in the background's most effective. But is that a cockney accent Case is masquerading behind now? Lost in Confusion is about right, another good one, falling somewhere between power ballad and torch song. I'm a bit worried we're getting to like this Voodoo Vegas record, chaps. They're accusing people of wronging them again with So Unkind but getting all loud with their guitars about it this time. One more track and we're done, then we'll be able to see if we've got a case against them.
Johnny Silver, the typical story of a boy with a rock and roll dream. I think we can all agree Cliff Richards made several bad movies about this kind of thing in his youth. It's all very exciting the way it's done though isn't it, quite glam hard rock too, but old school tie British, like Mott on their Shouting & Pointing album.
Okay, let's look at the facts: they're young lads, and a lass, who've obviously been influenced a little too much by those American tough guys in Guns n' Roses but there's the good heart and soul of a classic British band beating inside of them too. They've still got a way to go, but there are are some good songs on here and the fact that The Rise of Johnny Silver was funded via Pledgemusic means there are others who will vouch for their character too.
I think we can agree. Bournemouth isn't what it used to be… Now it rocks!
Voodoo Vegas So Unkind Music Video:

6.5 out of 10