Grand homecoming shows are often cause for celebration. That was certainly the case on Monday 22nd July, when York metalcore quintet With One Last Breath were scheduled to play Fibbers in York.
Opening this veritable feast of all things loud was new local band On The Ropes. Fronted by York acoustic guitar journeyman Jonny Gill, the band put a hell of a lot of energy into their set. Straddling the line between old school and new school pop-punk, the band come across like a combination of A Day To Remember and Lit. It's a good combination, and Jonny had the vast majority of the crowd jumping towards the end of their set. It's very rare there is an opening act on a big show that is as strong as this.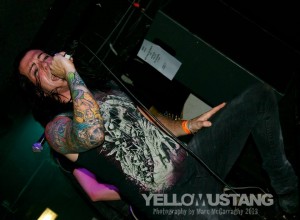 8/10
Next on were Yorkshire heavyweights, theFALLEN. From the moment they played the first note, the entire band, especially singer Johnny Fallen, had the crowd right in the palm of their collective hand. Churning out crowd favourites like "Dirty Little Dead Girl" and "The Harbinger", as well as new song "When We Fall", they were simply on fire. New guitarist Craig Robinson played his heart out, shredding solos when required, yet locking in with other guitarist, James Langley when simpler dual guitar riffs were needed to keep it solid. If they get the right exposure, this band will go a long way, mark my words.
9/10
By the time With One Last Breath took the stage, the place was incredibly busy, eagerly awaiting the arrival of their friends and heroes. You could tell immediately that this is a band that have worked extremely hard, love what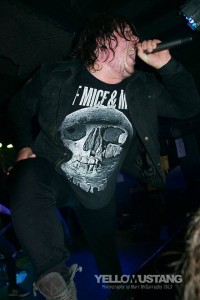 they're doing, and they just have a laugh doing it. Bassist Joe Lancaster was flipping his bass upside down, crowd surfing and even stood and played half a song in the middle of the mosh pit. Guitarists Joe Graves and Al Scott complemented each other perfectly. Both are quite technical players, and they really understand how each other plays, so they can bring the best out of each other. Chris Bowling on drums was as solid as ever, and frontman Sam Graves gave a masterclass in how to be a versatile frontman. Since dropping guitar and taking up the microphone full time, he's perfected the harsher screaming vocals alongside his natural singing voice. The combination is quite simply amazing, with Sam able to switch between the styles at will. With a set that featured songs like "Forgive, Never Forget", "Wake The Dead" and "After The Suffering", With One Last Breath have set out a statement that they're the new saviours of British metal. The pit that opened up during their set certainly agrees with that statement.
Triumphant, sweaty and exhausted, the band left the stage to rapturous applause. You won't get a chance to see a band like With One Last Breath in a small venue for much longer. They're certainly destined for great things, and if they keep working as hard as they are, they just might make it.
9/10
Photos by Marc McGarraghy of Yellow Mustang Photography.