Biography
A cornerstone of the diverse and thrashing Finnish metal, Witheria released their fourth full length album on Friday the 30th of May. Witheria are still heavily relying on their thrash-based approach they have been perfecting since the turn of the Millennium. This time around, even more of their trademark usage of progressive parts and various influences can be heard. Nevertheless, the album is so packed with intensity and fury that it will tear your life apart! As a whole, the new album in not only the most versatile and skilled effort the band has ever produced but also the most coherent one. The sound on this album, recorded at Sound Spiral Studios in Kouvola, Finland is organic, yet extremely powerful. In Witheria, the merits of the slightly changed line-up are undeniable and can be witnessed in other Finnish bands, such as Assatur, The Jasser Arafats, Nowen and Spirit Disease.
Review of 'Devastating Return'
Again Finland bounces back onto the map, in fact they never left it and with the addition of Witheria have made it a whole lot stronger! With three full length albums firmly under their metal belts, this impressive eight track album is the bands fourth to date. First track 'Mind Compressor' is a brawling temptation of thrash that is highly expressive and gives the imagination something to feast on whilst it is savagely being beaten to death!
'Passenger of Thought' is another abrasive onslaught but not without its causticity and powerful vocal entourage. Then onto 'Burnt to Ashes' which  is nothing less than scathing and brutally raucous. It brews up a good strong storm with provocative melodies, emotive, and taunting with excellent guitar skills. Superb track!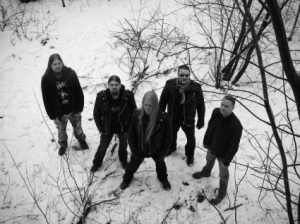 'Raft of Desolation' visits all the scales with potent rhythms and just as captivating as the previous tracks. Vocally savage – watch out for your aural if you have the sound up to 11 on this one – a superb caustic flurry of excitement. After this it's 'Some Wounds Will Not Heal' – a predator of the most metal kind – the blistering and compelling riffs are caustic as they are creative and will leave you speechless!
'Thrown Down the Well', the choppy and excitable riffs are impressive fusing together with a strong drum beat and hard bass edge it more than flirts with creativity – another winner! 'Toxic and Aggressive Growth' begins with an obnoxious rampage on the skins and is a tirade of wanton hungry riffs – nothing gives in this most entertaining and imaginative track.
'Back on Earth' is wholly inspiring and is startling as well as overwhelming with deep prowess. It holds compelling and infectious rhythms with an amazing screeching vocal that is one hundred percent well in keeping with the track.
This is one highly irresistible album. It has a lot pulsing through its metal veins and a few surprises along the way. The musicianship is of a really high standard and can be considered as mouth-watering, predacious, raucous, and literally bristles with interesting and exceptional tracks. Melodic thrashers will find this one very hard to ignore and would be a welcome CD for any metal fanatic to own.
10/10
Witheria 'Devastating Return' the 8 Track Album is out now via Violent Journey Records.
Video: Witheria – Thrown Down The Well