Mötley Crüe has done it grandly. Shania did it alone. Elton did it with a big pair of inflatable titties. Rod Stewart did it in a smart suit. Celine did it a lot. And, above all, Elvis did it before he left the building. All the big ones have done it. And this year British classic rock band Def Leppard did it too. They have all performed a residency in Las Vegas.
Def Leppard was booked for an eleven-show residency at the Hard Rock Hotel and Casino in Las Vegas during March / April this year. During the nightly show they ran through the 'Hysteria' album in its entirety, as well as covering some of their other famous songs. (The show was billed as Hysteria plus.) It was the culmination of a career that has seen one of Britain's hardest working metal bands complete a dangerous and often painful journey to the very top. From playing school canteens and misty fields in Yorkshire – To playing one of the greatest heavy rock albums of-all-time to hundreds of adoring fans – in the never-neverland fantasy city that embraced Elvis and Liberace. It's a real rags to riches story.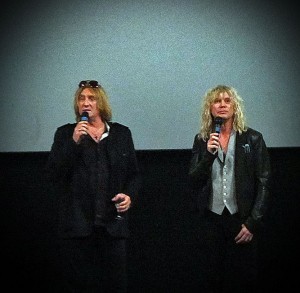 It is very fitting that 'Sin City' has taken the band into its bingo-winged embrace and adopted them. Because it was in America that they first found acceptance and the success they deserved. They were never fully accepted by the stern devotees of British heavy metal. Somehow, they didn't really 'fit in' with the general sense of things during the NWOBHM. Maybe it was because they were too glam. Maybe they were not aggressive enough for the public. Whatever the reason – they were never accepted in the United Kingdom in the same way that they were in the United States.
Let's look at some of the facts: "On Through the Night" the début album went platinum in the U.S. (and Canada.) But the album garnered a general murmur of complaint from the British public almost immediately after release. There was a prevailing feeling that the band was trying too hard to please the American public (and ignore the Brits.) This was the album that proudly waved the "Hello America " song right into the faces of British heavy metal fans. This song was all about Def Leppard's fantasy that they might eventually break into the U.S. music scene and tour the States. (How prophetic.) And it slipped from the Top 50 in the UK in a rather ignominious fashion.
'Pyromania' – the third studio album by the band, was released in 1983 and featured new guitarist Phil Collen. He replaced founding member Pete Willis in the middle of the recording session. This album was a huge success in the U.S. It sold over ten million copies, and it really appealed to the nascent MTV generation. How did it fare in the UK? Well, it was not a failure. That's for sure . But it only went silver. Compare this with the American figures – the album went 10× Platinum in the U.S. And 7× Platinum in Canada.
And although 'Pyromania' was one of the biggest selling records of all time (in the USA) there was still even more and even better to come from the Sheffield lads. According to the 'Viva Hysteria' movie, it took three years to create 'Hysteria' – Def Leppard's fourth studio album. It is generally held to be their master-work. It was released in 1987 and 'Animal' from the album became the band's first Top 10 hit in the UK. And at last the busy band from Sheffield had managed to release a No 1 album for the British market. 'Hysteria' was produced by Robert John "Mutt" Lange (better known for producing AC/DC's 'Highway to Hell' and 'Back to Black' albums – and for marrying Shania Twain.) The title of the album was conceived by drummer Rick Allen, while he was contemplating the world-wide media hysteria that surrounded his terrifying road traffic collision in 1984. The consequences of this accident left him without a left arm. And an uncertain future with the band.
The band had never played 'Hysteria' live and in it's entirety until the 'Viva Hysteria' residency. This monster album sold over 20 million copies worldwide, (including 12 million copies in the United States,) and generated seven hit singles . But it was not executed – as a show in it's own right- until this year.
The film of this sensational show at 'The Joint' in Las Vegas, was produced by Christian Lamb – the famous tour videographer and live concert film director. He has worked with Madonna, Shakira, Green Day, Mariah Carey – you name them. He is currently shooting a documentary about Rihanna's "Rated R" world tour.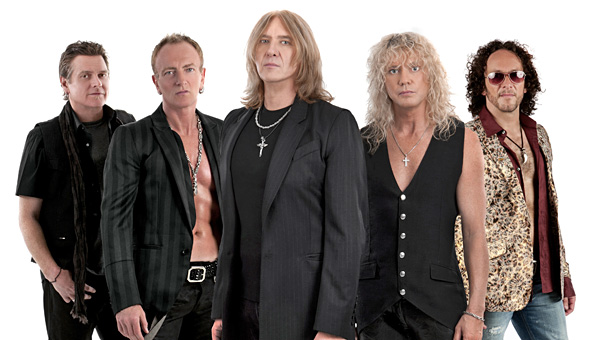 The film begins with a 10-12 minute slice of documentary – completed as a photo-montage. This traces the history of Def Leppard and highlights the various contours of their bumpy career. (Footage of guitarist Steve Clark – who sadly died in 1991 – was generously and respectfully applauded by the audience.) After this brief introduction, the film begins in earnest. With the band playing the Hysteria album to the appreciative Hard Rock crowd.
When the band steps out to fantastic applause, they are looking super-slick. They play 'Women' to a very well-behaved audience. The singer Joe Elliott looks fit and strong. A little like Eric Idle. But with more weight on his cheeks. He paces up and down the stage like a relaxed predator. To his left is guitarist/backing vocalist Phil Collen. Playing bare-chested, he is looking uber-buff. Maybe it's his vegan and teetotal lifestyle, but he looks as if he's the fittest member of the band. His oiled-up pecs seem to have a life of their own.
On the other side of the stage is Vivian Campbell. He seems a bit more camera shy. Vivian has recently revealed that he has Hodgkin's lymphoma and he has lost his (real) curls during chemotherapy.  In the center, near Joe, paces Rick Savage (on 5-string bass guitar). He utilises all of the stage. He's a dynamic character. He constantly prowls, preens and purrs. And the camera also gets in close to Rick Allen on drums – to reveal he is playing barefoot, with his union-jack boxers on. Man, it must be mighty hot working back there.
For the next song – 'Rocket' – a blinding wall of television screens becomes the background. Maybe this celebrates the notion that the band's success is directly related to their enormous coverage on MTV. Then, in quick succession, we get all of the sing-along high energy favourites like 'Animal' and 'Pour Some Sugar On Me'.  It's a non-stop helter-skelter ride of rock. And it's a few songs in before Joe catches his own breath and has a moment to welcome the Vegas crowd.
Some songs, like the title track 'Hysteria' are slow-burners. They require multiple listens to sink in properly. This is what makes an album really first class. There must be lot of hits and radio friendly ditties – of course – but these should be combined with some more thought provoking material. One of my favourite tracks from the album has always been "Gods Of War " with that mysterious skirl to start it off. And the marching beat. This is where Rick Savage really earns his dollar. His mastery of the low-strings is awe-inspiring.
During this performance, the vocals are still sweetly synchronized and beautifully rendered. Just like we fondly remember. And the occasional duels between these two brilliant guitar soloists are still able to surprise and delight. Some of their songs still brought a real tingling to our toes. They certainly cheered us up . Other 'non-Hysteria' songs included 'Rock of Ages' and 'Photograph'.
This is a film that will surely appeal to die-hard enthusiasts of Def Leppard – far and wide. I can imagine that this movie will be a great night out for the fans. Hopefully there will be 1980's costumes worn and plenty of sing-alongs. But I doubt that there is really enough scope to be able to extend the plays beyond one or two nights at each cinema.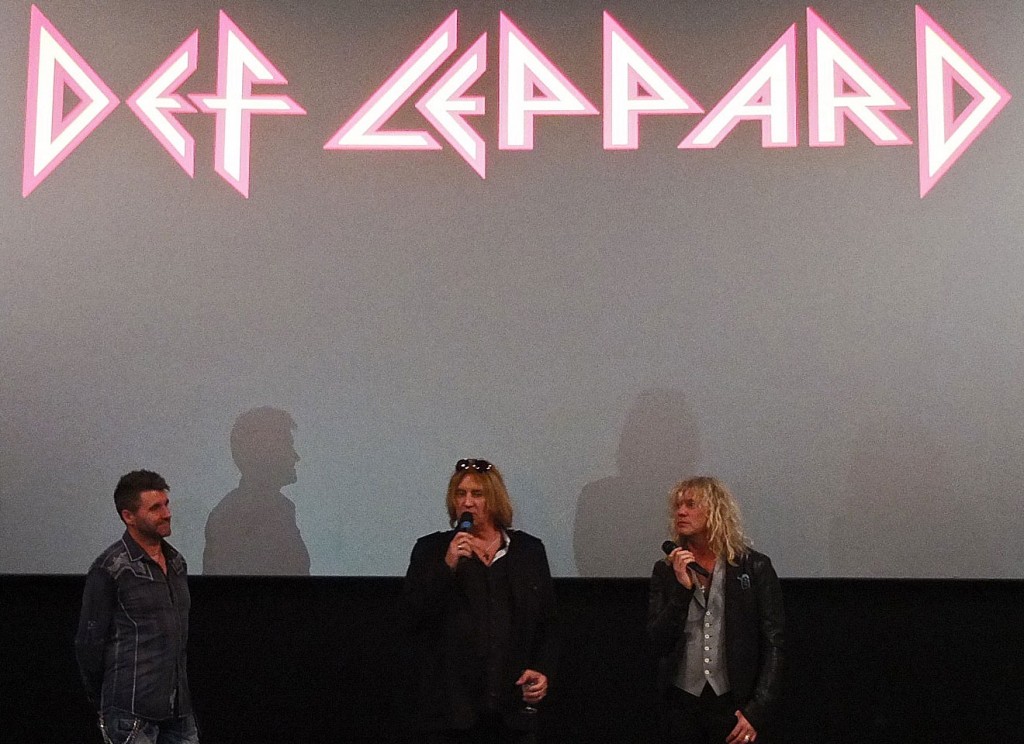 For me, there was not enough historical or documentary footage in the film. But I am probably being unfair. This is, after all, only a video recording of a great show performed by a great band. Maybe I was expecting too much. As a piece of music videography, it is exceptional. The camera goes where you want it to go. It gives you every shot you want. And more. It reveals little things like Phil's union-jack bum-patch or his wobbly tattoos. It lingers on Rick Allen's soft-touch pedals. And Rick Savage's nimble fretwork. It's all there in clear definition. And the sound is masterful. As a feature-length live music video – this is as good as it gets.
As we gathered for the premier of this film at the Cineworld theatre at the London Trocadero, we chatted to a guy who had won a ticket to see the movie. "I saw them play back in 1979." Bob told us . "They were supporting AC/DC … God! They were good."
Yes, they were. Yes they are. Haven't they done well?
Def Leppard 'Viva Hysteria' will appear in cinemas across the UK for one night only on September 19th 2013.