It's not often that you see a rockstar instead of releasing new music, release some hot sauce! The man himself CJ Wildheart (of The Wildhearts) has a love for cooking and tasty BBQ, as well as creating spicy rock songs.
CJ told the press: "It started when I was a wee lad watching my Mum make her own chilli sauce, which she would have with every meal – a habit I also acquired. For many years I've collected and tried sauces from all over the world, and you could say I'm a 100% bona fide motherfreaking chilliphile… I LIKE IT HOT!!!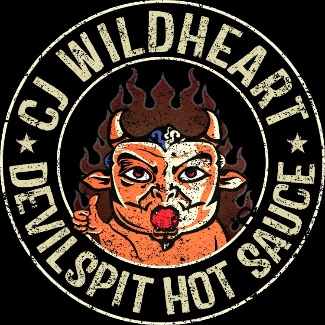 My brand new hot sauce, 'Devilspit', came to fruition when I hooked up with Yorkshire based 'Chilli Devil Sauces'. Made to my own secret recipe, 'Devilspit' is a gourmet combination of Naga chillies, BBQ & beer – three of my favorite things all in one bottle. This one will not be the hottest sauce I bring out, but it's a good introduction to the line and, trust me, it will hurt a little… say a 6/10 on the heat scale, around 100,000 scovilles… like being punched in the face by an angel."
The sauce is handmade with all natural ingredients and definitely NO chilli extract, just pure honest heat and a flavor that will leave your mouth begging for more. If the Devil spawned a hot sauce he would name it 'DEVILSPIT'!!"
September will see CJ release his second Hot Sauce, simply entitled "Devilspit EXTREME!" Which CJ describes as "Hotter than hell!". What's not to love?!
Buy now at the online store: http://cjwildheart.bigcartel.com/category/hot-sauce