I wonder why there is always a shroud of mystery surrounding black metal bands? All I have to go on are four ordinary names and have no idea what each of them play.
They mysteriously formed in the latter part of 2005 and cover themes from nature to anarchism. I believe their name originated from J.R.R. Tolkien's "The Lord of the Rings" – other than that I am in complete darkness and I think that is how the band want you to be! There seems to be a few gaps in between each album release, but at least the band are still active.
The first track 'White Granite' can be likened to experimental and progressive and not like the black metal I know at all. However, the unholy shriek that has just ushered forth has completely blown me away. I certainly wasn't expecting that for sure. No idea where the 'folk' fits in as this has just turned into a black mass for the possessed.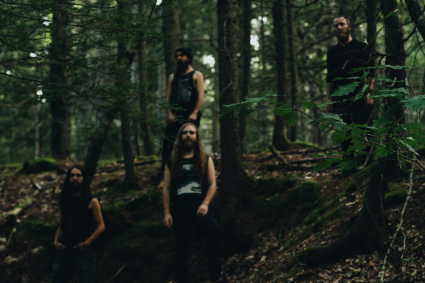 'Labyrinth Unfolding Echoes' is a swathe of delicate tones that put this band in the experimental bracket. It holds solemn riffs and melancholy passages that sound so superior and throws a spotlight on the band. Once again a shriek of utter terror emanates from the speakers and it grips you with never ending virile lures.
'Warm Quiet Centuries of Rains' and again the band turn to a more subtle tone with delicate interwoven dream-like passages, but having been caught out before twice I am now on my guard and patiently waiting for the screech to kick in and got caught out again but this time there was no vocals at all.
'Arrow & Kiln' is an arduous track that shows strength from the beginning, holding plenty of soaring rhythms that although sound ritualistic are archaic too. There are complex melodies attached to this timepiece outlining the bands talents and rewards listener with some fiery imagination that deserves further exploration.
'Impermanence Streak through Marble' – Wow! Finally, we get to hear a little folk music. I was wondering when it was going to kick in, although brief and toward the middle of the track, it edges toward the characteristics of its dark black metal roots, while still sounding very progressive.
This band have hidden depths and it just takes that one click to realise its magic! 
Falls of Rauros Vigilance Perennial is out via Bindrune Recordings/Nordvis Productions on 31st March 2017.