From the beginning, I have felt the buzz from 'Assembly Line's' horrific and toxic vibes that just want to latch on to you like some sort of parasite. It has a gnarly exterior and makes its intentions very clear that it is out to cause chaos and is rife with a malevolent bite.
'Numb to the Pain' is a harsh and brooding concoction of swear words but in between, there is a slight uttering of melody and of course a ripe caustic rhythm that makes it dangerous!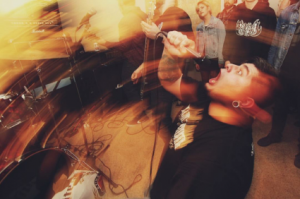 On 'Grave' a punk influence is prevalent but so is the death and grind, the grind for the track shortness and the death for the magnificent deathly rhythms.
On 'War in the Name' one would like to know what has upset Terminal Nation so much, but the answer is nothing it is the way they roll!
The gnarliness continues on 'Hand That Feeds' to spew out bleak and acrid smoke that swamps the listening devices like an unswept chimney!
'Pulse of the Dead' is another arduous ride that can be experienced with a menacing, but compelling exploration.
'Violator / Violated' hit some heavy bass and a strenuous vocal huskiness and you have this track off to a T. It is a predator and will stalk you with no let-up! The riffs are feverish and uncontrolled and make their way down a winding road of extreme intensity.
Boy, do these guys know how to control absolutely, so a fitting title on 'Absolute Power, Absolute Control'.  The heaviness is a breeding ground for chaotic rampage despite being a slower track it shows its abrasive side with spewing vocal noises and unholy riffs that scratch and make your skin bleed as well as your ears.
If you are not already 'Broken' then there is something wrong. After getting an earful of this album I doubt anything will be the same again! Its nature is enhanced with everything from punk to death and power violence to grind. There is nothing been left out so the band experience it all and so does the listener.
The cover is also superb and just by looking at it you can feel the overwhelming power it exerts but once you hear the music you know a take-over is imminent. So surrender now to its powerful riffs, punky edged groove and become an integral part of the fantastic Terminal Nation!
Terminal Nation Absolute Control is out 9th June 2017 via Deep Six Records.