Sunday  – the last day of the festival. A day where we look back on the best times this weekend and make the most of our last few hours at Bloodstock. But it's not over yet! We have a full day of rock 'n' roll debauchery ahead of us.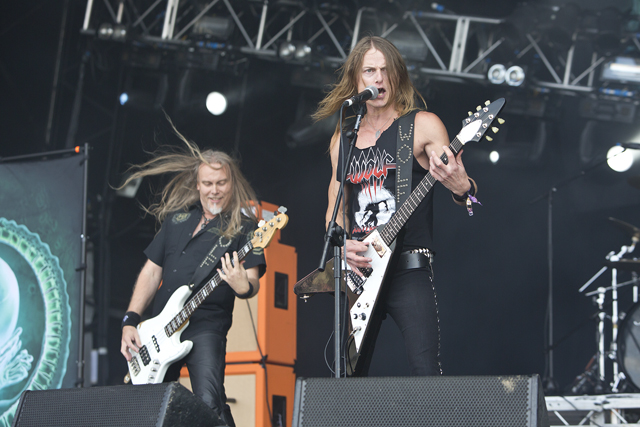 This morning we are greeted by London groove-metallers Skarthia on the New Blood Stage. Pleasing to see as we need more young, British talent in the metal scene. Come midday, serial Bloodstock rockers Wolf show us 'Real Metal For True B*stards' on the Dio stage. Every heavy metal box is ticked here: Swedish? Check! Long hair? Check! Flying V's? Check! Heavy riffs? Check!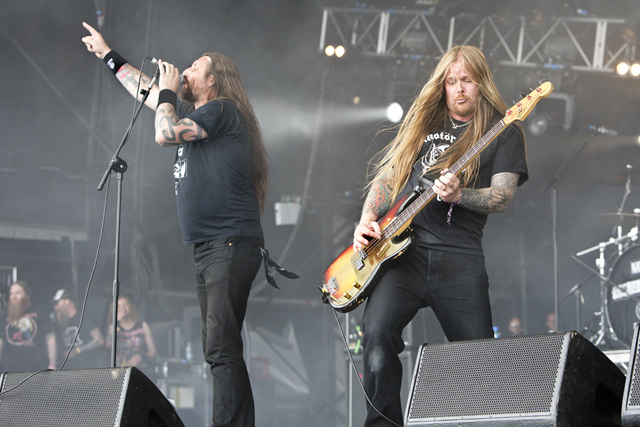 We see more Bloodstock loyalists in the shape of Orange Goblin mixing Sabbath-esque stoner riffs with garage-rock up tempo beats, it seems OG have been overlooked over the past two decades. Another band that haven't had the exposure they deserve is Pro-Pain, nothing to do with Hank Hill though (sorry that was a terrible joke). In all seriousness, the New York band do bring us a great set of their own brand of angst-y metal-core .  The New Blood stage is meant to be the place to check out new music, but some acts on the main stage might be worth a look if you want to check out something different.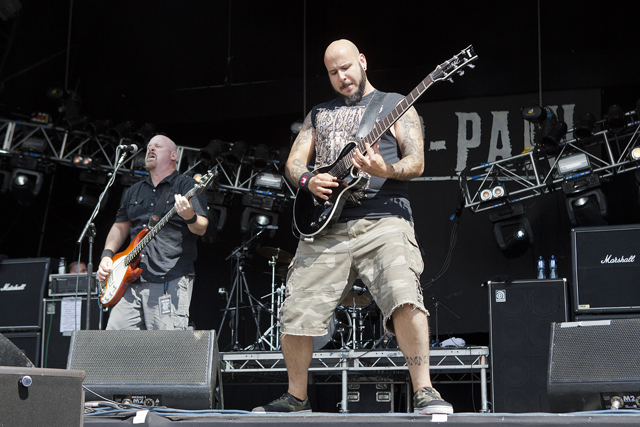 A huge crowd gathers at the Dio stage for the biggest South American band of all time: Sepultura. Vocalist Derrick Green towers over the crowd, weld his own bass drum. It's clear that the world-music influence and use of percussion is what makes the Seps more three-dimensional as a metal band.  Green even dedicates 'Sepultura Under My Skin' to all the old school fans in attendance, or 'hardcore motherf**kers' as he puts it. Finishing with 'Roots Bloody Roots' I feel the Seps should of been higher on the bill.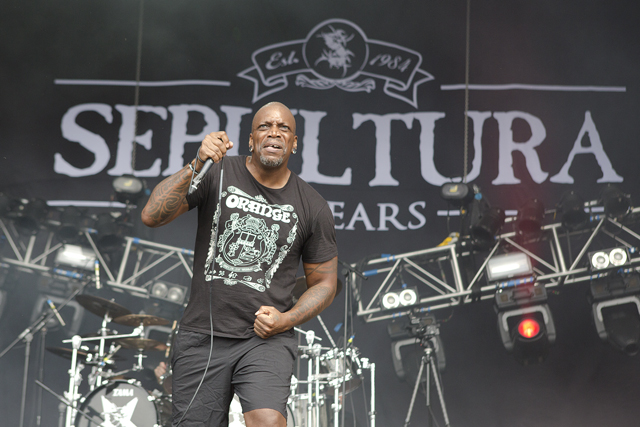 Today is just big name-after- big name: Wolf, Orange Goblin, Sepultura – and now a band who brought extreme-metal to the mainstream – Cannibal Corpse. Like Napalm Death yesterday, this band has opened so many doors for metal sub-genres such as death, extreme and speed metal. Not so much the latter as they sound incredibly slow today. They do get faster but it feels like we've already seen this before this weekend.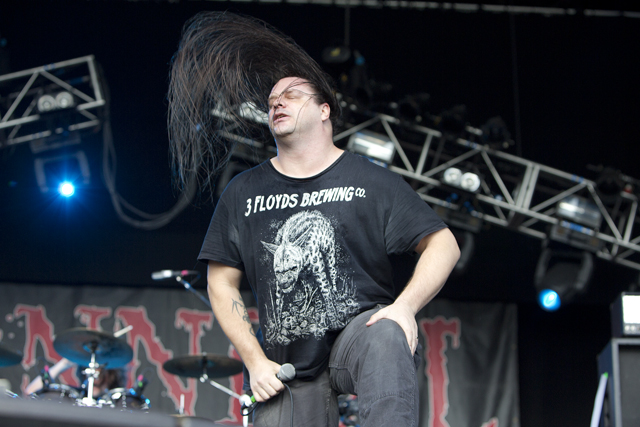 In coming years 2015's sunday will be known as athe 'day of legends'. Not just for the main stage but the Sophie stage tent is fullest its been all weekend. Let me set the scene: The Muppets theme tune plays, the band come on stage, the lead singer grabs the mic and says "Thanks for not seeing Cannibal Corpse". You're welcome Lawnmower Deth. The crazy thrash-punk veterans are known for their strange live shows and this was no different. Firing green yoga balls in to the crowd and a man dressed as a rabbit is the norm at one of LMD's shows. Something the audience won't forget is vocalist Pete Lee parting the pit and getting them to do some we are all famiiar with – the hokey cokey! Evil Scarecrow's Matt Burton even joins them for a cover of Slade's 'We'll Bring The House Down'. Of course all the fan favourite tracks like 'Sheep Dip', 'Egg Sandwich' and  'Did You Spill My Pint?' are there. Great music and great entertainment. Why couldn't Lawnmower Deth headline?
You can't get more midlands and more heavy metal than Ozzy. Just as well this festival has someone who has worked with Ozzy for many years so high on the bill. If you're wondering who I mean – Zakk Wyle's band Black Label Society are next on the main stage. Taking lessons from his mentor, BLS are heavily influenced by Sabbath. These tracks scream out 'stereotype biker band'. Which in essence they are. Axe-man Wilde is great to see live, yet these songs can be tiresome and get very similar as time goes on.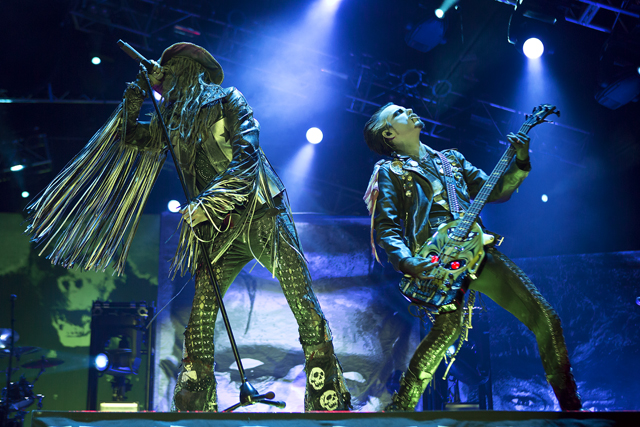 Well, this is it. The last headline act for Bloodstock-Open-Air 2015. The one and only Rob Zombie. Accomplished film director, writer, and most importantly – rock star. His band includes ex-Marilyn Manson players John 5 and Ginger Fish as well as Wednesday 13's Piggy D on bass. A great band assembled  for tonight's show which includes a mix of tracks throughout Zombies career. From his White Zombie days ('Thunder Kiss '65') to his glittering solo career ('Living Dead Girl') and even his film soundtracks ('Lords Of Salem'). The fans are just as excited as the guys on stage. An inflatable sofa even makes its way across the crowd!
This set, by no means is any more exciting than the other two headline acts but gets the pit jumping like no other. Zombie realises this is a big deal and appreciates he is headlining the UK's most metal festival. He even throws in a couple of cover versions. "You can't listen to metal all day" says the show-man before launching in to his unique version of James Brown's 'Sex Machine'. He even acknowledges his biggest inspirations by performing 'Blitzkrieg Bop' (Ramones) and 'School's Out' (Alice Cooper) – a nice touch for such an accomplished artist to revisit his 'garage days'. A brilliant way to finish the weekend and pleasure for both eyes and ears. Rob and his band then return to the stage donning Pete Townsend style Union Jack jackets for an encore of 'Lords Of Salem' and his biggest hit to date 'Dragula'.
In all honesty, like previous days the under card has been much more entertaining than the main event. In all we have seen a lot of legends tonight and had a great time –  which is what festivals are all about.Bloodstock is one of the most well-organised, well booked and enjoyable festivals I've been to. The fans are friendly, the atmosphere is unbeatable and none of the stages are too big to get lost at. Here's to 2016 – which has Venom and Behemoth already announced.
All photos by Mark Lloyd
The full review of Bloodstock Open Air will feature in issue 5 of RAMzine.
You can also read hightlights of Thursday and Friday here, as well as Saturday highlights here
Keep checking RAMzine.co.uk for more interviews from the festival.
Special thanks to:
Lottie McShane, Mark Lloyd, Neil Jarvie, Cosa Nostra PR, Tom Brumpton, Lisa from Rage PR, Claire fromNuclear Blast PR, Hold Tight PR, Mike Exely, Felicity Hall,  Metal Blade, Rob Stampeed, Nina from The Noise Cartel, Kellie Lock, Neil and Laura, The Wildside Girls, and all the fans who let us take their pictures!