Last day of a fantastic weekend full of metal and good times. This has been the biggest Bloodstock to date, and what better way to end it with two of the big four: Anthrax and Slayer!
Check out our highlights of Thursday / Friday and Saturday here.
Through many confusing 'Harambe' lines, black rum ice cream, nacho bowls and real ales – this has been a weekend to remember. After saying farewell to Twisted Sister and seeing big names like Venom and Gojira make the Earth move – 2016 has to go off with a bang, and what's to say it won't?
Sunday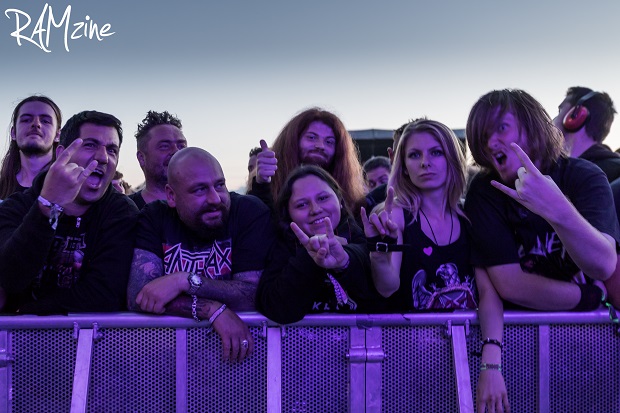 Safe to say half the crowd in Catton Hall are still shaking off the cobwebs after 3 nights of non-stop rock n roll. Good thing they have a nice fresh Ghost Bath to wake them up. [I think it worked]. You know when people listen to a 'heavy' band and say "It's just screaming!", well this black metal outfit from North Dakota are mainly…screaming. Even so there is some great musicianship and a certain sense of avant-garde to this band. (3/5)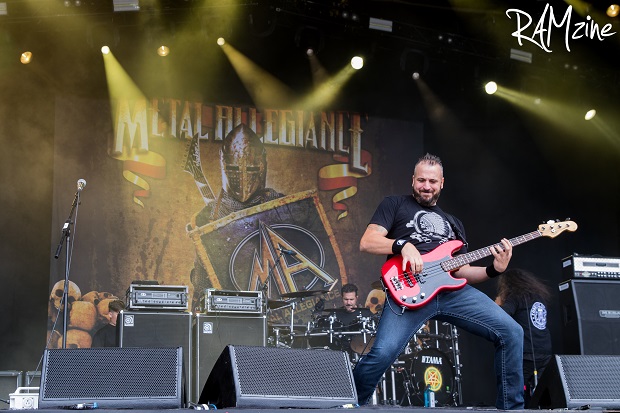 As the day goes on the usual fun resumes and one of the main spectacles of the weekend is about to go down on the Ronnie James Dio Stage. Super-duper group Metal Allegiance which features Gary Holt, Mark Oseguada, Charlie Benante, Alex Skolnick among other faces in the world of rock/metal. A perfect mish-mash of bands playing all kinds of tracks from Iron Maiden's 'Wraithchild' to another tribute to Lemmy in the form of 'Iron Fist'. Worth the wait but doesn't really set the world on fire either. (4/5)
It's Doom over on the Sophie Stage as Witchsorrow deliver an absolute beast of a set.  It's clear this hard-hitting trio are well-learned in metal and presence as well as sound. Vocalist/guitarist Necroskull ticks all the rockstar boxes from the poses to "Scream for me Bloodstock" – The Hampshire three-piece deserve a place on the main stage more than some of the acts on there. (4.5/5).
One of the worst things about great festivals is when awesome bands clash. Half-and-half of each set is sometimes the only way to go. Starting their first 'battle' in the UK are Finnish Samurai metal squad Whispered. For those trying to figure that out – this is Japanese folk-inspired speed metal. The band are dressed to the occasion in kimonos and traditional face-paint. Tracks like 'Strike!' prove this band need more exposure and time-slot that doesn't clash with a band they are often compared to…(5/5)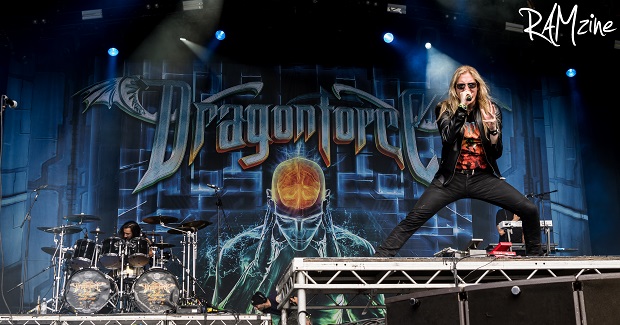 Which band? you ask. Dragonforce. Who are a little late, so splitting bands wasn't a bad idea after all. Even so, this is a blinder of a set. Everyone is having a fantastic time dancing to Herman Li's crazy riffs blended with Marc Hudson's epic vocal, and Vadim Pruzhanov's space age synths (or keytar in this case). Hudson Donning a  'Doom' tee and their melodies not sounding out of place in a  fantasy RPG – it's easy to see the power-metallers' appeal. A highlight of the weekend comes int he shape of the whole main arena singing along to 'Fire And The Flames' which is celebrating it's 10th year. Only setback (if this counts as one) is DF's songs are pretty long so they only manage five tracks. Also props to the guy who brought a Guitar Hero controller to the festival to 'play along' with the riffs. Band of the day, so far. (5/5)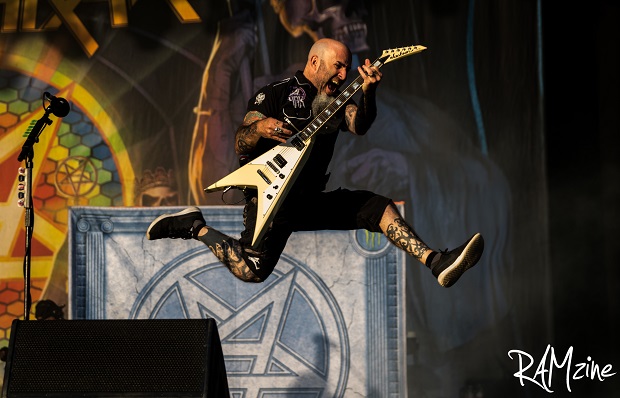 Getting deep into the last day of what has been an outstanding festival, we come to the penultimate band of the weekend – Anthrax. What else can you say about a band who constantly deliver the goods in a luxurious thrash-metal package? And have been doing so for over 30 years. The difference today is Jon Donais (formerly of Shadows Fall) is on lead guitar duties. What a fantastic job he does as well. Fitting in their trademark cover of 'Antisocial' (originally by Trust) and Joe Jackson's 'Got The Time' as well as their own classics like 'Madhouse', 'Evil Twin' and always effective closing track 'Indians'. (4/5)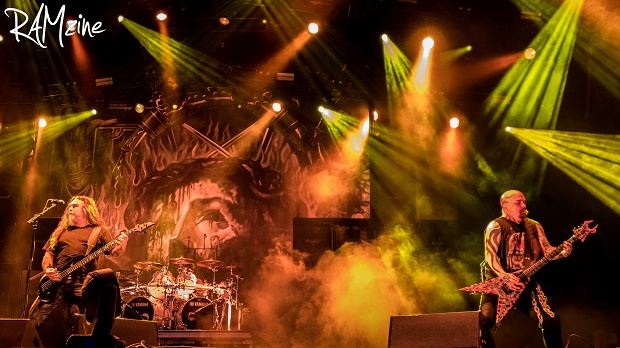 Now time for the closing band, the main event, if you will. A band whose name has been on everyone's lips since Thursday afternoon and naturally for the past 35 years. Slayer. Even hearing their name gives the most casual metal fan goosebumps. Core members Tom Araya and Kerry King remain the main staple of the band, and even after the death of guitarist Jeff Hanneman and the many ups-and-downs of metal, they remain on top form. Tonight is a great example of this. From newer tracks like 'Repentless' opening the set to anthems like 'Die By The Sword', 'Dead Skin Mask' and  – highlight of the night – 'Raining Blood' this is a masterlass in metal. I did mention last night's headliner, Mastodon, were pretty dull. Compared to this and Twisted Sister – they really were. Slayer do just stand there and play like Mastodon, but they do it with true conviction and panache. BOA have saved the best 'til last (5/5)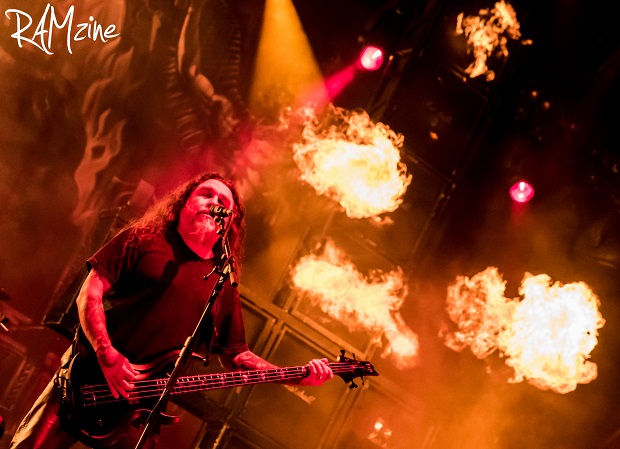 And there we have it. Another Bloodstock festival comes to a close. 2015 was fantastic, but 2016 blew it out of the water completely. Many times it was mentioned this was the biggest Bloodstock ever and it's easy to see why. Mastodon's headline set may have been a misfire but Twisted Sister were so amazing, it's forgivable.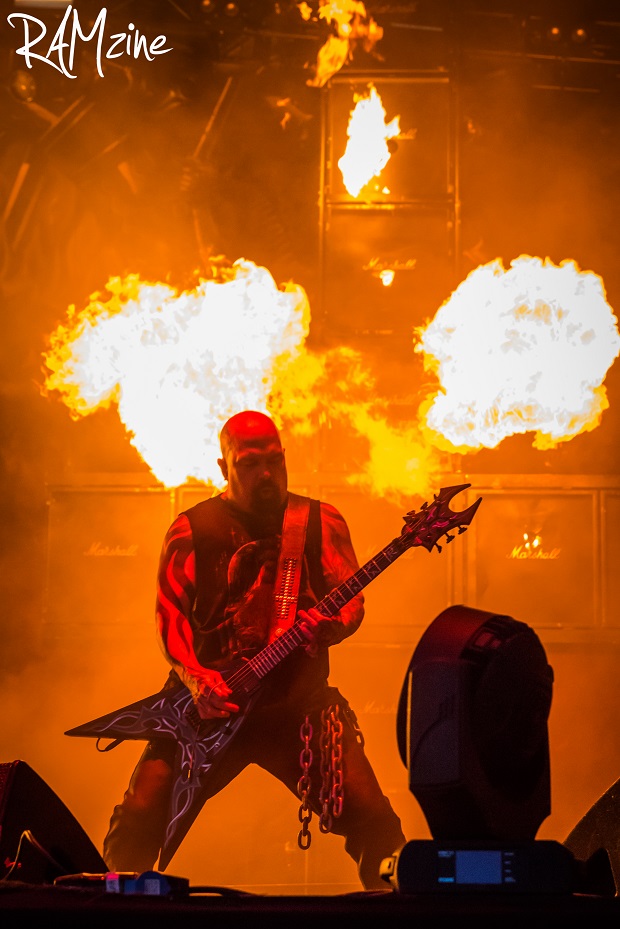 Keep checking back at RAMzine.co.uk for interviews, podcasts and photos from the event. Issue 10 on RAMzine will have the full, extensive review of Bloodstock 2016 (available in September).
Roll on 2017!!!
All photography by by Ash Crowson. Check out his material on his official Facebook.