Frank DiMino has released 'Never Again' the second video from his current Old Habits Die Hard album with a cameo appearance from his former cohort in Angel, guitarist Punky Meadows.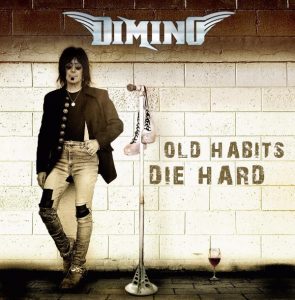 Old Habits Die Hard also features Angel drummer Barry Brandt, but recent rumours of the American band reforming are premature. "There simply is no reunion at this time, the veteran hard rock singer recently commented, "Punky and myself are working on our solo projects and all our energy is pointed in that direction." Indeed, Meadows has himself only recently returned to the music scene after Angel first folded.
Signed to Casablanca back in the 70s, decked in white satin with pretty boy looks Angel mixed hard rock hooks, pomp rock musical excursions with a bubblegum pop rock sheen, and despite releasing several albums, UK and Japanese tours, alongside appearing in the movie 20th Century Foxes never achieved the success label mates Kiss did. However, for fans of the band, the appearance of Meadows on singer DiMino's video and record will be reason enough for them to rejoice.
Shot in Las Vegas, with additional filming in North Carolina, it stars 2015 Miss Nevada United States Amanda Gibson and actor Mark Justice (Bleach, The Immortal Wars ) and was directed by Paul Gervasi.  "Doing the new video for 'Never Again' was great!" said DiMino.  "Our director Paul Gervasi and all the actors made it easy for me. Having Punky in the video was the icing on the cake."
Something of a tribute to Mad Max with DiMono driving through the desert as a dark angel between watching over the affairs of a young, turbulent couple, the song itself is a hard driven rocker with DiMino's voice gravelled with age while retaining its melodic tone and Meadow's guitar frothing appropriately during the solo. The parent album Old Habits Die Hard is available through the Frontiers Music srl label and also features Paul Crook (Meat Loaf, Anthrax), Oz Fox (Stryper), Eddie Ojeda (Twisted Sister) and Rickey Medlocke (Lynyrd Skynyrd, Blackfoot).