Since the inaugural Bloodstock in 2001, there has been a sense of community  among fans of the Midlands festivals. In a way – it's similar to it's biggest adversary Download, with the difference being: this is one big METAL family. There are bands here who wouldn't go down the same way they would at Donington Park. Which most see as a positive thing, an all-inclusive, exclusive club…if that makes sense. 2017 is no different. Bloodstock-Open-Air welcomes returns from legends like Megadeth, Hell, and Amon Amarth. As well as introducing new members to the family such as headliners Ghost,  plus Sophie stage bands like Lionize, Courtesans, and 90%  of the New Blood Stage.
If you are a regular patron of Bloodstock you will see the loyal fans, same faces and battle jackets year-to-year, bringing their children  and even grand-children to the festival. The same market stalls selling leather cowboy hats and patches, same food vendors which sell the finest in takeaway cuisine. So what's different this year about the biggest 'extreme metal' festival in the UK this year? The bands? Yes, this is true. Mainly, but the variety of bands. Not every band this weekend will be put in the 'extreme metal' pigeonhole, or in some cases: aren't metal at all. Will this help or hinder the legendary festival? Here are the highlights from the weekend, day by day. Keep that in mind these are highlights, and not the full review (which will feature in the next issue of RAMzine) and will be written in a blog-ish style, from my point of view. Enjoy!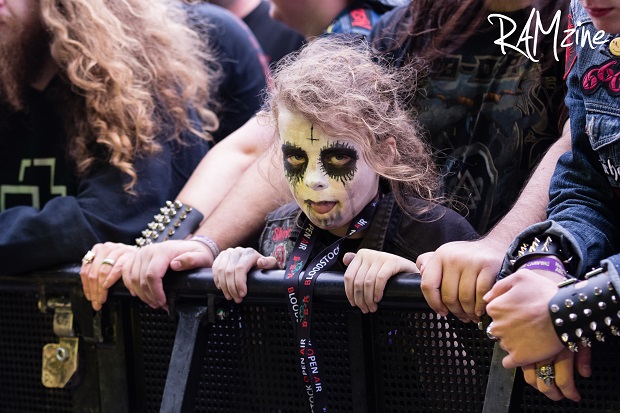 Thursday
It's now a BOA tradition that a good handful of bands will play the Sophie Lancaster stage on Thursday night, to give the camping folk a good warm-up for the weekend. In the past this night has been headed by Phil Campbell, ArnoCorps, Tragedy, and more. This year is kicked off by experimental metal super-group Ramage, Inc. who return after playing the New Blood Stage last year. It's easy to see why they were asked back, this is very metal, but still very unique. Yet, this something a lot of bands this year could be described as. In all – a great way to set the scene for 2017. Following is sludge from Gurt, black metallists The Infernal Sea, and Italian symphonic metal from Wind Rose. Torsos covered in armour, faces covered in hair – this is a very 'Bloodstock-y' band before you even hear a note. True to this, tracks like 'Dance Of Fire' has a Game Of Thrones -esque, medieval mythology thread through them. Certainly a band I hope to see on the main line-up in the future.
Thursday's headline slot, however, belongs to Finnish power metal band Battle Beast. Not to be confused with the Japanese action figures of the same name. Lead by Noora Louhimo, Battle Beast are a band a lot of fans -both young and old – would class as a 'proper heavy metal band' (a phrase you may hear a lot this year). They have amazing riffs, powerful vocals and even synth hooks. 'Let It Roar' and 'Black Ninja' show some solid song writing. Unlike other Finnish bands, Battle Beast aren't a morose act who wear all black. Noora's vocal is a cross between Lzzy Hale (not because she's a woman, she actually sounds like that) and Rob Halford. I assume this band are only headlining Thursday because they have a busy schedule. Otherwise I expect to see this band on the main stage any other day of the week. A great start to the weekend with a wide variety of acts, but still keeping the spirit of metal alive. A real indicator of the events to come.
Friday
The first day of the weekend is always a bit odd, a bit of pressure on the first bands on the first full day of the festival. Everyone has just had a fairly sound night in their tent, ready to rock out for the weekend. Danish melodic metallers Forever Still have the duty of opening this mother up, at the early hours of 10:45 …yikes! Thankfully, Maja Shining's vocals, are quite easy on the ears and remind me a little of Evanescence.
Flash forward a bit, and Devilment take to the stage. Known to some as "Dani Filth's other band", or if you are me -" Dani Filth's BETTER band". All due respect to Cradle Of Filth and their legacy, but I feel this is the music Filth wants to produce in 2017. The teeth aren't as sharp, but Devilment aren't a million miles away from CoF in the first place. Following is Swedish melo-death from Soilwork, celebrating 20 years as a band. Bjorn 'Speed' Strid and co. prove why they have held audiences for so long. Sounding a lot more like a band you expect to hear at Bloodstock where as some on the line-up seem a bit lighter in comparison. Having said that -no complaints here.
We continue the notion of the UK's biggest extreme metal fest with Polish tech-death icons Decapitated bring out the crowd's dark-side, performing material from their well-received new album 'Anti-cult'. As the day goes on we get more and more…let's say…legendary. Testament return to Catton Park to give all the young bucks a lesson in Cali thrash metal. Tracks like 'The Pale King' and the vintage 'Disciples Of The Watch' really display Chuck Billy's vocal contrasting with Eric Peterson's shredding.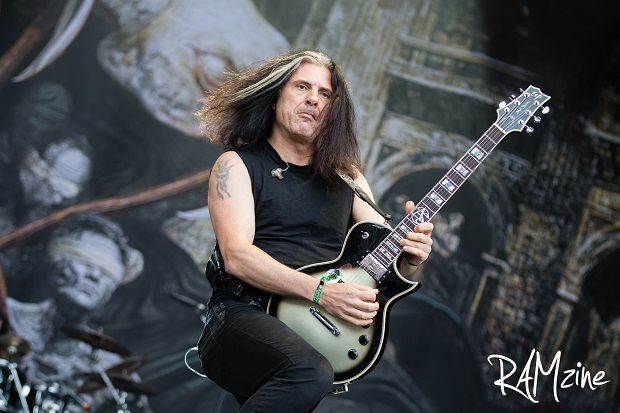 Quickly hopping over to the Sophie stage we get one of the festival's most 'not-so-metal' bands, Lionize. For those unfamiliar, Lionize are a hard rocking cocktail of influences like Deep Purple and Led Zeppelin, with a mixer of modern bands like Clutch and Queens Of The Stone Age.  They shake the stages foundations, and exhibit a some real musicianship, so it doesn't matter if they are metal or not. For me this is a real breathe of fresh air and welcome at any festival, and by the look of the filled out Sophie tent – they would most likely be welcome back at Bloodstock any time.
On to the first main stage headliners of 2017 – it's only everyone's favourite melo-death vikings Amon Amarth. When announced, a lot of festival-goers were slightly sceptical that a band not as widely known as Megadeth or Ghost could headline Bloodstock, and some welcomed them with open arms. As this performance goes: Johen Hegg's longboat of metal warriors have blown everyone away. With a stage set-up and pyro setting the bar for Ghost tomorrow, it feels like anyone can enjoy this – Amarth fan or not. Those who have their own drinking horns get their time to shine with 'Raise Your Horns', as well as metal sing-a-longs to 'War Of The Gods' and closing track 'Guardians Of Asgard'. Surely this band's popularity will rise every time a new Thor movie is released, but that doesn't matter. Amon Amarth are an unstoppable force in the metal world and certainly ended the first full day at BOA 2017 with a bang…literally.
Saturday
The boatload of riffs, that was Amon Amarth are a huge act to follow. Especially since a lot of the Bloodstock patrons may have been celebrating quite late last night after the great day of rock n roll. Ironically on the Jagermeister Stage are a band new to BOA – Bangover.  The Jager stage may be the smallest at the festival, but it still rocks just as hard as any other in Catton Park. Bangover are as crazy as they sound and will actually give you a 'bang over' (the pain you get the next day from too much headbanging, but I guess that's the point) one of the most noticeable things about this band is that one of them is dressed as a tube of tooth paste. This year's Evil Scarecrow.
Meanwhile on the main stage are one of today's most celebrated thrash metal bands – Havok. You may notice there not adjectives there like 'neo-thrash' or 'thrashcore' something similar. That's because Havok are a PURE thrash metal band harking back to legends like Anthrax , early Metallica , and tomorrow's headliners Megadeth. A thoroughly entertaining show and great to hear some straight-up thrash. No messing. Closely following are King 810, the hard-to-place metalheads from Flint, Michigan. There is a big buzz around these boys, not only because of their notoriety, but their unique sound. A popular choice by the organisers and sure to be back here again.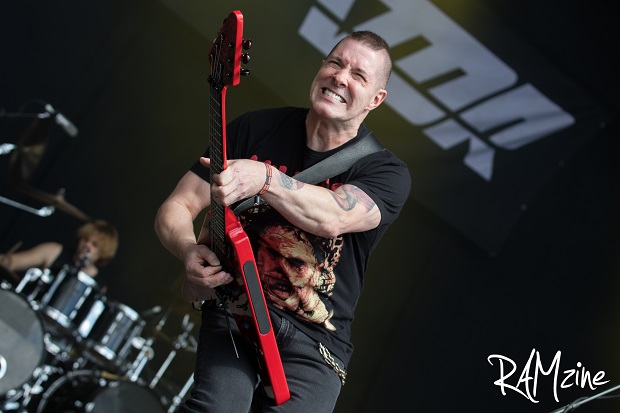 Continuing the classic thrash thread are Cananda's Annihilator taking us through the 90's with 'King Of The Kill' and even back to the 80's with 'Human Insecticide'. Quite aptly followed by one of today's biggest names in the genre Municipal Waste, who broke the Bloodstock record for most crowd-surfers at the grand total of 711! Gojira are headlining next year so lets see if they can reclaim their record. No surprise 'Muni' encourage such a reaction though, this is the band the world needs while a Twitter troll is the most powerful man in the world. Tracks like 'I Want to Kill The President' echo what their thrash forefathers were trying to say over 20 years ago. It's also worth noting the song was written about George W Bush but still valid in 2017.
Next on the Ronnie James Dio stage are Hatebreed. Not strictly thrash, but a band with a strong message nonetheless. Again hard to pinpoint as they always seem to be caught between hardcore/punk and metal, depending on what you are listening to. Either way, they fit right in at Bloodstock 2017. If metal is a big family – hardcore is it's rarely seen uncle we are still happy to see. After we go back to our thrash masterclass with our German friends Kreator. Looking at their stage design, you would think these guys are headlining. And to some fans they are (I'll get on to that later). Complete with pentagram-scarred beast head, fallen cross, and two 'renegades' with flairs, this is a memorable set – even for those who don't listen to Kreator. Regardless, Millie Petrozza still shows he has the charisma and talent to still hold thousands of fans ranging from babies up to old age. Maybe they won't all be singing along to 'Phantom Antichrist' or taking part in the impromptu wall-of-death, but they still agree they saw a good show.  Those who have come to see the headliner may not be familiar with this side of metal, but may have been converted by Kreator.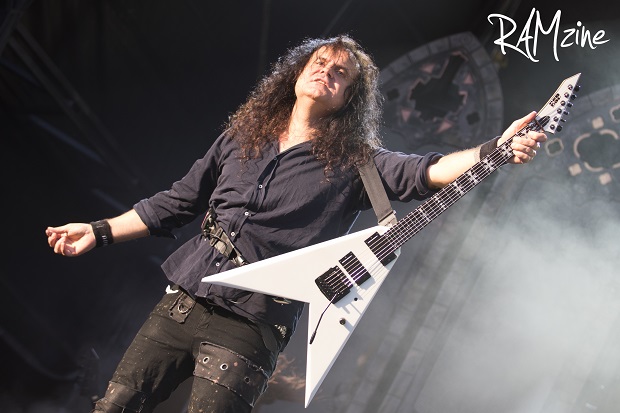 Now on to tonight's headliner, one of the most controversial Bloodstock headliners of all time.  Not because of recent reports in the music press recently, but because of how they sound. This band are Swedish satanic rockers Ghost. From a personal stand-point I think Ghost are possibly the best band to float towards the mainstream in the past decade or so. There live shows are only second to the likes of Alice Cooper … and Rammstein (OK third to), songs all rock classics, in addition to their image and 'backstory' which is rarely seen in the 21st century. Yet, after all this, it is the fact they aren't as 'heavy' as other bands on the bill -is why some Bloodstockers are so against Papa Emeritus III and his Nameless Ghouls playing the festival.
Luckily, there is a giant crowd for the masked Swedes that matches that of every other headliner this weekend.  This being the metal family reunion, it's good include the black sheep at the top of the table. It doesn't matter what genre you want to call Ghost. Their songs are devastatingly good from 'Year Zero', to 'Mummy Dust' 'Square Hammer'…the list goes on. It's hit after hit. No one cares if it's been a year since they released anything new. This is a fantastic show, capped off with red hot pyro, confetti (including Papa-branded dollars) and a costume change.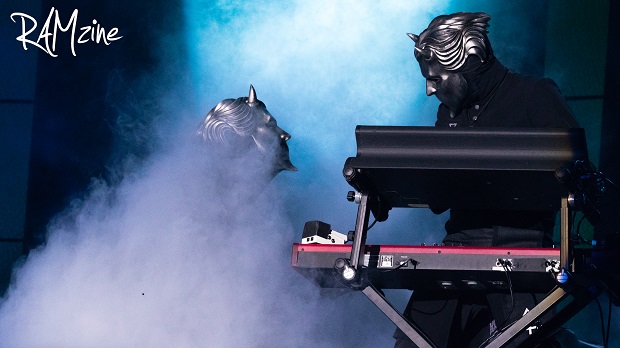 The show ends with an encore of 'Monstrance Clock' with the help of a 20-person children's choir from  Belper Junior Musical Theatre on backing vocals, complete with matching Bloodstock '17 tees. In all a fantastic set that will never be forgotten. Despite the controversy (true or not) Ghost remain one of my favourite bands in the world. Only thing that really let them down is the fact this is more-or-less the same set I saw on their Popestar tour which I saw in March this year. Banter and all. A few bells and whistles here and there to make it more 'festival-y' but still the same. You could say it's same as seeing a movie at a cinema, loving it, then seeing it again at IMAX. Still the same experience, enhanced.
Another triumphant day for the UK's biggest and best metal festival. For me, Ghost are welcome any time. For the rest of the fans, I feel the jury is still out. I heard one person say "Take away the image, they are just a Blue Oyster Cult wannabe band". I disagree but I can see why they might feel out of place. Otherwise, we have seen some absolute classics today. Let's hope the last day of the festival is just as awesome.
Sunday
Sadly it's the last day of the festival, for another year. Like the final episode of an epic TV series, all the questions are answered: Are Megadeth going to do any early stuff? What band will surprise us this year? Who will headline next year? Will the White Walkers be defeated? Maybe not that last one…but you get the idea. Sunday features some of the weekend's most anticipated bands. For me though, Ghost have a lot to live up to.
I can't believe I've got this far without mentioning the significance of the Sophie Lancaster stage. And for that I apologise. This stage was named after the victim of a horrendous hate crime. 10 years ago, she was beaten to death, and her boyfriend hospitalised, because they dressed like 'goths'. Internal and external individuality is what makes us who we are. For someone to attack another for that, so violently, is not acceptable. As part of Bloodstock- A metal and alternative Christmas (if you will), we want want to put a stop to this. I recommend the TV drama Murdered For Being Different available on BBC iPlayer for a well-made version of the events. Show your support by reading the website of, and giving to the Sophie Lancaster Foundation.  Every band who have played this stage have seen it as an honour to represent this foundation.
Rather significantly, a band who dedicate their performance to Sophie herself are London-based quartet Courtesans. As I have mentioned MANY times in this highlights package – Bloodstock is the metal festival that doesn't just do metal. Sinead, Saffire, Agnes, and Vikki have came up with the term 'doom-pop' to describe their sound. to me they sound somewhere between Placebo, Portishead, and Deftones. Saying that, Courtesans are one of those rare awesome bands whose songs all sound really different. I can't really put this performance in to words and do it justice. I've bigged-up Courtesans many times before and they never disappoint. Songs like 'Genius' really demonstrate the harmonised vocals, the particular guitar sounds, the hard-hitting lyrics. It has to be seen to be believed. It's great also to see a band like this FILL the Sophie tent – being a non-metal band at Bloodstock. If anyone remembers any set from this weekend it will be this one.
Back on the main stage are a band who are seen as one of the original death-metal bands Possessed. It's clear to see why the sub-genre is still very popular today. For something named after 'death' there is a lot of energy involved. Being a band who are in the process of a comeback, this set includes material from the two albums they released over 30 years ago ('Death Metal', 'The Excorcist') plus a few more recent numbers ('Shadowcult'). A great way for younger fans to be introduced to Possessed, as well as life-ling fans to be re-introduced.
if Friday was the day of vast variety, Saturday was the thrash masterclass, then Sunday is the day of epic performances. Other than Courtesans, and Possessed, the next notable performance is that of Derbyshire demons Hell. Last night's Ghost set, and Friday's Amon Amarth show owes a lot to these metal legends. You want a show? Well Hell have Satan-stlye goat stilts, spark shooting trident, and enough pyro to issue a serious warning to BOA staff and press photographers. David Bowers is a true showman and makes sure Bloodstock will be blown away (quite literally) by Hell. This what your Dad would call a 'proper heavy metal band' (I told you you would hear that again), and he isn't wrong. In a world with bands like Ghost, Amon Amarth, Kreator,etc. making the most of this vast festival stage. With such an uncommon history, it's tough to find someone who will know their entire set but tracks like 'Darkhangel', 'End Ov Days' and their closer 'Earth As It Is In Hell' stand out today. Some fans groan it's the same set they performed in 2014. Who the Hell cares? This was awesome and I would watch this every year if I could.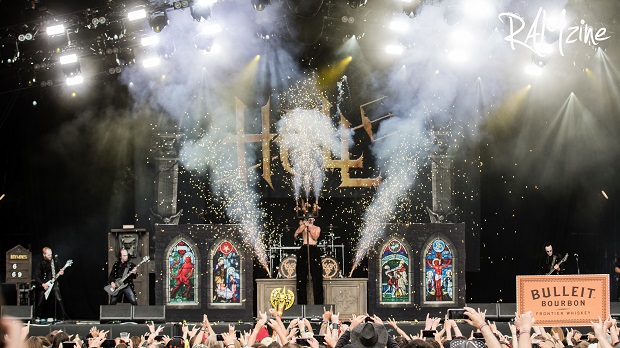 Next another band, like Ghost, that a lot of fans complained "Aren't for Bloodstock". These people can get lost, to put it politely. Skindred are lucky enough to be able to play just about ANY festival in the world. And booker Vicky Hungerford knows it. Benji Webbe and the boys are a Welsh stew of worldly genres including metal, punk, ragga, hip hop, dub, leek ,pop, potato…everything really! Coming out to AC/DC's 'Thunderstruck', faded in to the Star Wars 'Imperial March' this feels like a headline set, we aren't anywhere near the end of the festival yet – and the band aren't even on stage. Starting off strong with 'Under Attack', it's clear this band were made for this stage. Skindred know to keep the attention of any crowd, teasing several covers varying from House Of Pain, to AC/DC, to Black Sabbath. It really shows their range and understanding of festival audiences. Taking it down a notch with an acoustic performance of 'Saying It Now' as a tribute to Sophie Lancaster. Think about that, it takes balls the size of grapefruits to go acoustic on the main stage of Bloodstock, sandwiched between Hell and Arch Enemy. Despite what has been said about the the Skindred lads, most of the Bloodstockers join in with  Skindred tradition which has spanned the world on tour, across many festivals, known as the 'Newport Helicopter' during their closing track 'Warning'. This could have used a guest vocalist, but they would have to do this for every performance of the track. Even so, this is a worthy performance of the Bloodstock-Open-Air community.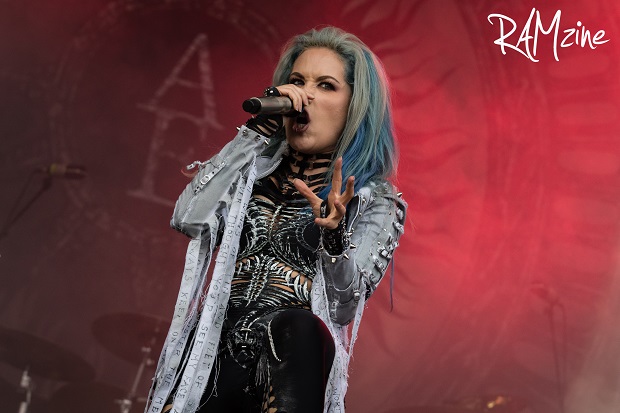 You would think that was the headline set or even the main support. Alas, we still have 2 huge bands left this weekend. and what a double – bill it is. While it's still light, everyone gets the pints and nacho bowls in for the night. Ready for Swedish/ Canadian melodic-metallers Arch Enemy, who would have headlined festival any other year. With the bill being so packed with amazing acts they are classed as 'main support' to Megadeth. Still nothing to be sniffed at. The pyrotechnics are minimal, not much of a stage set-up. Just PURE F**KING METAL. Starting with a 'The World Is Yours' off their upcoming album Will To Power AE seem really confident in their material, especially given their legacy. Some fans are still getting used to current vocalist Alissa White-Gluz, and original singer Angela Gossow. I personally like both but Alissa has more range. Besides it's not like they have stopped performing their older music as anthems  'We Will Rise' and 'Nemesis' book-end the set. Yet there's plenty of room for all corners of their back-catalogue (Avalanche, My Apocalypse). Unlike most bands on the main stage which have divided fans, everyone seems to be in unity for Arch Enemy. As I mentioned before, a headline worthy set any other day…but Bloodstock has Megadeth.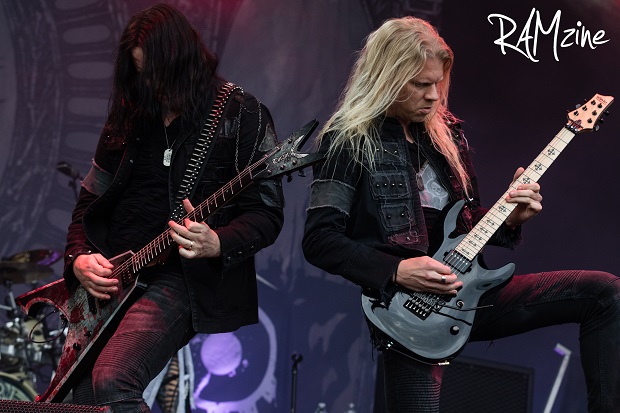 Sunday's headline  band, the final act of Bloodstock 2017, Dave Mustaine's merry men, whatever you know them as, most know them as Megadeth. The LA lads have a lot to boast about in 2017 as their last album Dystopia was a critical and commercial success in a world were acoustic singers and EDM DJs are topping the charts. On top of this they came out of the 'Big 4' tour smelling of roses and announced a double headline tour with Scorpions. Like we saw yesterday, old school thrash isn't dead. They know their fan-base are here for their history though – hence starting with 'Hangar 18′, yet switching it up with newer stuff like 'Conquer or Die!' . The live version of 'Tout Le Monde' could have been made that little bit more special with a guest vocalist. This does have a headline show feel with the double encore of 'Peace Sells' and 'Holy Wars'. With the metal icons playing many, many festivals this month, I can't help but think they may be playing the exact same set at each show. A great headline set but it felt slightly underwhelming following Arch Enemy, Hell, and Skindred. 'Deth are still well respected grand-daddies of the metal family.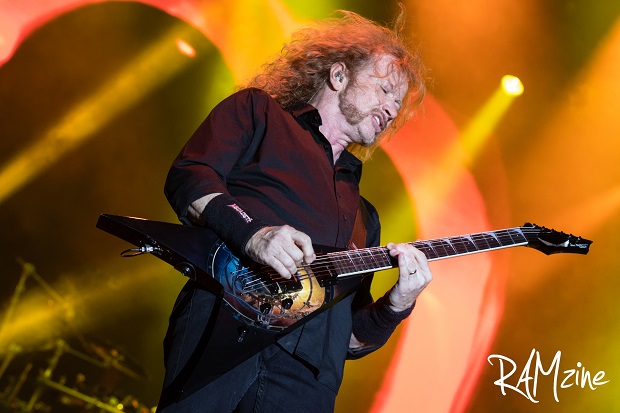 Overall this was an EPIC year for Bloodstock and it's extended family of fans. We got an absolute ton of legendary bands, as well as boatload of new bands. Metal or not. At what I have called many times in this piece "The big metal family reunion"which it always is, plus a few guests from other families by marriage – or in this case, by genre fusion. Ghost and Skindred have proven worthy of their slots at what was once an 'extreme metal' festival. This has been a classic year for Catton Park and UK festivals overall. With Nightwish and Gojira announced as headliners next year, I can imagine organisers are casting their nets wider and booking acts who experiment with other styles of music. Roll on 2018.
Check out the full review of Bloodstock 2017 in issue 15 of RAMzine. Check back on RAMzine.co.uk for interviews with Megadeth, Skindred, Hatebreed, Courtesans,  Lionize, Possessed, and many,many more.
All photography by Ash Crowson. Check out his Facebook here
Many thanks to Cosa Nostra PR and Bloodstock staff.
Check out these highlights by Epiphone below: