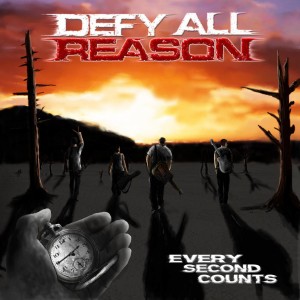 Wrexham based band Defy All Reason look set to have a big year ahead of them. Following on from their release of Nickelback-sounding single 'Shake It', the band have a UK tour set for 2013, hitting cities such as Liverpool, Chester, Manchester, Wrexham and Worcester, among others.
'Shake It' is a no-holds-barred, satisfyingly crunchy ode to the best that the Southern USA has to offer in rock music, and the best part is that it's from right here on our doorstep (relatively) in the picturesque location of North Wales. Gravelly vocals juxtaposed with some great gritty guitar playing get this song into a listener's head extraordinarily quickly, and that's where it stays for at least the rest of the day. Wonderfully catchy and very well written, music lovers should expect to be seeing more of Defy All Reason very soon.
RAMzine recently caught up with the drummer for the band, James…
–
We've been listening a lot to 'Shake It'. Great stuff! So what's on the agenda next?
"Firstly, it's great to hear that you like the song! It always makes us smile when people tell us they like what we are doing. Well, initially on the agenda is the recording of our first EP. We head into the studio at the end of January and we are extremely excited about this record! It feels like a long time coming so we just can't wait to get it recorded and get it out there for everyone to hear. We are also hoping to have an accompanying music video recorded for the first single off the EP ready by the end of March! After that we will be spending the following months playing a lot of shows up and down the country! We've got some really exciting dates lined up and after a short break for the Christmas period we just can't wait to get back out there. We very recently signed to management company Stormblaze Entertainment, which is headed up in the UK by Andy Turner, so we are really looking forward to working with them and seeing what they have in store of us. All in all it should be an exciting year ahead for Defy All Reason!"
Looks like you have quite a few tour dates lined up for the next few months. Looking forward to hitting the road?
"Very much so! We enjoy every aspect of the band lifestyle but none more than the chance to play shows everywhere in front of different people. Attracting new fans and friends to the band is the greatest feeling about doing what we do and it still takes us back a bit when we get positive feedback from a show from someone we've never met before! And as I mentioned previously we've got some extremely exciting dates lined up already. We will be supporting Falling Red on their UK tour in Manchester on March 7th, which we are really looking forward to as they have just come off an incredible year, including supporting Steel Panther on their UK tour. We will also be making returns to the Lomax in Liverpool, the Snooty Fox in Wakefield and the Adelphi hotel in Liverpool where we will be playing the Tattoo Convention for the second consecutive year. We are hitting a lot of places for the first time as well, like the Roadhouse in Birmingham and Sanctuary Rock Bar in Burnley. One opportunity we are really looking forward to is playing SCARfest 2013, which takes place in August and promises to be a hell of a festival!"
Satellite Records say they like their artists to have an 'experimental' sort of edge. What would you say yours is?
"Well at this moment in time, after a long discussion we have decided to move on from Satellite Records in order to try something new. We thoroughly enjoyed working with the team at Satellite and they certainly gave us a lot of support, help and advice! A great label to be a part of and a great experience for us to have had. However, to be honest I don't think we have the 'experimental' edge that you usually associate with Satellite artists. We would like to think that what we offer is what people look for in rock songs… meaty, catchy riffs; hard hitting drums; bass lines that get your head nodding; and lyrics that everyone can sing along to. In saying that we would like to think we've got our own style, although we all have similar influences, we have a formula when writing songs so that when people hear it they will instantly recognise it as a Defy All Reason track. (We hope so anyway!)"
The Wales' music scene is known to have produced some fantastic artists. Are you guys hoping to be next?
"Yeah it is surprising how many people don't realise some of their favourite artists come from Wales! We are definitely going to give it everything we have got. We are under no impression that it is going to be easy, if we get to the level we all hope for, we know we would have worked our backs off to get there! However, I know we are all up for the challenge. If we keep working hard, doing what we love doing and get a little bit of luck along the way then who knows?"
Would you say 2013 is going to be Defy All Reason's year?
"Without sounding cliche, we are just trying to take each day as it comes! Even though the year has only just begun we seem to have been presented with opportunities which this time last year were way out of our reach so we can only hope that this pattern continues and by the end of 2013 we are onto something huge! We are hoping that the EP, when released, really puts us out there to all the people who have yet to hear us. If there's one thing we can guarantee it is that all 4 of us will put our blood, sweat, tears and more blood into making this happen. Watch this space……"