What do most men do for their 50th birthday? Spend time with the family?  Venture to a festivals with old mates? For Anthrax guitarist, Scott Ian, he wanted to reform his favourite band – Mother Superior.  Scott's wife, Pearle Aday, had been working with former front man Jim Wilson, so it only took a quick phone call to get the wheels in motion. Motor Sister were born.
We caught up with vocalist Jim Wilson to talk about the band's formation and their debut album 'Ride' which is released on March 10th.
Motor Sister came together via Scott Ian's love for Mother Superior. How did you feel when he wanted to reform your former band for his birthday?
When Scott originally asked me, it was just for one night, his 50th birthday party. I was flattered! He chose the songs, the set list that he wanted and I actually looked forward to it because it was a one night thing, just for fun. Then we were asked by Metal Blade to make this record because everybody loved the party and the sound we made together so much. It was kind of a natural thing and totally unexpected that we would make a record as a result of the party.
Were you a fan of Anthrax before he got in touch?
Of course! I love all kinds of music and try to pay attention to bands and records when they get released. I'm a total music geek. I mean, we were listening to Anthrax when I was still a kid growing up in Delaware.
How did it go from being a reformation of Mother Superior to a super-group featuring yourself, Scott Ian, his wife Pearl Aday, Joey Vera and John Tempesta?
It goes back to Scott's 50th birthday party again. He wanted to play the old Mother Superior songs with me on guitar. It's a treat for me because the original Mother Superior was a trio so it's so great to hear that big fat, two guitar sound on stage. Joey Vera had previously worked with Mother Superior, mixing and mastering albums in the past. And of course Pearl and I have been writing songs for years and she's done Mother Superior songs at her concerts as well. John Tempesta was the only one that I didn't know previously, but he was a big Mother Superior fan and he was up for the party. That night after we played together, we knew that we had to let more people hear this sound.


How does it feel to be playing with other musicians of this calibre?
Well I'm no slouch myself! Just kidding…it's a dream come true!

How would you pin down Motor Sister's sound?
It's rock 'n roll with a little soul…heavy and hard but emotional and heartfelt…and funky. Or how about 'GOOD MUSIC'!

Are you excited to take the project on the road?
Yes, we just played our first show in New York and the day after the record comes out we're at the Whisky, in Los Angeles, and then up to San Francisco. After that, we will all be available in June to do more shows and the booking agent is working on it now. We want to play everywhere.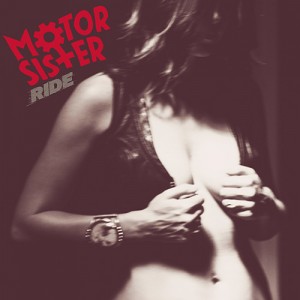 You have put together a full album called 'Ride' how would you describe the album?
'Ride' is a dozen of Scott Ian's favourite songs that I wrote all done up with a super high-energy, kick ass band called Motor Sister. Crank it up!

Was it fun revisiting your original material with different musicians?
Yes and every time that we play together it gets more fun. The more we know the songs and each other better, the more we'll be able to play around at the shows. I'm really looking forward to doing more shows so the old fans can check it out as well as the people who don't know the originals.

Do you have any stories from the recording sessions?
Yes here's one–we were super busy trying to get all the work done on our second day in the studio and at one point a guy walked by me in the studio hallway and I recognized his face. I said "Hello, how you doing today?" thinking that he worked in the studio and that I had seen him the day before. Later someone mentioned that James Iha from Smashing Pumpkins was recording next-door and I thought to myself "oh yeah that's who that was!"

Will you be recording any more new material soon?
Yes, I've been collecting guitar riffs and Scott and I have been talking about the next album.

Do you have any plans to bring Motor Sister to the UK and Europe?
I can't wait to bring Motor Sister to the UK. The UK press has been really receptive so far so I feel like they're really going to get what this band's about. Again, we want to play as many places as possible.

Which other bands have you been listening to recently?
I've been listening to North Mississippi All-Stars, Willie Nelson, old Aerosmith, Humble Pie, Black Crowes, Cheap Trick, Def Leppard, and all the good stuff!

I can't wait to bring Motor Sister to the UK!
What does the future hold for Motor Sister, and for yourself?
More music! Even if our other bands and projects take up all our extra time, it's all music and we love it.

If you could give festival goers one tip this year, what would it be?
Don't go unless Motor Sister's on the bill!

If there was one thing that you would recommend people don't do at festivals, what would it be?
Don't forget the drugs.

Iron Maiden's manager, Rod Smallwood, has recently appealed to fans and musicians to campaign against the secondary sales of gig tickets- 'touting'. Is this a campaign that All That -Remains will be supporting?
Bands should keep ticket prices down and play more shows. Tout your music.
Motor Sister's album 'Ride' will be released on March 10th. The first single from the session, 'This Song Reminds Me of You' is available for to stream above, and below you can watch a featurette video on the formation of the band and the process behind the record.