It's been a pretty big year for Mallory Knox with a highly acclaimed debut album, selling out venues on their UK headline tour and making waves abroad. We caught up with Mikey Chapman (vocals) and Sam Douglas (bass & vocals) before the end of 2013 for a chat – with an extra helping of festive cheer…
RAMzine: Hi guys! How has the past year been?
Mikey: "It's been incredible, it's hard to describe how many highlights there have been, it's been amazing. We've played main stage at Reading and Leeds, we've travelled overseas to Australia and played shows, headlined the Radio 1 Rock Week set to thousands and thousands of people… just our little band on the radio."

Sam: "It's the kind of year where you don't realise what's happened until you look back on it, all the things that we've done this year, it's crazy."
RAMzine: What have you got planned over Christmas?
Sam: "Because we've been away since November, I'm looking forward to it so much – hanging out with family and just chilling out. We've been so busy for the last three months, just full on at it, it's great to literally just relax and see family."

Mikey: "The term 'sweet FA' comes to mind!"
RAMzine: Had time to do any Christmas shopping yet?
Mikey: "I think I'm gonna dedicate a day to that once I've recovered from tour and get that blasted out! I'm not one of those kind of people that spend a whole lot of time on it."

Sam: "Even if we weren't on tour I definitely wouldn't have done it yet…"
Mikey: "Yeah, definitely a Christmas Eve job!"
RAMzine: Which band member would be on Santa's naughty list?
Mikey: "[laughs] That's a good question…definitely a hard question as we're all rather naughty."
RAMzine: I thought you were about to say you're all rather nice!
Mikey: "Well, yeah…both…I guess it depends who you've been talking to! I would say Dave."
Sam: "Yeah, I was gonna say Dave."
Mikey: "He's always being a naughty little boy…"
Sam: "He's a bit rude, and swears in front of strangers and it's embarrassing…"
Mikey: "Sometimes he hits me!"
Sam: "Sometimes he hits things, he punches things…"
Mikey: "He's like a bull in a china shop…"
Sam: "Like a lovable bull!"
Mikey: "Yeah, that's the thing – I don't think Santa would put him on the naughty list."
Sam: "We'll put him on it just to wind him up."
RAMzine: You might be off his Christmas card list now…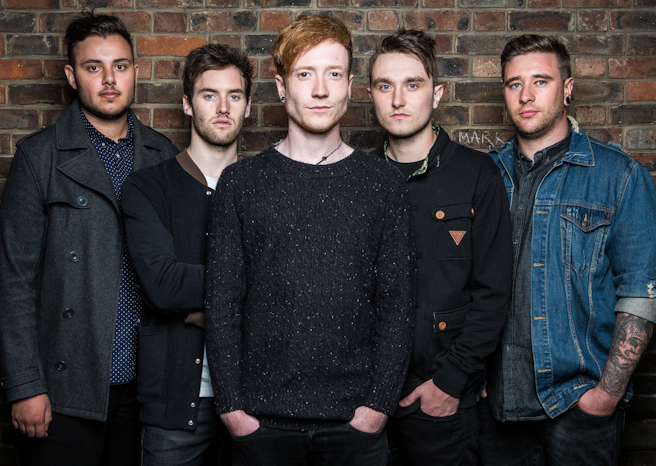 Mikey: "That's the thing, y'know, just by saying this we might have actually got on the naughty list…it's a risky game all this."
RAMzine: It definitely is. What's your must watch Christmas movie?
Sam: "Ahh, I can't even remember, I've watched it so many times, it's the one where…what's his name…the guy that becomes Santa and he keeps having to do it…"
Mikey: "Jingle All The Way?"
Sam: "Nah, nah…I can't remember the actor's name, he does Buzz Lightyear's voice…"
[at this point Dave walks by and chimes in]
Dave: "Bruce Willis?"
Sam: "It's not Bruce Willis!"
Mikey: [laughs] "As if he thought it was Bruce Willis!"
Sam: "He definitely does Buzz Lightyear's voice, and he becomes Santa for the day!"
RAMzine: Tim Allen?
Both: "TIM ALLEN!"
Sam: "THE SANTA CLAUSE!!! Yeah, that one!"
Mikey: "Mine's the one with Arnold Schwarzenegger, I can't remember what it's called though…"

DEBUT ALBUM "SIGNALS" IS OUT NOW

http://smarturl.it

Sam: "Jingle All The Way?"
Mikey: "Yeah!"
RAMzine: Have you got any Christmas jumpers?
Both: "Nope!"
Sam: "I think I'm getting one for Christmas, apparently."
Mikey: "I'm a big fan of just knitwear, but none of it's Christmas based. I might just…stick a little Christmas tree sticker on it, y'know…"
Sam: "A bauble?"
Mikey: "A baw-baw?"
Sam: "No, a bauble!"
RAMzine: If you were gonna cover a Christmas song, what would you cover?
Sam: "Band Aid – Do They Know It's Christmas?"
Mikey: "That's a good shout…mine would be, my favourite Christmas song ever, and the one that I'd cover, Christmas Time (Don't Let The Bells End) by The Darkness. When I used to work in Tesco, I used to just used to stand on top of the pallets air guitaring to that song!"
Sam: "Actually I'd do The Pogues!"
RAMzine: Who'd sing the Kirsty McColl part?
Sam: "Dave."
Mikey: "Yeah, give it to Dave."
RAMzine: Dave seems to be a bit of a band scapegoat…
Mikey: "He makes answering questions a lot easier doesn't he?"
RAMzine: True! What are you hoping to find under the tree this year?
Mikey: "Hopefully not like…all the needles that come off the tree, cause that's really annoying – the hoover gets all clogged up, you have to empty it out all the time…"
Sam: "Pixie Lott."
RAMzine: I was actually about to ask who you'd like to meet under the mistletoe this year, but I guess that one's been answered now…
Mikey: "Yeah, definitely Pixie Lott!"
Sam: "You're just gonna answer Pixie Lott to every question now… [laughs] Mine would actually be either a puppy or an Xbox One."
RAMzine: Moving away from the Christmas questions now, as I think we're all Christmassed out! Back to music, what have you been listening to in 2013?
Sam: "Everything! Like, so much…for me, The 1975 had one of my favourite albums from this year, the new Bring Me [The Horizon] album was amazing, the Deaf Havana album was amazing. So much new music, I can't really keep up with it all. And then one day I can be listening to A$AP Rocky."
Mikey: "It's really eclectic, we listen to a lot of different stuff. At the moment I'm listening to The National, then there's artists like Lucy Rose who I'm really into right now, the new Civil Wars album came out this year…and then like Sam says, the record from Bring Me The Horizon, bands like that. S: It's definitely been a real mix of things."

New album 'The Good Youth' Pre-order:

http://po.st/BlitzKidsTGY
RAMzine: Who should our readers keep an ear out for next year?
Sam: "Marmozets!"
Mikey: "Yeah, Marmozets are in the studio recording at the moment and I think it's gonna be a very impressive release."
Sam: "The guys in Blitz Kids as well, they've got their album to come out…and the new Blink album's coming out next year, that's gonna be the one for me."
RAMzine: They're playing Reading and Leeds next year…
Sam: "I know! I wanna play Reading and Leeds next year just for that reason!"
RAMzine: I'm sure you could sub for them! Have you got any festivals you're hoping to do other than those?
Sam: "Yeah…there's so many that we want to do…."
Mikey: "You've always got a list of festivals that you're hoping to play, y'know?"
Sam: "We did so many last year, I think we might have to be a bit more selective! There's y'know, Download and Glastonbury…"
Mikey: "I'd like to do some of the more mainstream festivals as well, we did T In The Park last year, it'd be nice to do something like that again. And like, the European festivals and stuff."
RAMzine: Have you got any other plans for next year?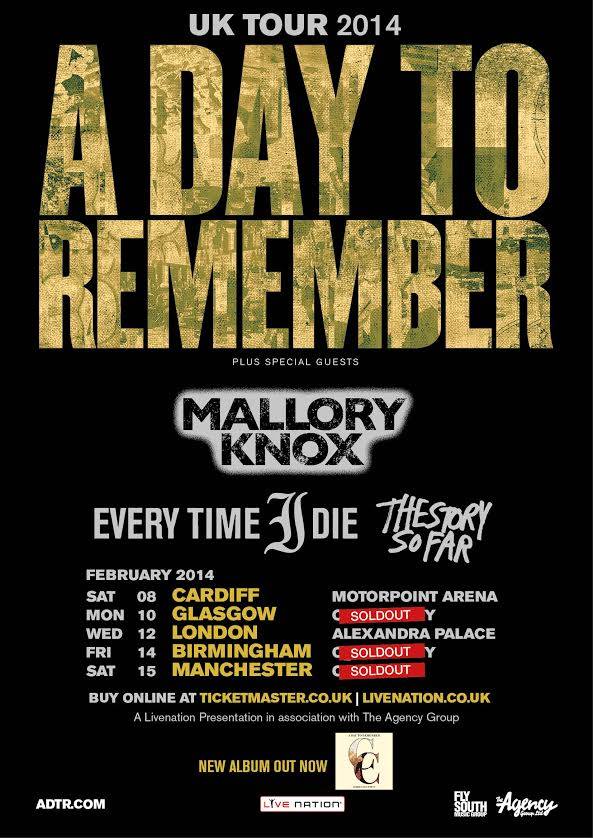 Sam: "New album, as soon as we come back from Christmas we're going straight into the studio to start recording album number two…another tour, and we'll see from there…"
Mikey: "We're looking at the diary for next year, a lot of it isn't announced and in the pipeline at the moment. It's gonna be a very very busy year!"
Sam: "I think it's gonna be even busier than this year!"
RAMzine: Anything else you want to add before you head off to play tonight?
Mikey: "Just like, as the year's coming to an end – it's been a crazy year – we all wanna thank everyone who's come to shows and supported us, bought the album, tickets, merch…even just the nice things people say online…just thank you very much!"
RAMzine: Thank you very much Mallory knox, RAMzine wish you a Very Merry Christmas and a Happy New Year! You can next catch Mallory Knox on tour with A Day To Remember next Febuary 2014!
More from Mallory Knox on RAMzine….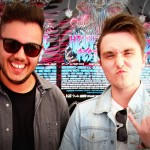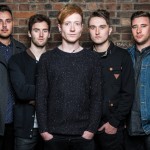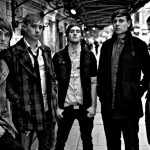 www.facebook.com/malloryknoxuk