English hard rock band QUIREBOYS have been ultra-busy releasing an album a year since signing with 'Off Yer Rocka' and releasing Beautiful Curse in 2013.
And in between a teaser EP expected this autumn and a fresh studio album perhaps in 2018, the lads are set to release a collection of iconic blues tunes on an album titled White Trash Blues.
We caught up with Guy Griffin (Guitar) at the RAMBLIN' MAN FAIR to chat about the new project…
RAMzine: Tell us about the title, White Trash Blues.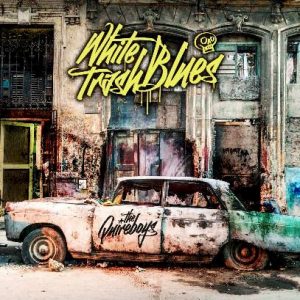 The title sort of came along because we have a song called 'White Trash Blues' from the second album [Bitter Sweet & Twisted, 1993] and it's kinda apt, you know, not that we're White Trash or anything but [it's a fact] we're working class lads and it's not like we're pretending to be authentic Chicago bluesmen or something… we're getting the sound second or third hand anyway … perhaps from bands — like those I first got into when I was young — such as Dr. Feelgood. And, obviously, the Rolling Stones, Yardbirds, the Animals, The Pretty Things. And when you listen to their songs you hear they are blues-songs but they interpret them as almost pop-songs but quite trashy, you know. And that's what we were trying to capture on this album.
And I think we did capture it, that sense — everyone plays the way they play and, clearly, it was covers and we don't usually do that sort of thing, so it was quite nice not to have to super-analyse anything. And it seems like everyone in the band is quite happy with it and it seems like everyone outside (the audience) seems interested in it — which is nice. Nowadays it's kinda "Whatever works, works…"
It was kinda liberating for me, because we have quite a high turnover of records nowadays , we do an album every year, and I have to come up with the majority of the stuff, musically anyway, and it's a bit of a tall-order you know, so I was like "Great let's do a blues-album and I won't have to write any songs this year…"
RAMzine: And what about an original album? Anything planned?
Maybe next year or in two years we'll have another original album and it might have a bit of an extra "thing" about it because it's not what people are expecting…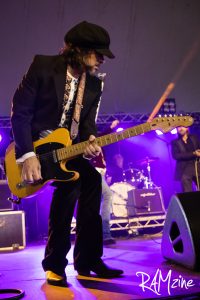 The output is basically down to our manager Jonni Davies who basically kicks us up the ass and doesn't take "No" for an answer. And, before that, we hadn't done an album for five years! It shows what we're like. But we've got into a good sort-of process that seems to work for us and we don't spend more than a couple of weeks on a record now because it's all about being prepared and also having the material… it's easy to do demos, so you can send them out to all the guys "Here's the rough idea" and then all you have to do is get an arrangement together — and like I said everyone plays the way they play anyway…
It's always a bit sensitive to say to someone, "could you do it this way?" But sometimes you do. Musicians can be precious about what they do… And they don't take direction very well…
RAMzine: Will you take the blues covers album on the road?
If it's up to me we'll do the whole album. And that's because it's more interesting to me at the moment. In fact RAMBLIN' MAN we're doing the complete thing! We'll see how it goes down. In fact, we're probably not gonna be doing any Quireboys songs. It could be interesting…
RAMzine: Tell us about the taster EP.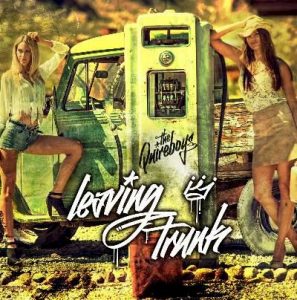 Yeah, 'Leaving Trunk' is a song I first heard done by Taj Mahal, and I really love him and think he's brilliant, although I think the song was written by someone else [Sleepy John Estes] — which goes to explain why I call it "third-hand blues" by the way — and so the EP contains that song plus 'Rollin' and Tumblin' and 'Champagne & Reefer' and it will be a little taster for the record really.
RAMzine: Congratulations on your show at Ramblin' Man and your new project.
Thank you and thanks to all our fans who support the Quireboys playing the blues… And thanks for keeping us going…
Guy was talking to Neil Mach at Ramblin' Man Fair 2017.