MASSIVE are a volatile bunch of ever-intoxicated macho rockers from Melbourne, Australia, who formed an alliance in 2012 that seems fuelled by adrenaline, weak lager and a determination to party harder than everyone else they meet.
They've been known to travel thousands of miles, sometimes across baking deserts, to get to gigs. Inevitably, when they arrive, things get hot and excited and their lusty road-metal causes much panty-wetting and unrestrained mayhem…
We caught up with the infamous road-buccaneers at this year's Ramblin' Man Fair.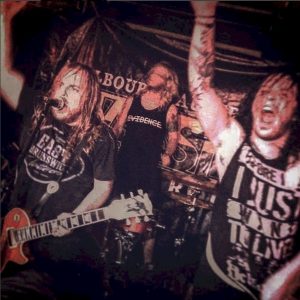 RAMzine: We started by asking Ben Laguda (the original lead guitarist) why he had re-joined the troupe…
"Well I just figured they needed a little help! Well, the position became vacant again and I wasn't doing much and I decided I wanted to tour the world again… They said they'd have me back…"
"Actually, we said we're already one-foot in the grace so let's get digging"
RAMzine: You've been touring with Tequila Mockingbyrd what's that experience been like?
"Well, they kick our arse every night! That's for sure. They're good girls, though. We shared a van with them — and you know what? For three girls they fart a lot! You wouldn't think it but they stink worse than us guys…"
"We've been all over England already… leading to this show. We started in the UK in June doing festivals, then we did Spain, Belgium, Germany and then we did a 16-date headline run across the UK. Now we're slowly starting to wrap-it-up… and although we might be a bit stiff now, when we're ready to play we're ready to go and we know that an hour before we play we'll get this big rush of energy…"
RAMzine: How do you find the British crowds compare to home?
"Awesome, great. They love rock 'n' roll and it's the home of rock. It's crazy that an island that's the size of one of Australia's States can have so many rock bands! There's not as many rock band in the whole of our continent. Here, people just love rock 'n' roll, there's festivals every weekend… and that's why we're here. Because we love it!"
RAMzine: In the UK cities we are going over to Urban, R&B and hip-hop. What is the state of health for rock in Oz?
"You're lucky here in Britain, at least you still have a rock scene going on. That's better than most countries in the world. In fact rock is quite big here compared with Australia. We find that rock is very underground these days at home. Obviously we are not making a big enough impression!"
RAMzine: How do you think you've evolved and developed since 2012?
"Well, we probably haven't… not really! Maybe the hair has grown a bit… But we try to keep the music just like the way we started out. We just wanted to play rock and keep it consistent. We want people to party."
"On this tour we are playing a lot from the first album [Full Throttle] because, obviously Ben is with us again, but also because we found that when we toured the first album it was a "Party Tour" everyone wanted to party. The second album was a lot more serious and on the third album we are doing right now we want to capture that party-vibe again. So that's essentially who we are."
RAMzine: Have you written all the material for the third album?
"Yes, it's all written. We started in the studio. And laid down some drums. One of the tracks we've been playing live and we've been getting a great response."
RAMzine: Do you like going into the studio to work?
"Love it! Yeah, we love recording. That creating process is probably one of our favourite parts of being in a band."
RAMzine: And Ben, are you going to be contributing to the song-writing again?
"Yeah, I'm gonna give it a whirl."
RAMzine: Are you going to play any of those rock cruises?
"If you've got a gig for us mate, we'll play it. We had a couple at one of our shows, the guy proposed to his girlfriend, and they asked if we would play at their wedding. So there's our first gig booked, 2018."
RAMzine: You are, right now, thousands-and-thousands of miles from home… Ever get homesick?
"Well, we feel comfortable here. We've been welcomed. It has become like home."
RAMzine: We wish you the best of luck with your new album and thanks for bringing your pukka rock 'n' roll spirit over here for us…
"You are very welcome."
Massive were talking to Neil Mach at Ramblin' Man Fair 2017