Finally, the greatest time of the year was upon us. Damnation Festival 2015, based up in Leeds University. A day chocked so full of music that it's hard to make any time to see the light of day, or rain (this is England after all).
Damnation have done everything right, this is a real day long festival for the fans, by the fans, with line ups and a price you only ever read about in Europe. 26 bands split across four stages, with two on at a time. Almost perfect if it wasn't for the clashes, but even with clashes, you'd be hard to find a gig with more than three of any of these bands on for the price of a Damnation ticket at just £36!
Last year saw its tenth anniversary, and boy was it a big one. Bolt Thrower and Cannibal Corpse were headlining the two main stages, so right there you have to make a choice (Bolt Thrower all the way clearly!) as you would be hard pressed to get from one stage to the other with the amount of people there! Obviously sold out, not to mention the other bands playing that day, Orange Goblin, Raging Speedhorn, Anaal Nathrakh, Ahab, Monarch, Revocation, Stamping Ground and so on. None of this came without any problems though, and much of the time travelling from stage to stage felt like a walking M25 at rush hour in both directions.
Damnation isn't a festival to not listen though, and thanks to their open ear attitude to fans, they listened and cut this years ticket capacity by a whole 1000! Making for much easier passage and a chance to catch all that you wanted, or at least could physically manage! For the quality of bands that were on this year too, what more could you ask for? This being my third year running in attendance I knew what to expect from the day, and by around 13:00 we had arrived, and I needed a beer, straight to the bar we went before making it to the stages dotted around the place.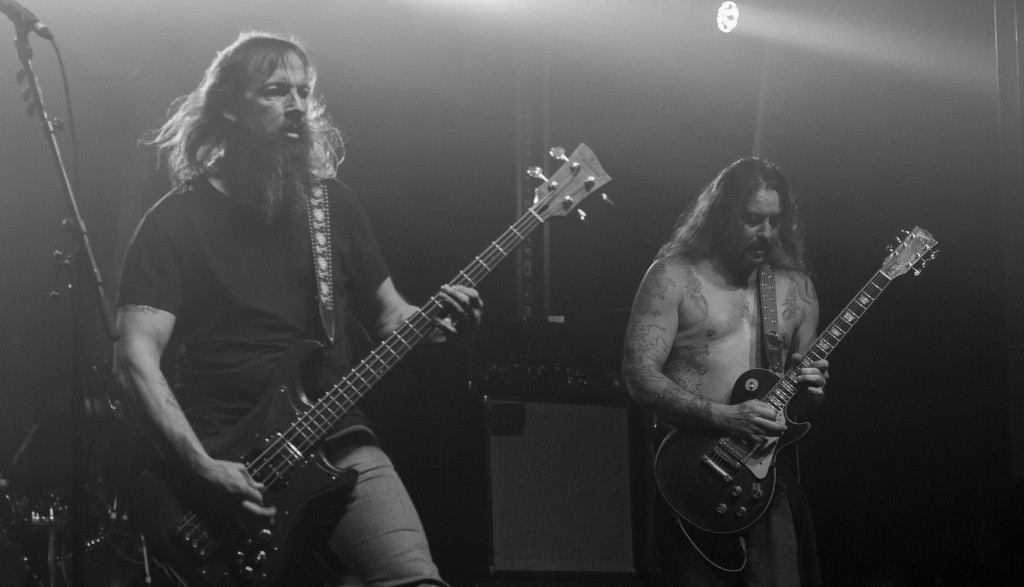 Tacoma Narrows Bridge Disaster were there to open proceedings for me on the 'Eyesore Merch Stage', a pleasant and more laid back approach to welcome you in with a progressive metal instrumental band. Bands without vocalists really tend to play more emotive music, and they play with such a wide array of openness that it is hard not to get drawn in. A great way to kick the day off, a band that do deserve a longer set than 30 minutes, but after a long journey and already having myself a beer, I felt the need for something a little heavier very early on and went in search of what else there was after 20 minutes. Definitely a band that I will be looking out for again though.
Strolling past the 'Terrorizer' stage I could see The King is Blind were just finishing up, bugger. I was really looking forward to seeing them, but thanks to being drawn in by the expansive Tacoma Narrows I'd missed my chance! Carrying on around I get to the 'Electric Amphetamine' stage, a tiny back room stage that you need to get to early if you want a decent spot. Undersmile were in, a dual female vocal band with a blend of voices that'll give kids nightmares. I just wasn't feeling it though, maybe it was the bright sunlight glaring through the windows to my right, or the general arrogance of a few of the crowd barging through despite seeing photographers trying to nail the perfect shot. They were a good band, but the combination of everything seemed to take something away. Had they of been in a dark squallier of a place it would have been a different story!
Next up were Weigedood, a Belgian three-piece black metal band on the 'Terrorizer' stage, I'd hoped to catch half of these before rushing off to catch the end of Talons, but sadly these were just too good! A constant barrage of blast beats and carpal tunnel inducing guitar and bass playing, they brought a metal so black that it was almost as dark as my northern star mocha porter beer I was drinking, a perfect match! Black metal has a real strong future while bands like these are about, and I find myself getting more interested in seeing them even with it not being my most love sub-genre under the metal tree. These guys are worth seeing if you ever get the chance.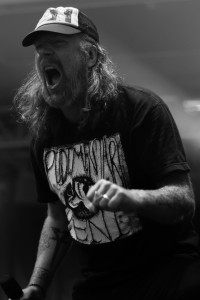 By 14:30 I had come across my first major clash, at Damnation it is always going to happen, so you just need to suck it up and hope you didn't make the wrong decision. I had to battle between Ohhms very much an awesome doom band, and Savage Messiah, a thrash outfit. As the main stage hadn't opened yet, I opted for Savage Messiah, having seeing them multiple times from a small stage in Wolverhampton to the main stage at Bloodstock, they never disappoint.
Savage Messiah seem to have gone from strength to strength, and as the droves flood in to the main stage you can see what the fuss is about. Frantic pacing and owning the stage, constant interaction with the crowd, and a sound that is true to the flag of thrash metal, they are worth every minute of stage time they get.
By 15:00, the festival is in full swings, metal fans and Damnation have officially taken over Leeds university and there is a constant flow of traffic going from stage to stage. Already you can see the benefits of the 1000 capacity cut from the previous year. Voices were starting up at the 'Terrorizer' stage, so I quick march over there before Savage Messiah ends to try and get in a decent spot.
Voices have a great presence on the stage, but rather than them work for the crowd, they let the music do that. Fast and aggressive, they have some great riffs to bring to the fold, and don't quite fit firmly in the black metal fold, but more seem to stand in it while leaning every now and then into other styles. A good blend of artistic musical skill, the clean vocal singing however didn't do it for me, and along with an unlucky mishap of the bass amp head falling and smashing onto the stage I was ready for a sit down, as the band continue while crew and bassist rush to try and remedy the situation I began to leave, thankfully as I was heading out though I did hear the sounds of the bass come back, good to know nothing was broken and they carried on as though nothing happened. Great musicianship.
A quick fifteen minute break from all the noise and standing and I'm back in, another clash was happening, but I had no question on who would win this battle, and straight to the main stage for Oathbreaker I went. These guys are the epitome of atmosphere, with a sludge-esque, soul crushing heaviness, banshee like vocals, and they are quite honestly almost worthy enough for your £36 ticket alone. With a constant layer of smoke coming in around them and the hair covered face of the black dressed vocalist Caro Tanghe, there is something that draws you in. Easily the band of the day so far for me.
After the epic show of heaviness, there is always something around to lighten and relax you. Back to the 'Eyesore Merch' stage for instrumental act MaybeSheWill. This was due to be something special, their third, and final appearance at Damnation Festival. With an emphatic performance, their 45 minute started and finished all too soon, a damn shame, but the crowd loved it and could not have given a better send off the guys.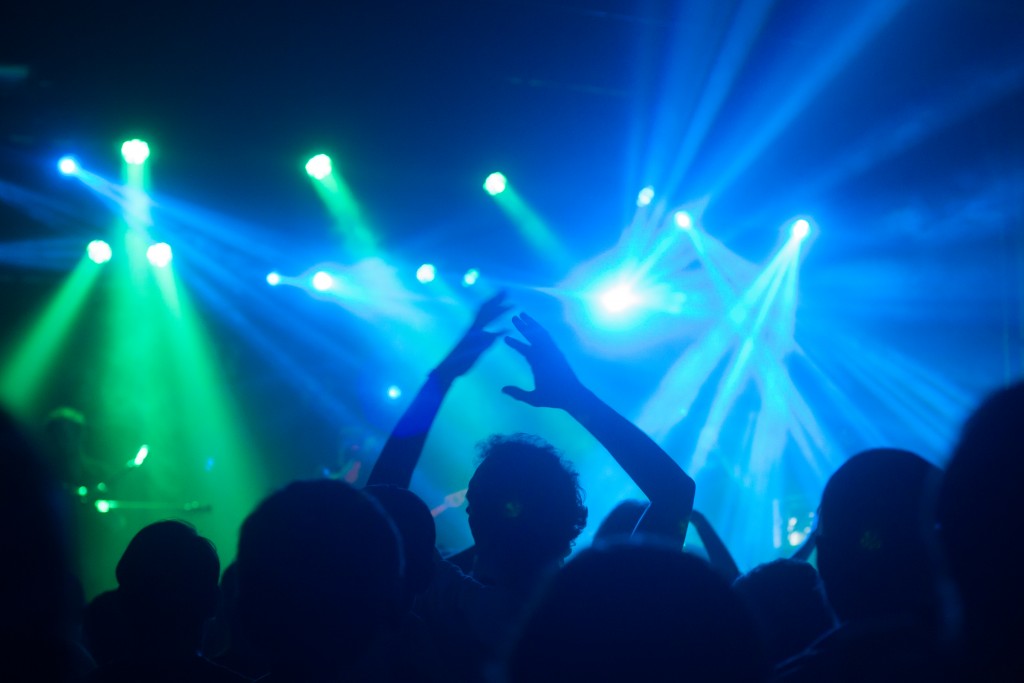 By now legs and backs are getting tired, sore and really becoming a hassle. Another much needed break was due along with some food intake, during which point The Ocean Collective were on the main stage, the last time I saw them was a few years back at Damnation and the are a physically engaging group, crowd surfing from jumping off the highest point next to the 'Terrorizer' stage, how were they to top this? By the vocalist jumping from the balcony in the main stage, the balcony! With great music and enthusiasm, I heard from a good friend who was front centre for them, that they easily were the band of the day for him. Seems I missed a treat!
Now at around the halfway point of the festival it is time for the big guns to start coming out to play, longer sets, drink fuelled fans, this is where the weaker and inexperienced start to flag. Keep of Kalessin took control of the 'Terrorizer' stage, a three piece Norwegian extreme metal band. Speed, power, drink and an adoring crowd, these guys brought it all, a superb performance worthy of any stage. All I would have missed if I managed to get to see Alter of Plagues like intended, but being unable to even get in due to the congestion at the door says how good they are, and in a way I'm glad I couldn't fit in just so I could go see Keep of Kalessin.
Solstafir and Witchsorrow was yet another clash, Solstafir won that battle for the simple fact that they were on the main stage and not the 'Electric Amphetamine' stage, one that would have been far too small to get into had I not have attempted it a good 20 minutes before the band started. Solstafir are the first band to play Damnation Festival in two consecutive years. These are a more laid back atmospheric rock band. Almost stoner, but without all the pace and attitude, more of a mature music fans kind of band, and they perform greatly, they play with great attention and love for what they do and share it all with the crowd beautifully.
Amenra were to follow back on the 'Eyesore Merch' stage, a fitting back following Solstafir but with more of a post rock sound, a bit of an element of Tool with them. All very intense and powerful, it takes a lot of skill to be able to control swells in emotion and writing without overdoing and killing it, Amenra is the perfect example of that control and displays how its done to a fully embraced crowd, a treat that I won't forget for a very long time.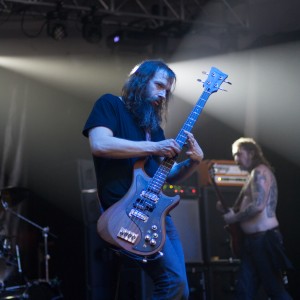 High on Fire were due on the main stage from 20:20, getting there early for a good spot as these were going to be awesome. I last remember seeing them around 10 years ago in my home town Peterborough, still as loud, still as impressive. This is drinking rock 'n' roll, and I could listen to it for days. Age has not stopped these guys from tearing up the stage one bit!
Sets starting to hit the hour mark, I soon left to try and get a rest in for the Japanese instrumental act Mono, having never seen them before I was looking forward to this. Of all the instrumental acts through the day, these easily take pride of place at the top of the pile. A strong display of story telling through the sound of music, crescendos and peaks galore. A full on attack of the senses, this is a band that creates music to not listen to, but to get lost in.
By around 22:00 even some of the faithful are starting to flag (myself included), standing for the best part of 9 or so hours is a physical struggle. So leaving Mono early was a smart decision to get a much needed rest and toilet break in before the final act of the night.
At the Gates were the main stage headline act, the legendary Swedish death metal act and bound to impress. Vocalist Tomas gave it everything and did not mess about when it come to engaging the crowd. Out of nowhere, all aches and pains anyone is feeling disappear and open the floor up. At the Gates were completely on form from the moment they open their set, playing completely flawlessly. Crowd surfers galore and a pit so big that the pillars under the balcony are close to being in the way, this is the climax Damnation as always, deserves. A perfect end with a bunch of great people all in it for the same thing. Roll on next year!