It's Thursday 7th December and I´m in the heart of Patagonia. It´s early in the morning and time to start a full extreme metal weekend. The first step is to get a plane from Comodoro (Patagonia) to Buenos Aires, then get a connection to Brazil. There're already some people wearing black leather, they're Mortuorial Eclipse, a symphonic blackened-death metal band. They just arrived from Córdoba, and we'll go to the same destination, Curitiba.
They have some other gigs to do in Brazil when we arrive in Curitiba, but we get a bus to Largo da Ordem, which is a park in the centre of Curitiba. I decided to wait in Tuba's Bar, eating some local food and a few fresh beers, then I got a bus to Fazenda Evaristo, which is the place that the Festival will be. It's 115 kilometres far from Curitiba, in the next state of Santa Catarina, near Rio Negrinho town.
It´s midnight and it's raining yet there were many people working on this 2000 capacity site, with lights, sound and generally working on the stage. I see many bungalows and an old stable before being greeted by organisers Paulo, Liziane and Laura. They welcome me and show me the cabin where I will sleep, besides other workers. One such worker I met was hostess, Wilson, a very funny and nice guy. After some beers, it's time to sleep as it was almost five o´clock in the morning.
It was a sunny first day for metalheads and such amazing scenery, full of greenery. You can climb vertical walls and play in soccer fields; because we all know that Brazilians love football. There is also a cascade not far away with a nice lake and lot of trials. The paintball place is a must, the area looks green of grass and black of metal clothes. Inside the stable area are lots of shops with the merch of different bands and a beer shop (The Brighter Star was the homemade IPA).
I found an Argentinian barbecue restaurant and a 24-hours Brazilian restaurant. Once I knew that I wouldn't have any problems with food and drinks it was time to let the metal begin!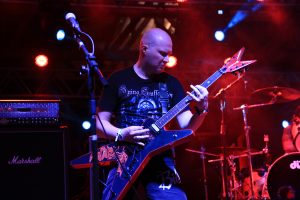 It's 7.30pm and the first band is Tressultor, a classic foursome thrash metal band, full of energy and a good start point. Then Tandra plays his melodic rhythmic folk metal. One after other, every band sounds pretty good. The powerful Válvera blow up our heads with their thrash without concessions. Time for legends Genocidio then a little break.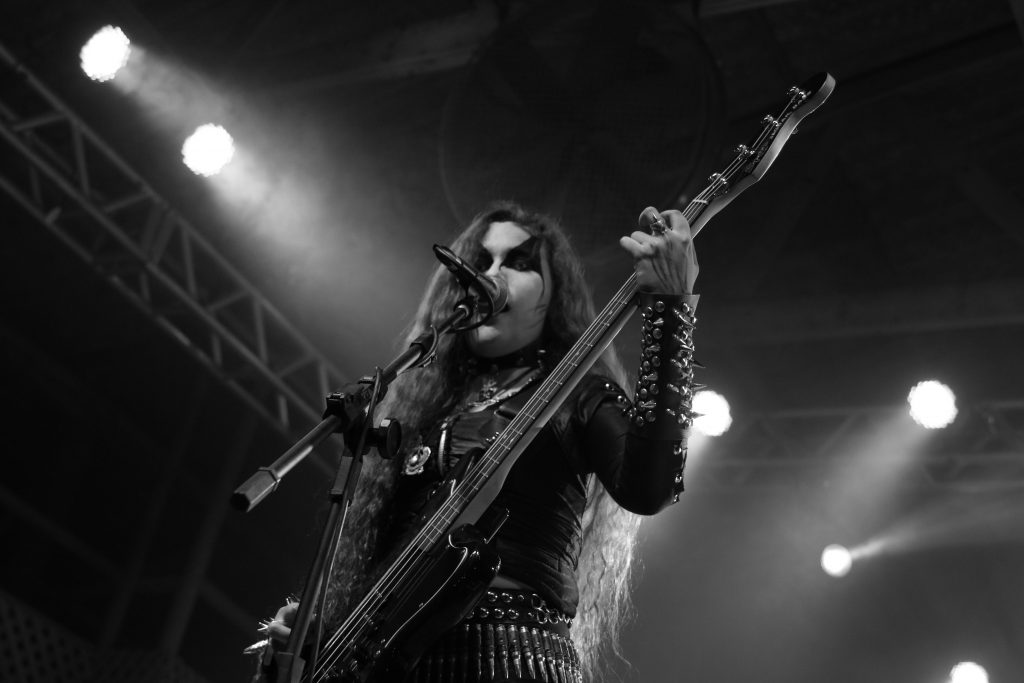 Now is time for the first black metal trio Luxuria de Lillith, they carried a lot of fans with them and sounded very compliant. Next the highly recommended Zombie Cookbook, a masked death-crossover-thrash band, finally a band with a risky scenic act – very enjoyable!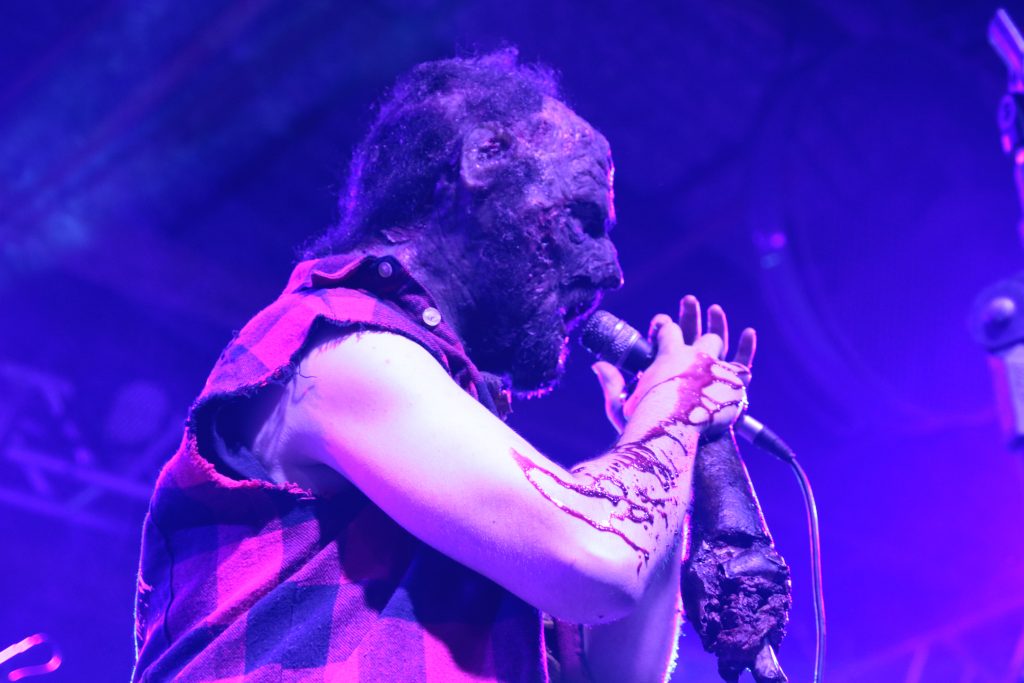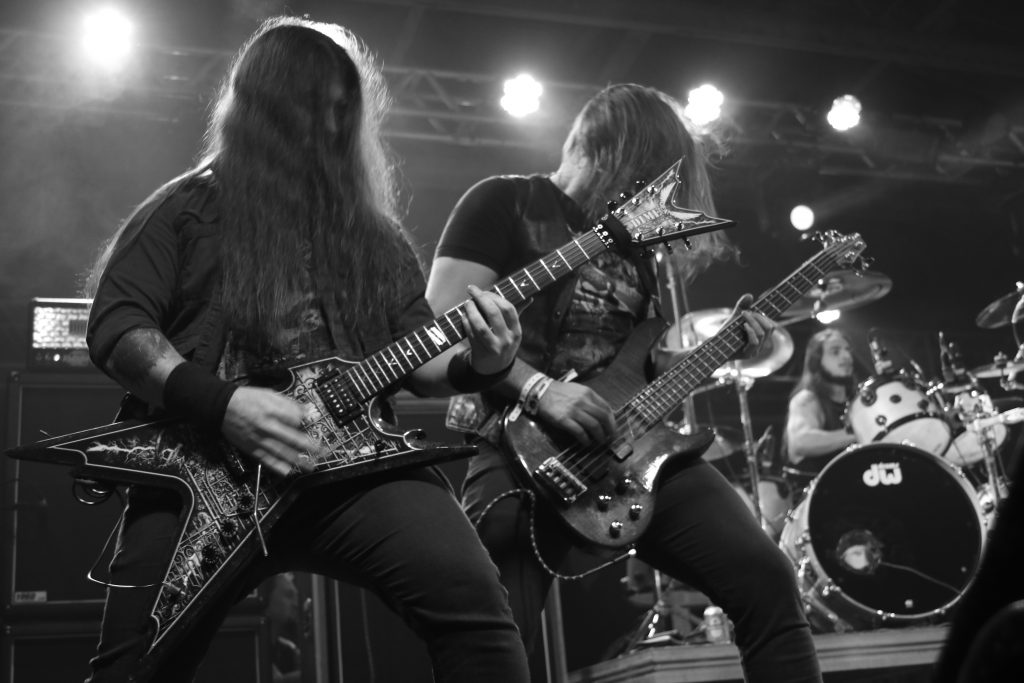 Continuing the metal marathon were Jailor followed by Cassandra. Cassandra a couple of musicians on just bass and drums. They bring us their experimental music proposal, playing some songs off their first album and some new tracks from their upcoming album. They play very atmospheric heavy sounds.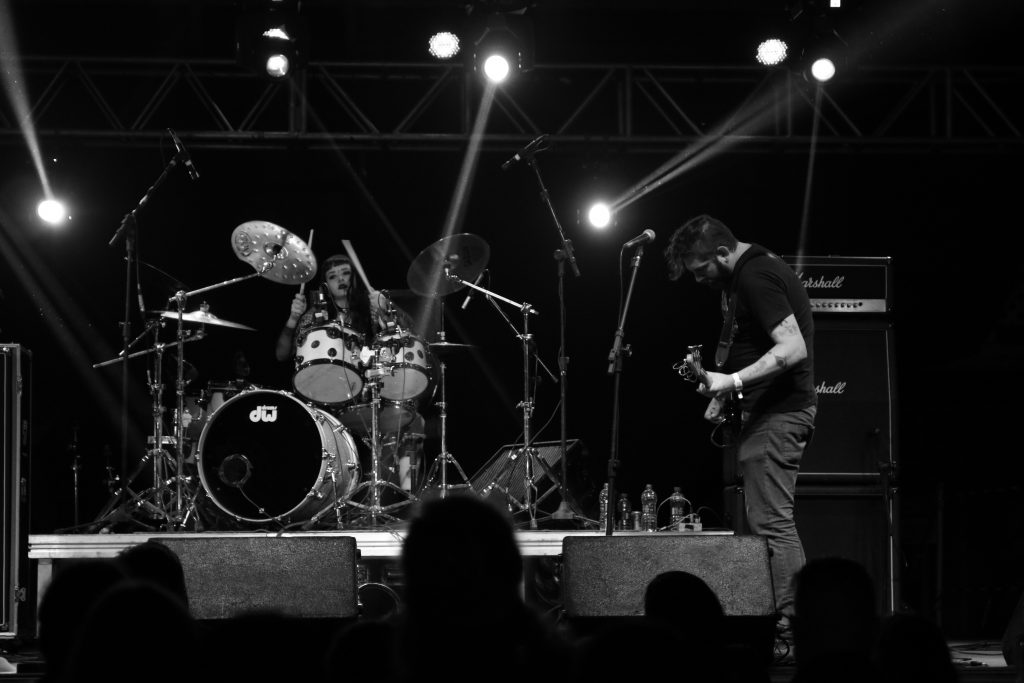 The last band of the day takes to the stage at 4 am! Ruínas de Sade sound very doom and heavy such as old Cathedral music. A very appropriate end of a first metal night.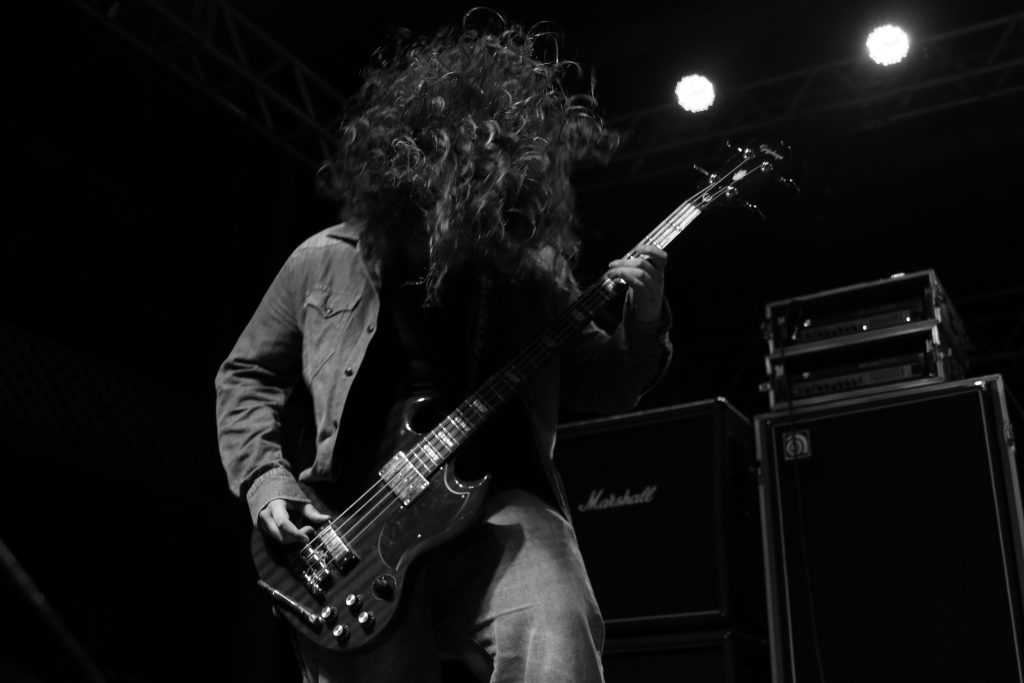 After a nights sleep, I find myself waking up at midday on Saturday. It's not easy at all, last night was wild and intense, but it was just the beginning. We have another long metal day (and night) of metal ahead of us. At 1.40 pm Fearless Woman burst onto the stage, they´re a female foursome who play some traditional heavy metal, singing exclusively Portugueseese.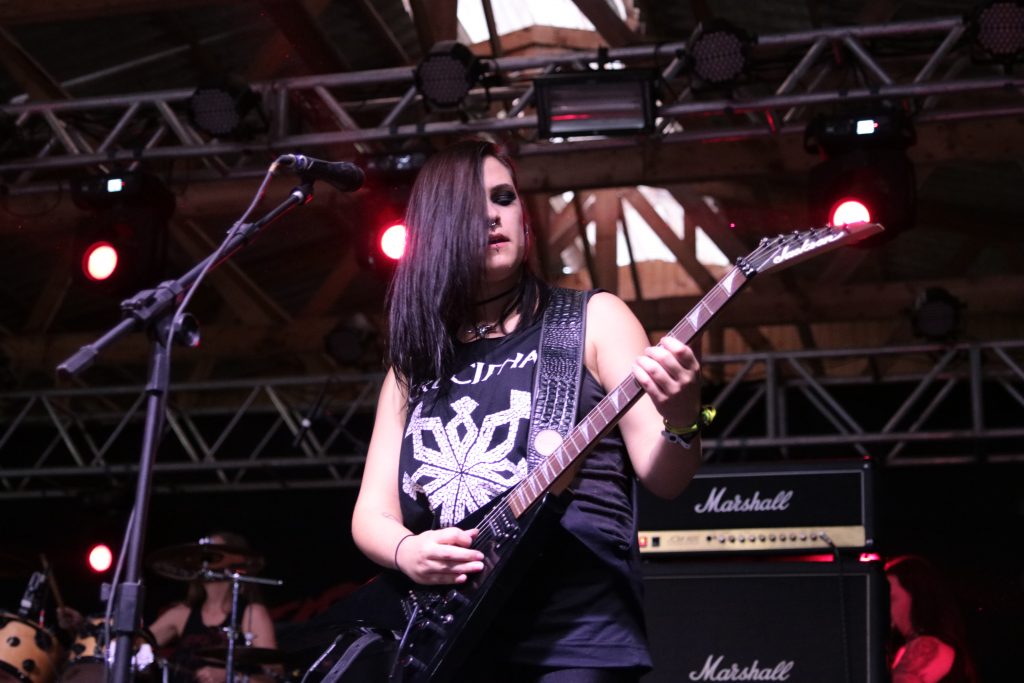 Next, we have an avalanche of metal bands, Toxic Revolution followed by Mercy Killing who have a high sound with a strong female singer. She's amazing and makes the stable explode as everyone dances furiously.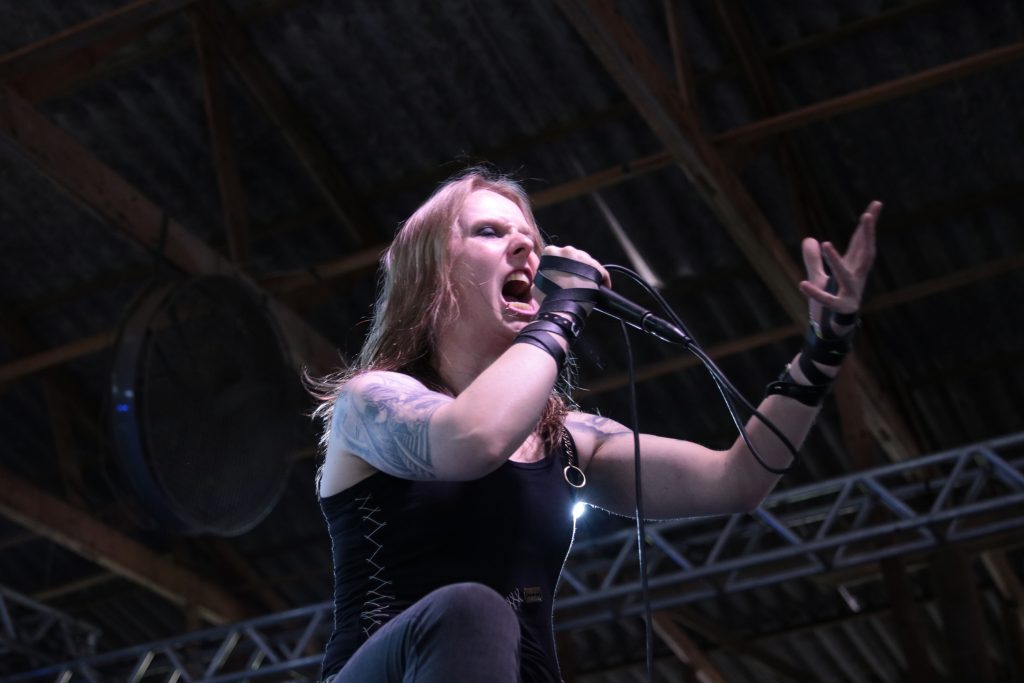 Futhark continues the fun with the folk metal touch of the day. Division Hell makes a big deal, full of death, they were incredible. Time for the first black metal band of the day as Blackmass initiate the black ceremony.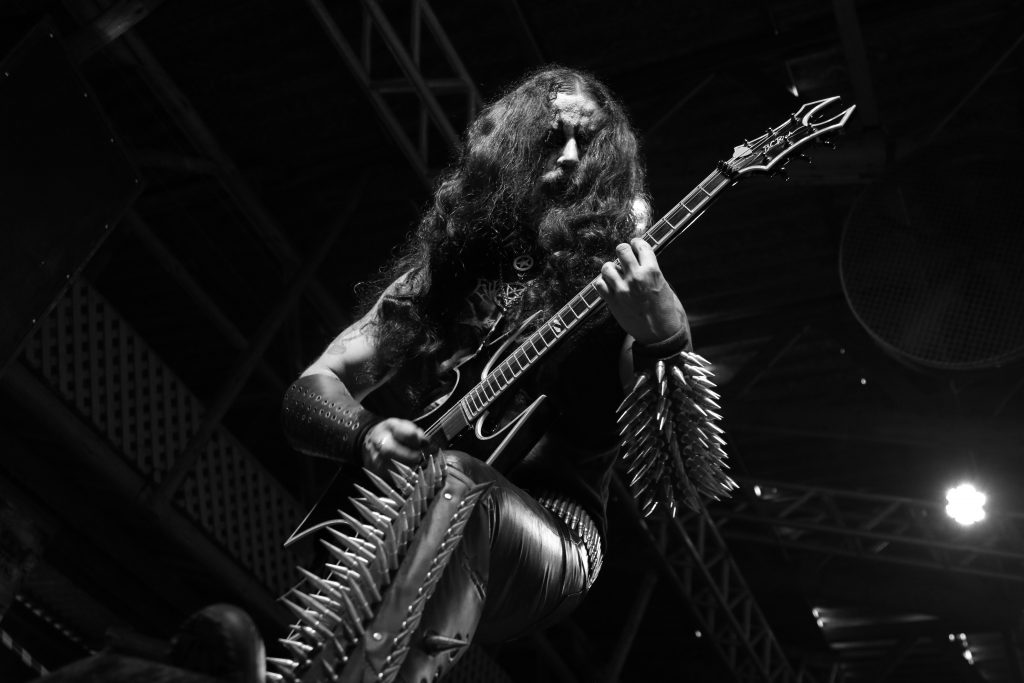 Nervochaos go up to the stage, they're delayed almost an hour, for some little technical problems during the day, they´re another legendary old-school Brazilian band.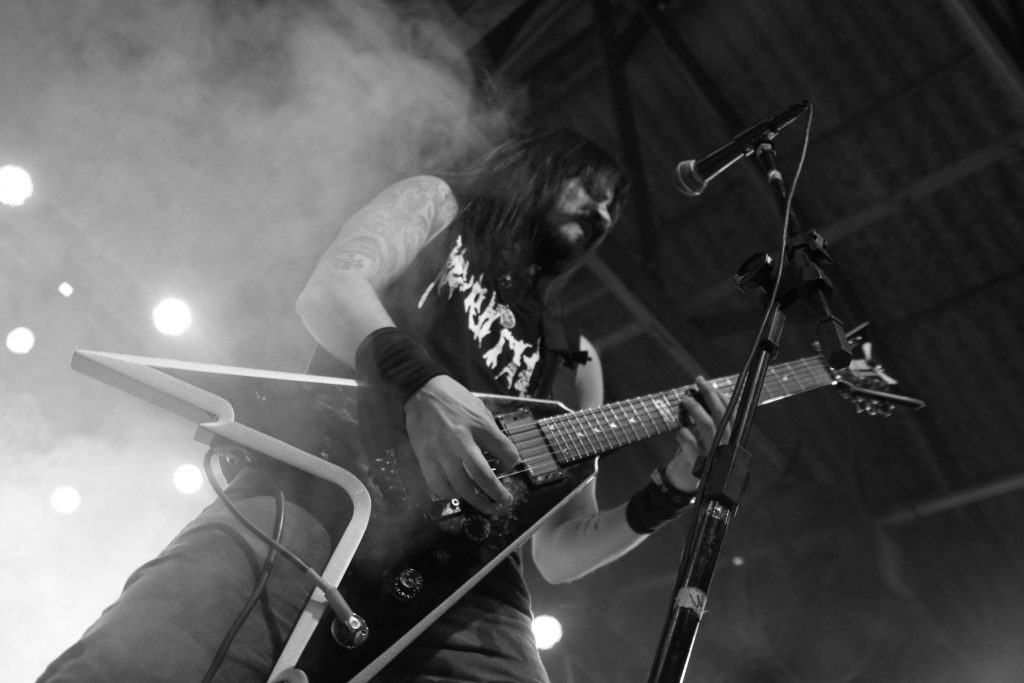 Dark Avenger and the super funny Gangrena Gasosa remind us of a mix between Gutalax and Argentinian Ásspera, but more tribal. There was not a good sound for one singer during the first two songs, however, they did have excellent stage presence – people were crazy all over the place, everybody´s laughing, dancing and drinking beer. With the crowd in a great mood, it was the perfect time for Norwegians Gorgoroth to climb onto the stage as the crowd were waiting for them! They had nothing to demonstrate, no hostess to introduce them, they just started to play with unbelievable energy. Their Brazilian guitarist looks possessed on stage. They play a classic furious show, one hour of the best black metal on earth. Maybe the lights could be better (red light of death throughout).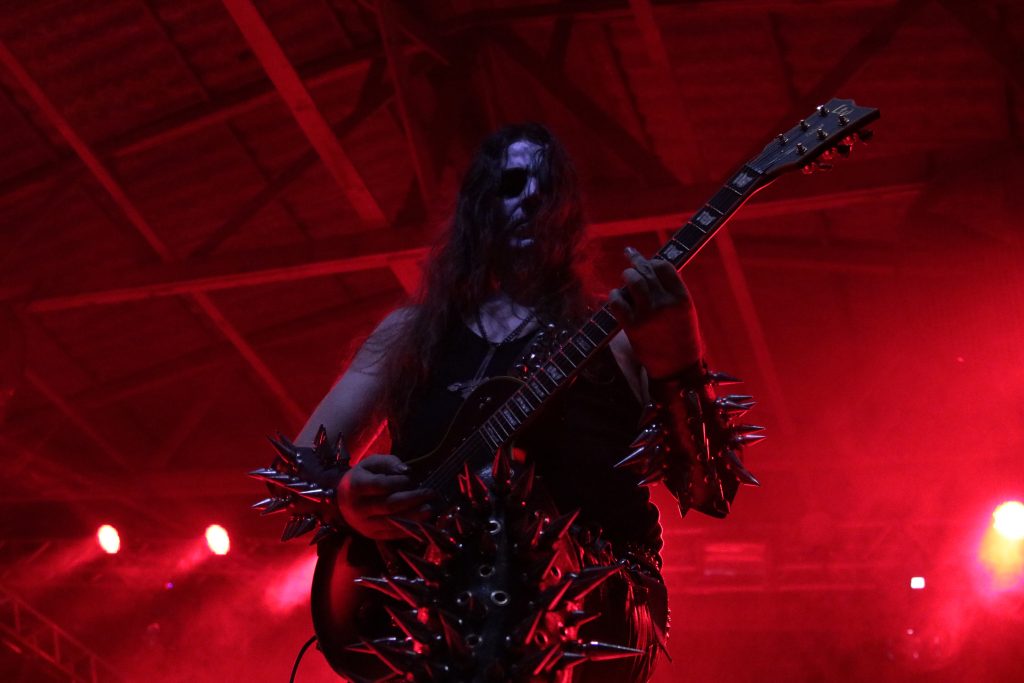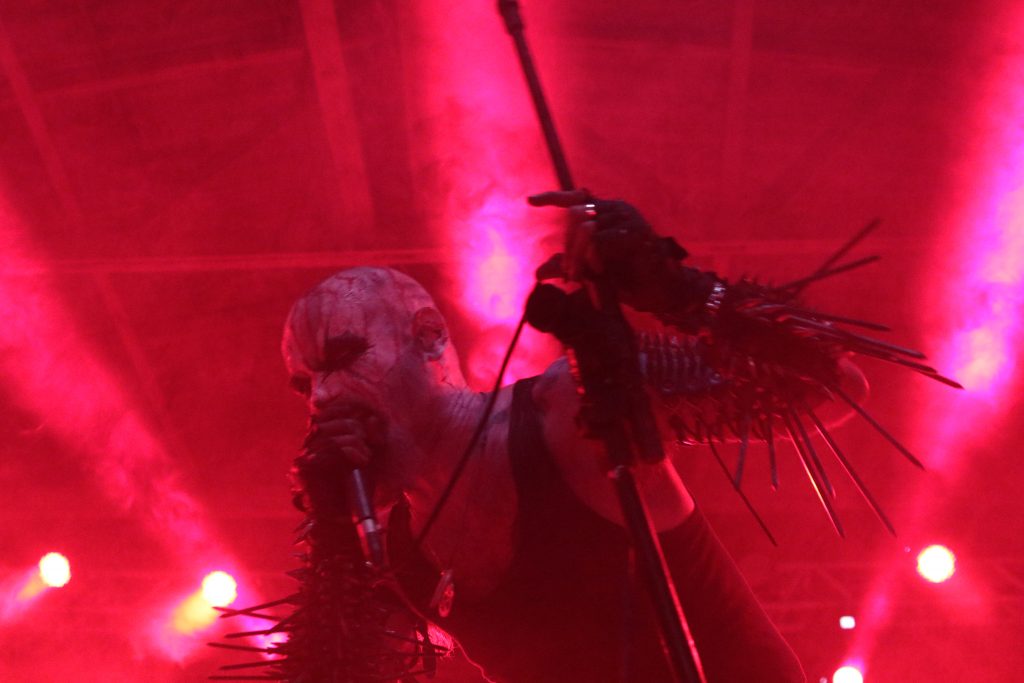 It was almost 2 am by this point and it was enough metal, I needed a break to eat something nearby the stable. I was lured over to Arabic dancers with tribal drums, surrounded by campfires, while I ate some barbecue.
There were still bands playing! Symphony Draconis, Dying Suffocation and Chaos Sinopsis, all of them sounded pretty good, but none of them with a remarkable draw at that time of day. When you feel tired you need more showy bands, the music was not enough on its own for me.
Sunday, the last day of this amazing South American Metal Camp. You can hear metal music early in the morning as Brazilian stars Krisiun were sound checking.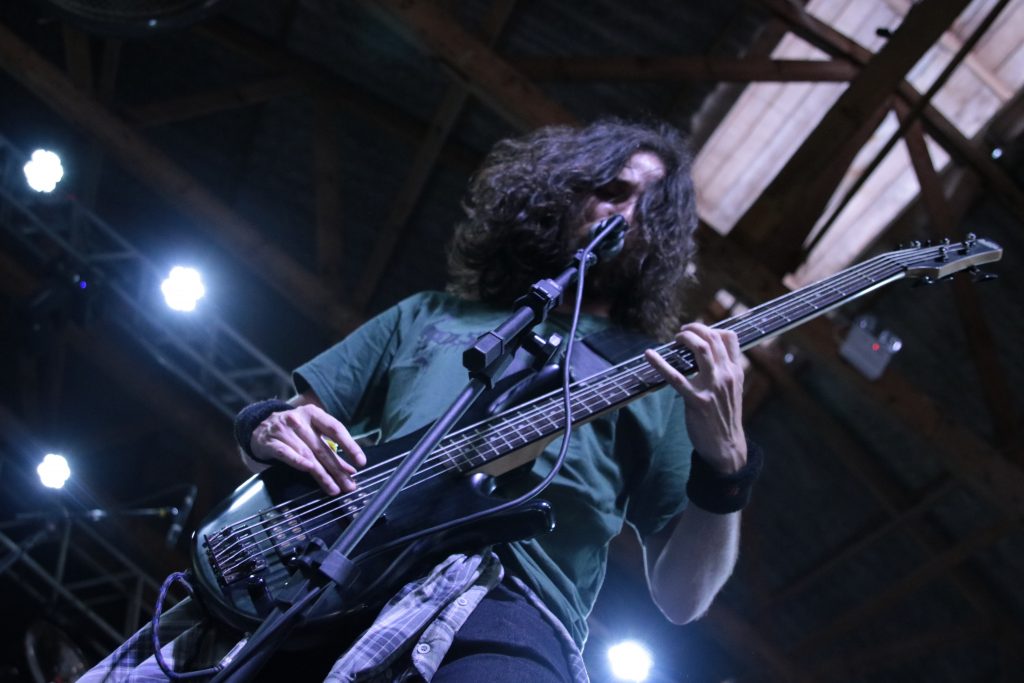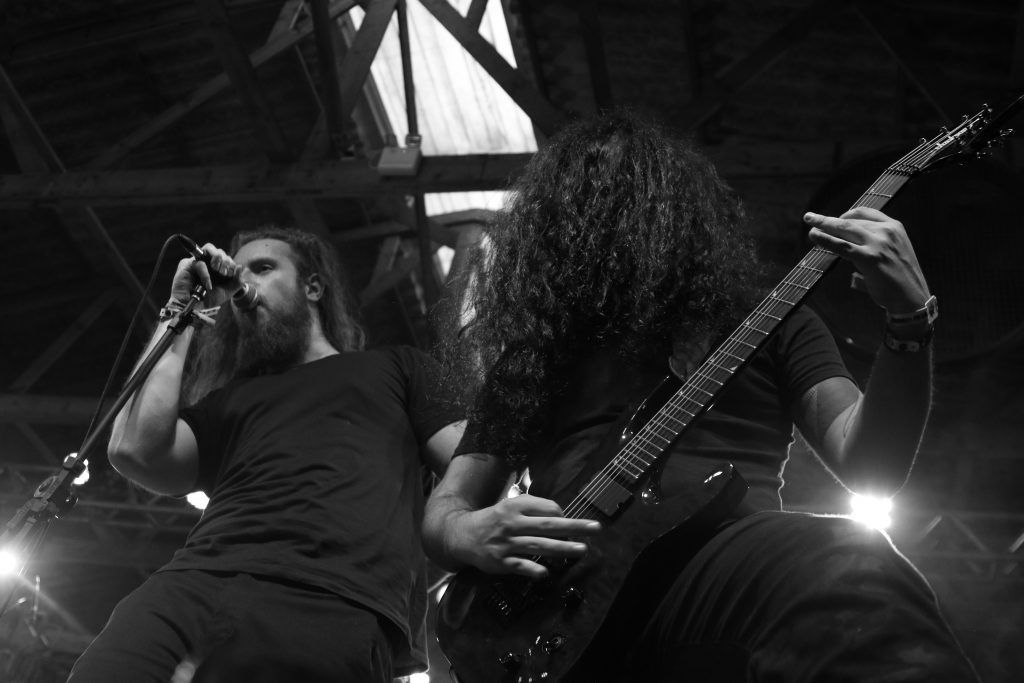 Kicking off with locals Horror Chamber followed by Hagbard. Meanwhile we spare some time to talk with lots of locals metalheads. Argentinians, Chileans and a Slovenian fan also. It feels like a UN of metal.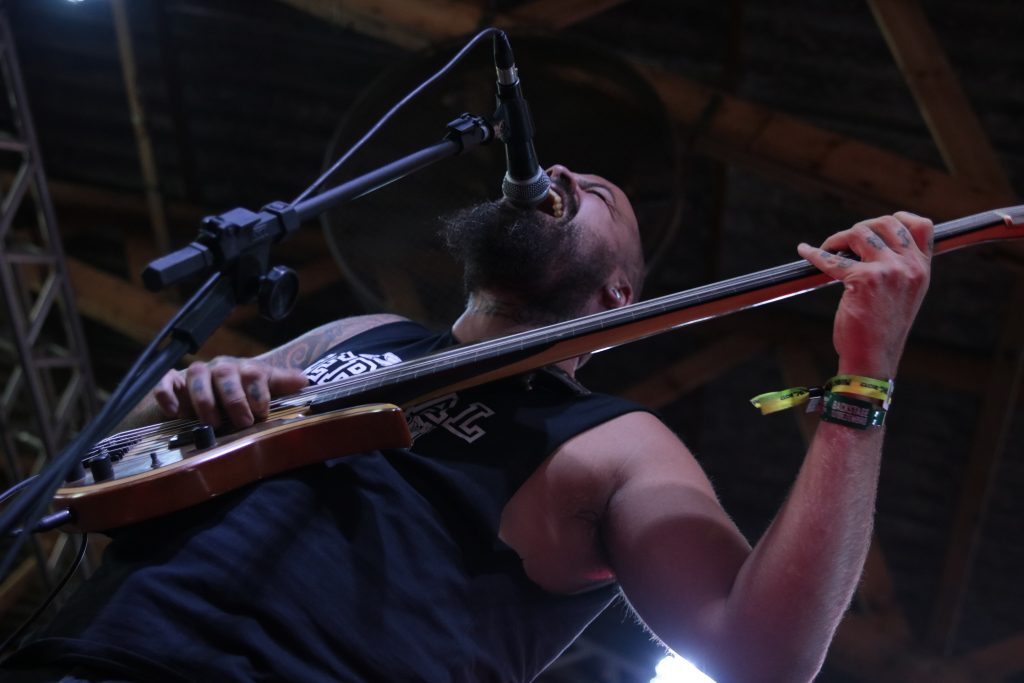 After the local bands, we wanted to see and hear Khrophus, they're from Curitiba and they're touring with Mortuorial Eclipse the Argentinian band, who are next up to the stage.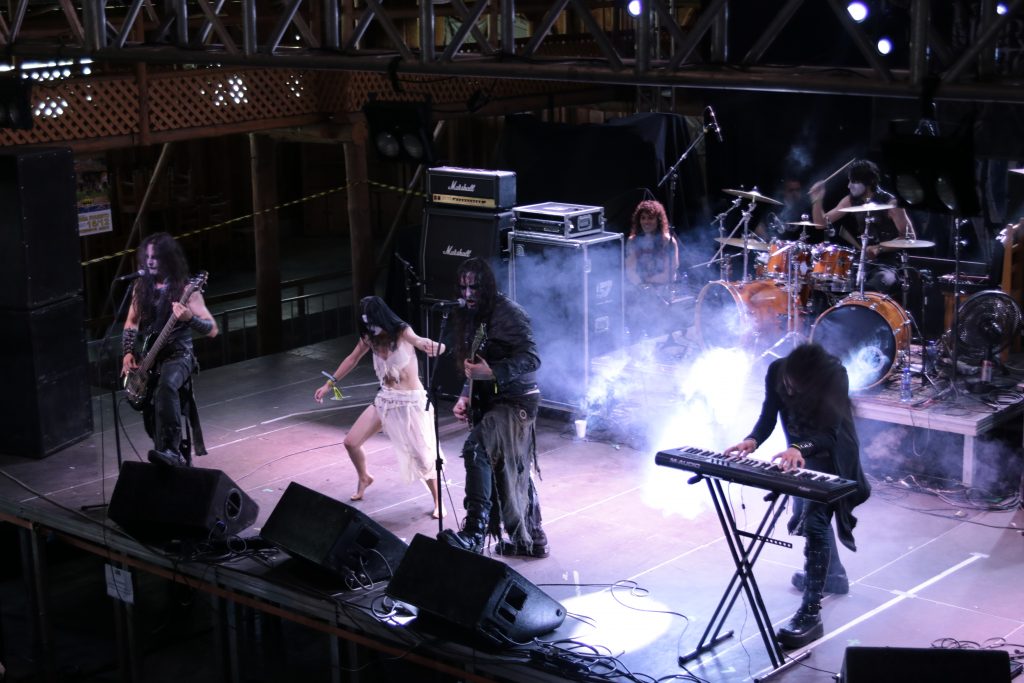 There were a lot of expectations as they invited one of last night's Arabic dancers to join them, sharing the stage with their symphonic black metal. It was a strong and mighty show, full of melodies and suffering, highs and lows. They're presenting their first album (they were touring Europe last year with it) and play some songs off their next album (upcoming in summer 2018).
Desdominus, Sao Paulo forceful death-black metal band play just before Malefactor, an extreme glorious band from Salvador.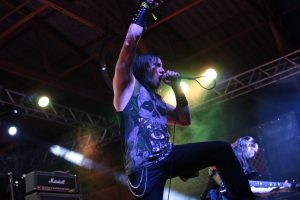 Then it's time for another international star, David Shankle Group. People were looking with some suspicion, but our metal guitar hero demonstrates that he's a showman. He is very charismatic and so the best singer; ohh my god the singer is really good! And he knows that he's not the star. They sound powerful together and they were happy, we all enjoyed every heavy metal second of this band, most of the people were tired, but we still had the last band to come!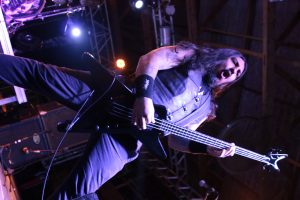 When Brazilian stars Krisiun take to the stage and start playing everybody knows the songs. The crowd dance, sing and enjoy the last metal band of this enjoyable metal weekend.
At midnight, we said goodbye to old and new friends with the promise to come back next year! Time for me to head back to the heart of my quiet Patagonia, tired but happy.