The fifth edition of The Dames of Darkness bash took place over two days on 9th-10th May 2015 at the excellent Robin 2 venue in Bilston.
RAMZine attended to report on the festivities.
Day One
Opening the festival on day one was The Fall of Eve – a symphonic rock project formed by formed by Laura Tracey (Evangeline) with Michael Moffat (Guitars) and based in central Scotland.
Evangline took to the Bilston stage with her usual top hat and cane. A dandy glamour-puss if ever we saw one!
Stand out moments included the song 'Shields of Faith' taken from the debut E.P Calls From The Horizon. This song had a belt of darkness running right through it, incredible drum-work and fierce guitars. There was drama in every vocal nuance… Evangline's voice was powerful and seductive without being too dreamy.
Aonia are, in every way, big. Flaunting their fourteen legs and at least four powerful lungs, it boasts not one but two trained singers… Melissa and Joanne.
The power and the passion is delivered in huge slices. And the song from these two precociously talented dames literally shook the dust from the rafters of the Robin… their songs filled with strength and authority.
Spanish Gothic Metal band Rainover sizzled. Their lead-singer Andrea Casanova was on the right side of slinky (and even sweet) without being a push-over. The musicality, in particular the work on guitar and synth was excellent. This was epic.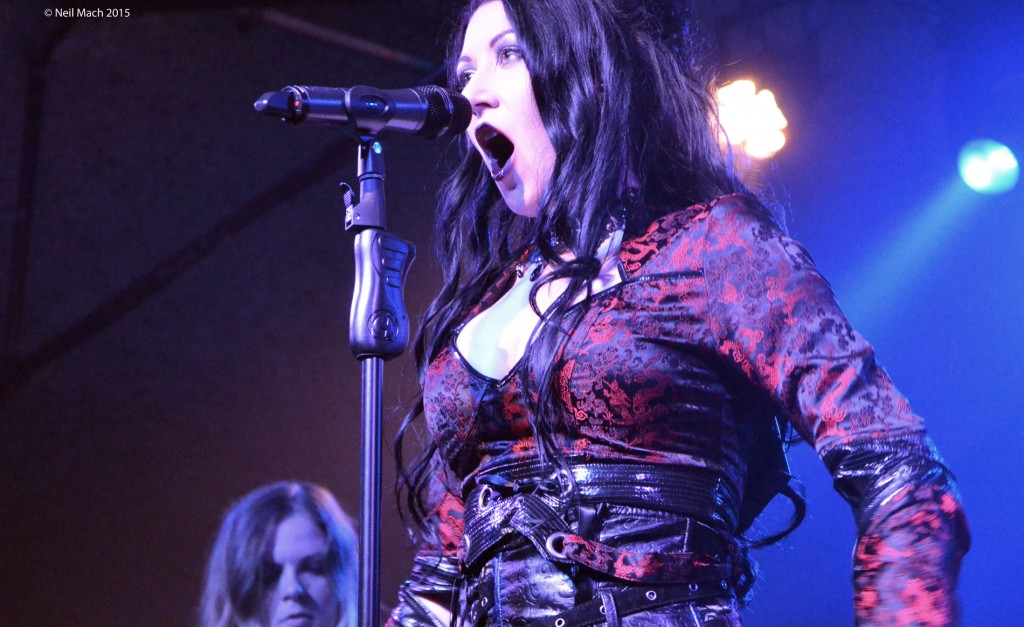 Fiona Creaby, the front-woman of the Staffordshire based festival hosts Apparition reminded us (more than a little) of the magical 'Red Lady' Melisandre from Game of Thrones. Starting in 1997, this project has had several singers during their history. Fiona took over from Grace Meridan after a break of five years. Her voice at DoD 2015 was gleaming, dark and, of course, magical. The music was provocative and had great energy. It was, altogether, a superb set. (Incidentally, the bassist from Apparition – the reserved but immensely gifted David Homer – works hard all year to put this event on for us. We all owe him a debt of gratitude.)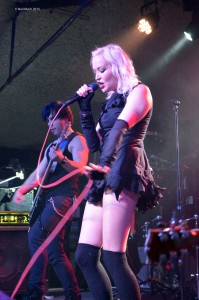 We were looking forward to see Bad Pollyanna and the sweet/dangerous persona of their lead singer Olivia Hyde. And we were not disappointed.
Livia performed with a sassy raw attitude. Songs like 'Monstrous Child' have veiled threats and ever-present dangers and yet these were monstrously held back behind the crinolines and the tafetta-folded wrinkles. The sense of growing threat was ever-tangible. Yet her voice remained delightfully shiny and pure.
Another act that is working hard at the moment and is gaining recognition globally is the female-fronted French orchestral-metal band Whyzdom and their stunning singer Marie Rouyer. The band came out from behind their Godlike representations of 'Wisdom' (Symphony for a Hopeless God) and their keyboards and incredible guitar work immediately grabbed our attention. Their performance was very charismatic and full of intelligent movement. Visually and also musically, this was a superior set.
Day Two
On May 6, the word had gotten to our ears that Incassum had sadly pulled out this year's festival. (And broken up!) It had also emerged (Sunday morning) that Winter in Eden singer Vicky Johnson had suddenly and unexpectedly lost her voice. But the audience was soon to find out that they would be more than adequately compensated for these two no-shows!
So, after a flurry of 'sausage' jokes from the stage compare, we started the day with the fate-filled dark gloom-artistry of Edenfall from Cheltenham (UK). This band certainly looked the part, but the voice of Chiara Webster was a little 'shaky' at times and the bleak nature of the band's output did not help much to soothe aching heads from the previous night.
Next up was the amazingly glamorous band EnkElination from London. This melodic hard-rock outfit showed off the beautiful and talented singer Elina and also the amazingly sultry Julia on bass. Elina's voice was passionate, strong and expressive, but what made this set special was the band's guitar-work. This was super exciting.
The buzz around Scarlett Riot has been building steadily in recent months. And at DoD 2015 we found out why. This fresh-faced punk band bashed-out, for our pleasure, the most creative and addictive songs we have heard for a long-time. And these were all belted out at astonishing speed, with an emphasis on dark and grainy black guitar work … And all accompanied by a lot of double-quick head-banging.
If we heard it said once, then we we heard said a million times (from delighted fans at the Robin 2) that female vocalist and guitarist Skarlett is one of nicest people you could possibly ever meet! Well that seemed true – the chemical connection that she had with the crowd was exciting and almost supernatural. It was as if she was gaining power directly from our worship! And she certainly deserved our devotion. This lady is blessed with rare and miraculous talent.
So, after the extended set from Skarlett Riot, we arrived at the highly anticipated Winter in Eden slot. And we were in for a real treat. We were told that we were about to witness something that had never been seen before.
With Vicky temporarily out-of-action the other Dames of Darkness had volunteered to come forward and take over vocal duties for her.
The 'Winter in Eden' ALLSTARS performance included Andrea Casanova, Bexie James and Melissa Adams. These wonderfully talented ladies had almost no time to rehearse but they still came out and did it with confidence and panache. (All under the watchful & caring eye of David Homer.) This surprise set was probably the most exciting and visually/vocally stunning part of the festival. A truly unforgettable experience.
With Leaves Eyes headlining Day Two (and Sirenia on Day One), this festival had everything going for it.
Charm, style, personality, spirit and, of course, a whole lot of wonderfully accomplished music.
Dames of Darkness was a sexy mix of adrenalin, lingerie and music. What more could you want? Thanks to all the organizers and everyone involved.
See more photos over on our Facebook page here!