I always thought that grunge was an interesting concept. Plenty of bands came out of that Seattle hotbed in the early 90s, including Nirvana, Pearl Jam and Soundgarden. However, one band had that crossover appeal into metal and with their dark, brooding lyrics and melodies, became the thinking man's grunge band. With their seminal album "Dirt", the band bridged that maligned musical gap between grunge and metal, and really took the world by storm.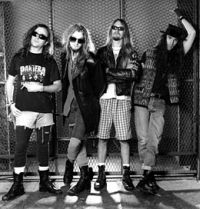 Comprised of singer Layne Staley (RIP), guitarist Jerry Cantrell, bassist Mike Inez and drummer Sean Kinney, the band hit their stride straight away. Opening with the furious "Them Bones", this odd time song is wonderfully accessible and offers the first insight into Staley and Cantrell's haunting double lead vocal harmony lines. The effect is wonderful, and is a signature of the AIC sound. The rhythm section of Inez and Kinney just keeps things perfectly solid and what we end up with is one of the most successful rock tracks of the early 90s. A brilliant start.
Next up is "Dam That River", which is another odd time song and is in possession of a killer main riff. The heavy guitars here sound more metal than grunge, further enhancing their crossover appeal. Jerry Cantrell is probably one of the most underrated guitarists in rock music, with his riffs and lead lines being simply peerless, and he shows it here.
Following this is "Rain When I Die", which is initially led by the bass guitar. Its deep groove and dark feel calls to mind early Black Sabbath, brought up on a diet of Led Zeppelin and Metallica. Slower than the first two songs, it's impact is just as great. This is a solid album track, and paves the way for what's about to happen next.
"Sickman" begins with a stunning drum pattern from Kinney, which is joined by a staccato guitar riff to power it up even more. Staley's wailing vocals perfectly complement this organised musical chaos. Breaking down into a doom-y groove, the song's character turns much darker. As with all AIC songs, the song's repeating parts lets the listener keep up with where they are and the song makes perfect sense. A real surprise on the album.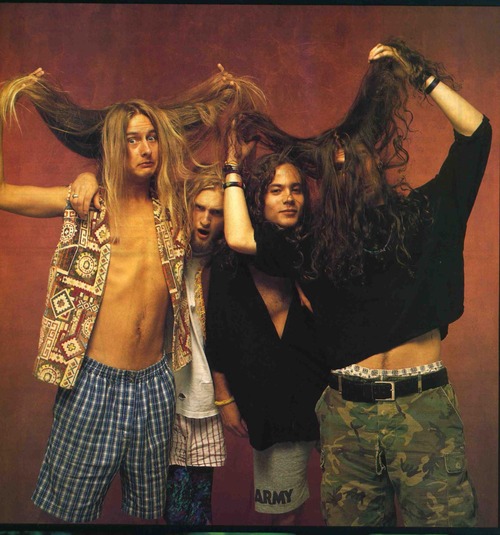 Next is "Rooster", which is quite simply the best song on the album. Beginning with a clean guitar pattern, and a bass undertone, the beautiful melody sung by Staley and Cantrell is simply one of the purest things I've ever heard. Developing into a song of rich melodies and complex musical textures, this song switches from clean to heavy without any effort at all. The iconic chorus is just wonderful and gets stuck in the listener's head for days. Simply put, this song has the potential to blow you away with its beauty.
Following this is "Junkhead", which is one of the heaviest songs on this album. Once again calling to mind that influence of early Black Sabbath, the guitar on this track could break mountains. However, the chorus is so catchy, once again. Alice in Chains are a band that have married the heaviness with the commercial side. The recipe on this album is flawless.
Up next is "Dirt", which is such a heavy song again. It's groove and discipline make the song so effective. Inez and Kinney are such a tight rhythm section, and never overplay. This allows Staley and Cantrell to create the complex melodies over the top. Cantrell's guitar solo in this song is simply incredible, as well s Staley's full vocal range being on show. Absolutely fantastic.
Next is "God Smack", which is at a fairly brisk tempo for this album. Staley's off-melody vocals in the verse make this song special. It is a very brave thing to so, and he pulls it off with aplomb. During the rest of the song he goes back on melody, and the contrast is just wonderful.
Following this is "Hate To Feel", which is an absolute monster of a song. Never has an Alice in Chains track sounded so absolutely evil and intimidating. The intro sets that scene, and the song that follows continues the theme. The heavy chords along with the swing drum beat really shows the influence of 70s hard rock on the band. The layered vocals between Staley and Cantrell deserve a mention here too, especially in the odd time breakdown part. They sound amazing, to put it simply.
Next up is "Angry Chair". This song begins with a Beatles-esque groove on the drums, developing into another stunning sludgy song. The dark guitar effects make the song even more intimidating, and this really is an excellent album track. The staccato pre-chorus part deserves a particular mention, as it is totally different to anything else on the album.
Next is "Down in a Hole", which is acoustic led. Alice in Chains may be this big heavy crossover band, but they create some of the most pure, melodic music I've ever heard. The vocal melody here is stunning, and the ethereal effect created by the dual vocal lines adds to the beauty. This ballad is wonderful, and really needs to be heard to be fully appreciated.
Closing the album is "Would?", one of the band's best known songs. With its tribal drum pattern and rolling bass keeping everything together, the melodies on the guitar and from the vocals can soar over the top. The commercial structure of the track is amazing, it is so accessible. One of the band's best tracks, and an excellent choice to close the album.
In closing, this is such a crossover album. It will appeal to both grunge fans and metal fans alike. Well, it should appeal to fans of quality music because quite simply that's what it is. Buy it, plug it in, grab a beer and enjoy. You won't find anything more honest or pure out there music-wise.
FOR FANS OF: Pearl Jam, Metallica, Soundgarden.