"Are you the guys on the beach that hate everything?" asks the old woman at the start of Ugly Kid Joe's biggest song. Judging by this album, they certainly didn't.
When you talk about underrated bands, Ugly Kid's name often crops up. Their funk influenced classic rock seemed to go almost unnoticed through time in the early 90s, which is remembered mainly for the grunge sounds emerging from Seattle.
However in 1992, Ugly Kid Joe released their best known album, "America's Least Wanted". Genuinely, this is one of the most complete albums I've ever heard. For the kids who wanted raw attitude and more upbeat music, this was the band for them.
Over a foundation of rumbling bass and funky drums, vocalist Whitfield Crane and lead guitarist Klaus Eichstadt provide a palate of sonic joy over the top and really add a commercial edge to Ugly Kid's raw style. This enigmatic combination and obvious sheer fun that the band have really shows through, and makes this album always put a smile on my face.
The album itself opens with the barnstorming "Neighbour", a song about the neighbour from hell moving in next door. It's an absolute rock and roll masterpiece, to put it simply. The song, with an opening riff guaranteed to get people jumping, flows like a highland stream and crosses different tempos, timbres and feels. There's one bit in particular, a clean breakdown in the middle where it almost feels like an old Black Sabbath song. Then, the tempo increases and becomes more like a Whitesnake classic. This versatility is one of the keys to this album being so good; it surprises at every turn.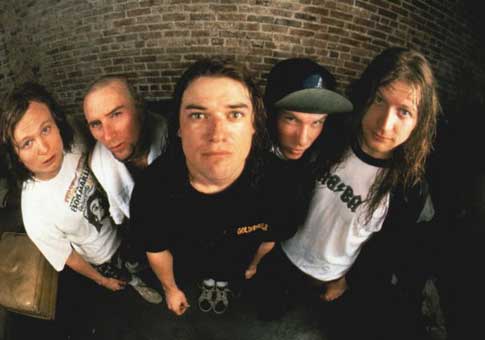 Coming next are "Goddam Devil" and "Come Tomorrow." The former track is an ode to the eternal teenager inside everyone, the one who's called "The Devil" for listening to rock music, wearing black t-shirts and growing their hair long. The latter is a real groove filled track with ripping lead guitar parts, and is the first semi-ballad on the album, and harkens back to the days of genuine classic rock.
Next up are my three favourite tracks on the album. "Panhandlin' Prince" with it's working class message and attitude filled lyrics really gives the listener something to identify with, and the chorus has been stuck in my head for days. The composition of this song, as well as the others on this album have been thought through so deeply, and the evidence is on show in this particular song.
"Busy Bee" is up next, and it is a genuine rock and roll classic ballad. The song is about a man who is completely relaxed and happy with life, he just watches the world go by and people are happy to let him do that. This reviewer can identify with that, as that's how I like to lead my life. The song also has an utterly stunning guitar solo near the end which had me doing a double take that I wasn't listening to Steve Vai with Whitesnake!
Following on is the rocking "Don't Go", a song which is an absolute stomper. It's catchy melody and riff were lodged in my head for days, causing me to hum it constantly. The subject matter about that one girl which everyone wants is easily identifiable by a lot of the male population of the world, and it's rock feel really reminds me of early Def Leppard.
Coming next are "So Damn Cool" and "Same Side", which both hold the album together and really make sure it continues at a real quality pace. However, the most unexpected moment of the album comes up next. The startling cover of Harry Chapin's "Cats in the Cradle" is utterly stunning and I defy anyone to listen to it without a genuine feeling of happiness, as Crane tells the story of a man watching his son grow up through his amazing vocal range. I swear, when they picked this as a cover I don't think even they thought it would turn out as good as this. It's just utterly amazing.
Following on from that is "I'll Keep Tryin" which does an admirable job of continuing the album. After that is the song everyone remembers Ugly Kid for: "Everything About You". The song opens with the previously mentioned rant from the old woman, which is both appropriate and hilarious, and then delves into a beautiful clean guitar figure. Then it kicks into the rif that we all know and love, and it had the entire field jumping when Ugly Kid performed it at Download Festival 2012. The song, with it's singalong chorus really shows an ironic side, being that they're such a happy band, yet they find happiness in perceived negativity. Wonderful.
Closing the album are the insane "Madman", about a crazy day at Disneyland which sums up Ugly Kid perfectly, and the anthemic "Mr Recordman" which is a call out to their record label. These two songs, even though they are so different, flow together wonderfully and close this near-perfect album.
If you like your music filed with fun, attitude and good times, as well as an ironic side, yet delivered with utter skill and musicianship, then Ugly Kid Joe are the band for you. Having just discovered them properly about 6 months ago, I would recommend anyone to do the same.
For fans of: Skid Row, Terrorvision, Warrant