When I first saw the dreaded facebook status that read Never Means Maybe was to be no more, I was truly upset by the news.  But then I thought about it and whilst Never Means Maybe had some great songs 'Deus Ex Machina' & most recently 'The Tide', there wasn't a clear path for progression. Sometimes isn't it just best to start again? Matt Steane former NMM guitarist said:
 "It was a hard decision to end the band but we all felt like NMM had run its course"
So with that said and no further ado! RAMzine would like to introduce to you, a brand spanking new band! They go by the name of:

 "We have started all over again and are loving it! The start of something new is an amazing driving force behind us. We've got an album which we are recording at the moment, tours lined up and we're just keen to get out and play to as many new people as possible over the coming months."
-Villains
Villains have not yet released any music, its all a bit on the down-low at the moment! But they did say this:
"We want people to listen to our songs with an open mind and not have any preconceptions so we are not going to compare our sound to anyone. In terms of influences, they are quite eclectic as individually we all listen to a whole range of music. One of the only bands we can all agree that we like is us!"
And when asked to describe the band in 3 words, they simply said (with a smile):
"Really Bloody Great!"
I asked whether or not Villains' sound would have the same sound as their previous project Never Means Maybe, Matt Stearn (Villains Guitarist)  said:
"I guess there is a chance that there will be some comparisons made between our material and the music we've been involved before but that's always going to be the case.

The main difference is that we have treated this as a new project from the start and the songs are influenced by that accordingly. We've written on our own, we've written as an entire band, we've all contributed song ideas and themes and the collection of songs we've got together is the best it could be. I think it will appeal to fans of what we did before but will hopefully open us up to a whole new audience as well."
If NMM sound is anything to go by, then Villains will certainly swing in the Hardcore direction.
So, what do Villains have coming up?
"We're heading out on the road with Soil, Fozzy and Breed 77 for a UK run, interspersed with a couple of headline shows of our own on our off-days. This tour is gonna be absolutely amazing!!!

It's a great opportunity to launch ourselves, playing alongside some well-respected bands at some incredible venues. A personal highlight for us will be playing at the Electric Ballroom, but just being out on the road, as a new band, playing these new songs is just going to be amazing. This is the start of something really exciting for us and having this tour as a launching pad is just going to be incredible."
Catch Villans at their first ever show, on 27th November 2012 at The Underground, Stoke-on-Trent with Soil, Fozzy, & Breed 77!
TOUR DATES:
27/11 – The Underground, Stoke-on-Trent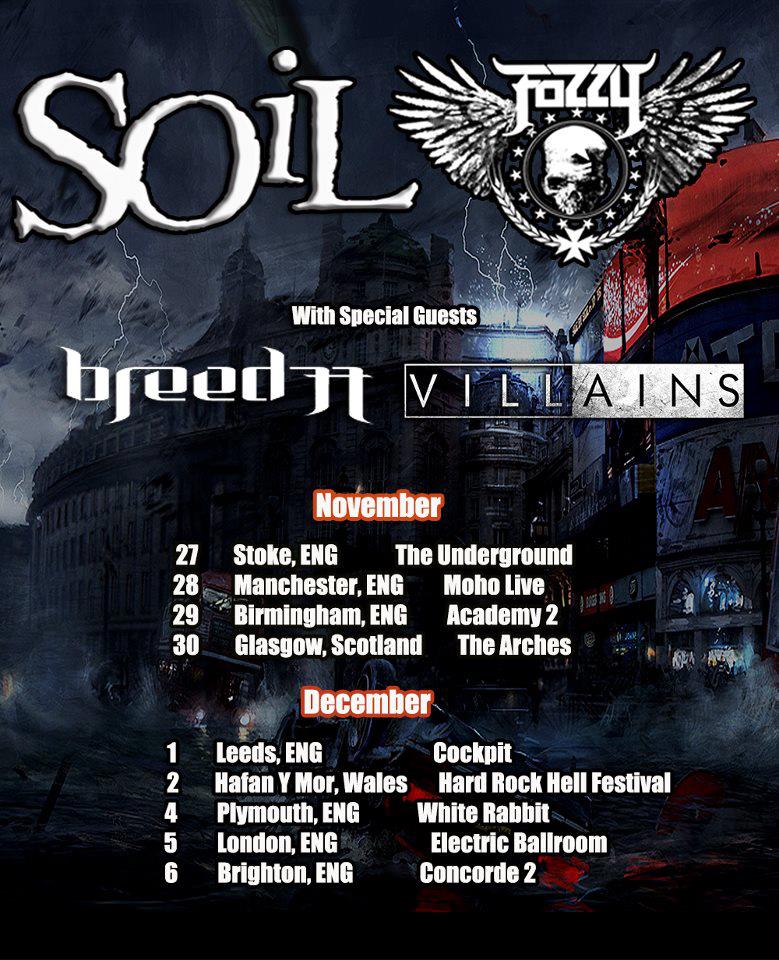 28/11 – NQ Live, Manchester
29/11 – Academy 2, Birmingham
30/11 – The Arches, Glasgow
01/12 – The Cockpit, Leeds
03/12 – Avondale House, Southampton (Headline show)
04/12 – The White Rabbit, Plymouth
05/12 – The Electric Ballroom, London
06/12 – Concorde 2, Brighton
07/12 – The Waterfront Studio, Norwich (Headline show)
13/12 – The Square, Harlow (Headline show)