Staged at Mile End Stadium – Soccer SixFest is a fusion of football and music with an outdoor summer festival vibe. Musicians and celebrities from TV, sport,and film compete in a number of football tournaments across the festival to see who will be crowned Soccer SixFest Champions and take home the trophy. After the football ends, all ticket holders can expect to see a selection of the line-up take to the Cup Soccer Six live main stage to perform for their fans.
Today among the most notorious bands like The Darkness and Mallory Knox, we have the pleasure to chat to a brand new alternative rock band called The Fell. They describe themselves as possessing a "modern sound, with heavy guitars, powerful riffs, crushing grooves and huge vocals". The Fell consists of the multi-talented Anthony De La Torre on vocals, who you may also know as Young Jack Sparrow in Pirates of Caribbean: Dead Men Tell No Tales, Mike Krompass, guitar player and multi-platinum producer, acclaimed session drummer Randy Cooke and last, but not least, Billy Sheehan (Mr. Big, Winery Dogs) on bass, who needs no introduction.
How's it going today? And how do you feel about being here in the UK?
Mike Krompass (guitar): Very good, it's amazing I love being here.
What's going on with the band at the moment?
Mike: Well, we are just taking a break from the tour to be here and our bass player went off to do a bunch of massive shows in Japan so now we are here for the week just having fun and after that we are gonna go back and finish the record.
Is there any band you'd like to support?
Mike: 30 Seconds To Mars would be fun I guess, I do like them, they are good guys but yeah anyone really as long as it's a good fit musically.
What band did you grow up with?
Mike: I'm feeling kinda old now (laughs). I grew up with the Beatles, but I'm really open minded I like everything.
How do you feel about the soccer match today?
Mike: I'm not very good at it, I'm probably gonna get my ass kicked but we are gonna try!
What about activities in general, are you a sport guy?
Mike: I'm from Canada so I used to play hockey but I'm not really a sport guy so you can laugh later when they are kicking my ass all over the place.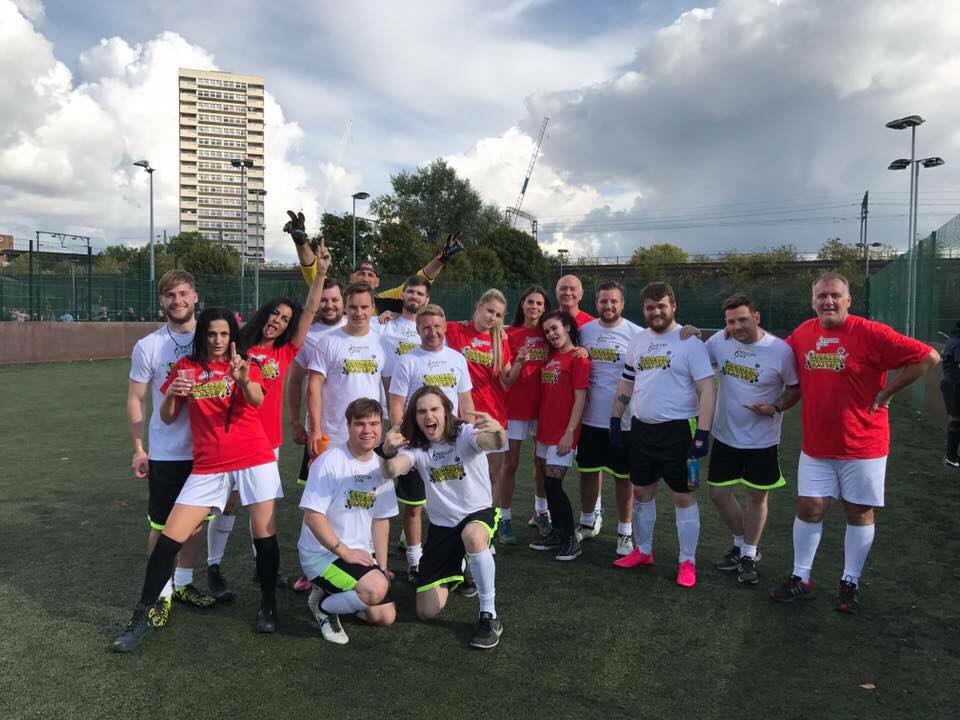 What do you think it's going to happen today? What do you expect?
Mike: I think we are gonna start a fight with The Darkness and be like 'Hey man' (laughs) no just kidding, we are just here to have a great time and support a good cause and of course it's great to talk to people like you too.
The Fell come from all walks of life, how did you all end up getting together?
Anthony De La Torre (vocals): Mike has always been a huge fan of Billy since he was a kid and so they became friends first and then they decided to get together and jam and start a band, Mike had already worked with Randy and the way I got in the picture is because I had worked with Mike on my own project three years ago and so when their lead singer quit Mike decided to ask me.
How's working with Billy Sheehan?
Anthony: He's amazing, he's the nicest guy, so talented and so professional, it's an honour just to get to hang out with him, leave alone to get to play with him.
Anthony, you are probably more known for the role in Pirates of the Caribbean, you took part in a Metallica video too. Can we expect many more film roles to come? And how does the movie industry compared to the music industry?
Anthony: I don't feel like I could give a really bulky answer in regard to how they differ as I am rather new to both. I started to film last year, Pirates was my first one then I did Lords Of Chaos after that which is gonna come out I believe by end of the year and it's about the start of black metal in Norway. So definitely more film roles to come.
What's next for The Fell?
Mike: Just finishing the record and maybe some appearances, acoustic things with Anthony and we are waiting for Billy to wrap up things with Mr Big and then we are definitely gonna hit it pretty hard.