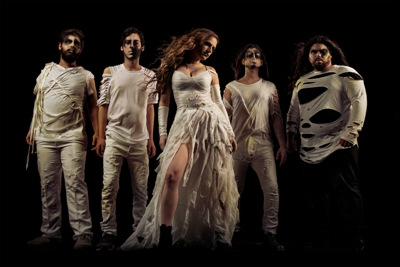 In the lead up to show dates across Europe, Scardust, Israel's premiere progressive metal band, have been releasing a series of music videos, the latest being 'Queen Of Insanity'.
The dates follow the reception accorded the release of last year's Sands Of Time album by the band and this subsequent Sandstorm Over Europe   starts at the Dong Open Air Festival (12-14th July), continuing with their first headline show on 15th July atthe Musik And Frieden Club in Berlin. 
Scardust's live shows are renowned for virtuoso vocal and instrument performances, catchy choruses and a choir numbering between 12-18 people, conducted by the band's lead vocalist Noa Gruman. For the Berlin show the city's harcore choir Stimmgewalt will be taking part, having previously  performed with the likes of Van Canto and Israeli oriental metal giants Orphaned Land (with whom Gruman regularly guest appears).
Featuring some of the finest musicians in Israel, Scardust's own Choir of Mysterious Monks and putting on theatrical live performances, Scardust are causing quite a stir, their appeal reaching across the board, from prog, metal and rockers in general through to mainstream music fans.
For more about Scardust at Ramzine click here. And for those who like the band, here's hoping they'll be blowing a sandstorm over Blighty!