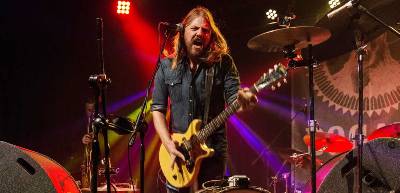 Steve Hill's Solo Recording series of albums are pretty much all recorded live, so what could an actual album recorded live in front of a Canadian audience offer us that we couldn't get on the studio ones? Audience participation? How many classic live albums were filled with false applause? And hasn't the live album been denigrated to little more than official bootleg rather than a climactic greatest hits package? Either way, someone forget to mention it to this Canuck.
There's a rawer power at work as amps go up to 11, the excitement and thrill of the chase playing live affects Hill's overall performance and while there are a number of tracks featured here that can be heard on his last studio album the live setting allows solo to scorch and wail a little more rather than fit to a proscribed length.
Opening with the Bad Company meets Foghat blue collar rock of 'Rhythm All Over' it comes out the speakers loud with a proud slide guitar solo in tow, and as statement of intent works well. With 'Go On' musically it sounds like something off Paul Rogers' Muddy Waters Blues album; it's mid-paced with crunchy turnaround riffs at work and again some rather lively slide work.
We get bluesier still with the old Chicago grooves of 'The Collector', a song about guitars and woman. Then power chords strike up for 'Damned ' punctuating this boogie rocker to which we advice you to turn up the volume and bang your head against but not to the point where you miss out appreciating the various guitar nuances. There's picked electric guitar, slightly higher vocals and harmonica  on 'Tough Luck' that comes over all dark suited and waiting to be some TV cops and robbers theme, a veritable murder ballad in all but name.
There's more boogie with 'Never Is Such A long Time' that's both creepy and creeps up on you when some sensual guitar licks take an extended musical walk and crowd appears to enjoy it. There's a long guitar intro for the rocking John Lee Hooker styled 'Hate To See You Go' , with much foot tapping adding to Hill's man band approach with some quality guitar soloing also thrown in for good measure. By comparison, 'Emily' might return us to a Bad Co feel, but in ballad mode. 'Nothing New' features a haunting long noted harmonica intro, with Hill affecting a slow, deeper croon amid growling and one reflects how bloody dark some of this stuff is lyrically.
The album is packed with songs that have stories; songs of bad luck, hard times and love. You feel that the singer's personally been there and that it wouldn't be out of place for you yourself to being those same songs, but hell, you'd do it again. 'Out of Phase' sums that up with lines like "Times have changed but I don't" – It's brighter upbeat guitar tones over what's effectively a country ballad played on electric creating a nice dichotomy.
Harmmer-ons and pull-off riffs lead us into 'Still Got It Bad' a crime noire mystery/secret agent vibe Rory Gallgher had a penchant for writing, about a woman who's vanished on his return home.  Whereas 'The Ballad of Johnny Wabo' warns you to get out of there in its narrative. It's slow crawling blues shifting into a heavy bass drum beating loud boogie that veers off into some inventive slide solo turns that cook up into a frenzy. That's followed well by the strong voiced bolshy slow rock of 'Dangerous' that pitches into a stomping cover of 'Voodoo Child (Slight Return)' with attention paid to vocal delivery, with a long guitar opus at the end that throws in a dash of 'Whole Lotta Love' for good measure.
Then, with a "Merci beaucoup" the show is over save for applause. If there's a trick missed here it's the lack of audience banter and with Steve Hill being a one man band you'd kind of expect that, as it adds an amiable quality and makes you feel you were there. Certainly he chatted and told stories when I saw him live, maybe those conversations were cropped to fit the extended solos. Regardless, while it's heavy on tracks from his last album it's strong on listenability.